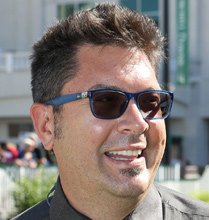 About Joe Kristufek
The face of ABR's "Racing 101", Joe Kristufek is a self-proclaimed horse racing "ambassador", and fan development has been his passion since the moment he took his first job in the industry. Kristufek is lead racing analyst for for Churchill Downs, the home of the Kentucky Derby, and Fair Grounds in New Orleans. He is also the morning-line maker for Arlington Park and Kentucky Downs and serves as the handicapper and racing writer for his hometown Daily Herald newspaper.

@JoeyDaKRacing 1 hour ago

@JoeyDaKRacing 4 hours ago
RT
@HorseRacingKK
: Soup and Sandwich outside Natural Power 4F :48.4. Splits: 12.3, 24.3/1:01.1, 1:13.3, 1:27.2.
@dcjock1
up on Soup and San…

@JoeyDaKRacing 4 hours ago