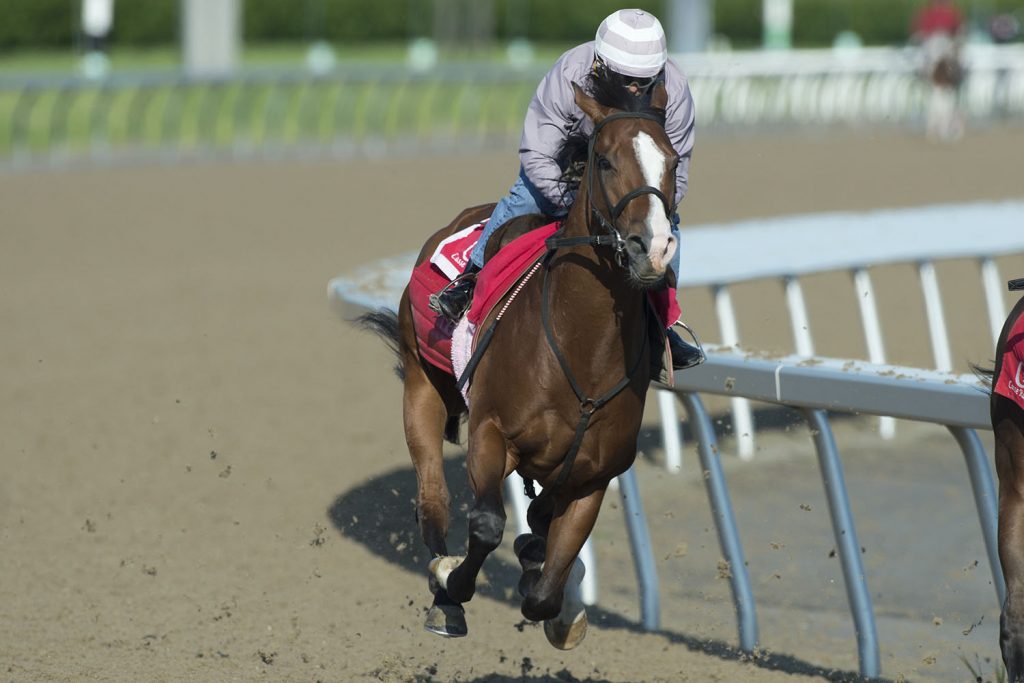 AN EARLY LOOK AT THE PROBABLE FIELD FOR THE 160TH RUNNING OF THE QUEEN'S PLATE (12)
Horse / Trainer / Owner / Jockey
Avie's Flatter / Josie Carroll / Ivan Dalos / Javier Castellano
Desert Ride (filly) / Neil Howard / Sam-Son Farm / Steven Bahen
Federal Law / Mark Casse / Qatar Racing Limited / Jamie Spencer
He's a Macho Man / Josie Carroll / Di Scola Boys Stable / Patrick Husbands
Krachenwagen / Angus Buntain / Greenoaks Farm / Jeffrey Alderson
Lucas n' Lori / Kevin Attard / Frank Cirillo / Kazushi Kimura
Moon Swings / Michael De Paulo / Zilli Racing Stables / Jesse Campbell
One Bad Boy / Richard Baltas / Sayjay Racing LLC / Flavien Prat
Pay for Peace / Rachel Halden / Team Penney Racing and Lisa Moser / Rafael Hernandez
Rising Star / Michael De Paulo / Zilli Racing Stables / Justin Stein
Skywire / Mark Casse / Gary Barber and Lou Tucci / Eurico Rosa Da Silva
Tone Broke / Steve Asmussen / L & N Racing LLC / Richard Santana Jr.
QUEEN'S PLATE AND WOODBINE RETURN IS TWICE AS NICE FOR CASSE
TORONTO, June 20, 2019 – What's better than having one shot at winning the Queen's Plate? For Mark Casse, one of the top trainers in the sport, it's having two horses in the big dance and a happy return to Canada's Showplace of Racing.
He's won some of the biggest events in Thoroughbred racing, has been inducted into the Canadian Horse Racing Hall of Fame, and recently watched a pair of his trainees, War of Will and Sir Winston, win the Preakness Stakes and Belmont Stakes, respectively.
Casse would enjoy adding another particular victory to what is an already outstanding season.
"I've been looking forward to this for some time," said the Indiana-born horseman, who won the 2014 Queen's Plate with Lexi Lou and last year's running with Wonder Gadot, both Canadian Horse of the Year honourees. "There has been a lot said about us winning the Preakness and winning the Belmont. That brings me great joy, but anybody that says that to me, I say, 'I think we can win the Queen's Plate!' That's important to us. Given the wonderful year we've had so far, I'd love to add the Queen's Plate to it."
The man who campaigned stars Tepin, Catch a Glimpse, Sealy Hill and Uncaptured, will have two excellent chances to make that wish a reality, namely, Federal Law and Skywire.
A gelded son of Scat Daddy, Federal Law, owned by Qatar Racing Limited, has three wins, four seconds and a third from 11 career starts.
His most notable win to date came in the Queenston Stakes on May 19.
Rallying impressively in the seven-furlong main track race, Federal Law, fifth at Robert Geller's stretch call, was able to get up in time to post a neck win.
The bay, bred by the Jim Dandy Stable, comes into the Queen's Plate off a second-place performance in the Plate Trial Stakes on June 8 at Woodbine.
"I think he's a nice horse," Casse, a lifetime winner of more than 2,700 races who was inducted in the Canadian Horse Racing Hall of Fame in 2016. "He possesses some speed, which allows you to position him where he wants to be. We'll probably try to keep him off the lead, try to keep him close early and get him to relax a little, see if we can get him the mile and a quarter."
Skywire, a son of Afleet Alex, is the other entrant in Casse's formidable one-two Plate punch.
To be ridden by two-time (2009 with Eye of the Leopard and 2010 with Big Red Mike) Plate winner Eurico Rosa Da Silva, Skywire, fashioning a record of 3-1-0 from five starts, won the Wando Stakes on April 28 at Woodbine.
The colt, owned by Gary Barber and Lou Tucci, heads to the Plate starting gate off a solid second-place effort in the Grade 3 Marine Stakes.
"I thought Skywire's last race (Marine) was really good," offered Casse. "He got beat by a nice horse (Global Access), who probably had a little better trip than us. I think his demeanor is going to help him go a mile and a quarter. He's the type of horse that doesn't go until you ask him to go. I think Eurico (jockey, Rosa Da Silva) will be able to conserve his energy until he needs it."
Casse, who'll arrive at Woodbine one day before the Plate post-position draw (Wednesday), is looking forward to coming back to the racetrack where he developed some of the country's most distinguished champions, a place that has also delivered him a record 11 Sovereign Awards as Canada's top trainer.
"We've been really fortunate to have had great success and we owe so much of that to Woodbine," he said. "I think that's important. We've been racing there a long time. I think if you said 'Mark Casse' to most racing fans, they would say Woodbine. It's just always nice to come back and see friends."
PRESTIGIOUS TITLE AND $500,000 BONUS UP FOR GRABS
The chase for the OLG Canadian Triple Crown title and a $500,000 bonus begins with the 160th running of the $1 million Queen's Plate on Saturday, June 29 at Woodbine. The bonus will be awarded to the owners of any horse that can sweep all three legs of the challenging series, which includes the subsequent Prince of Wales Stakes at Fort Erie and Breeders' Stakes at Woodbine.
The last horse to complete the feat was 2003 Triple Crown champion Wando, with Patrick Husbands aboard for trainer Mike Keogh and the late Gus Schickedanz.