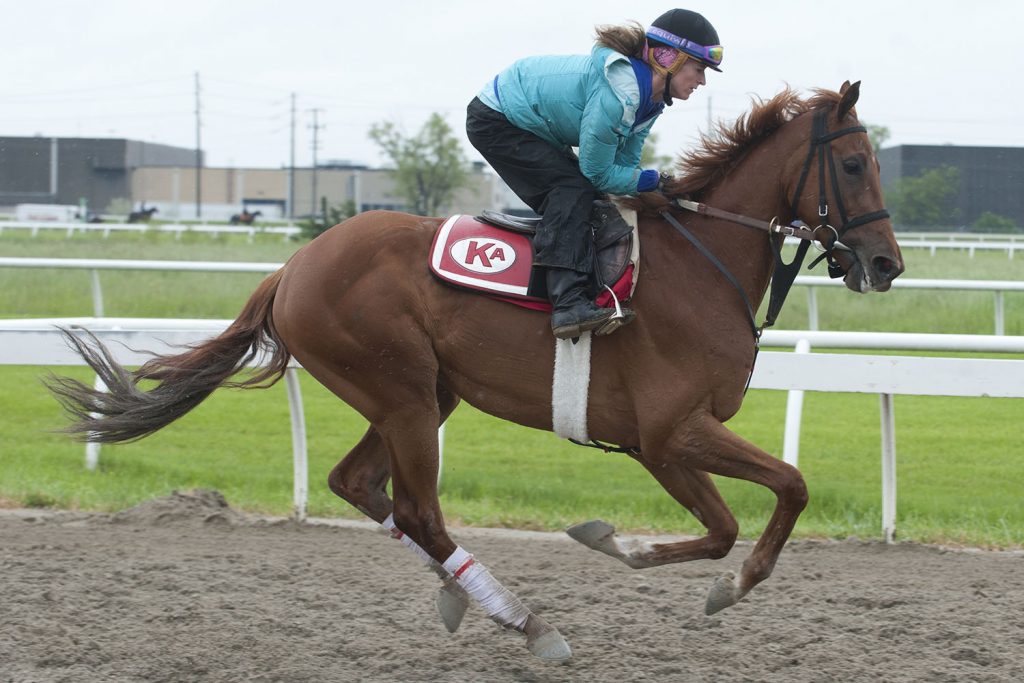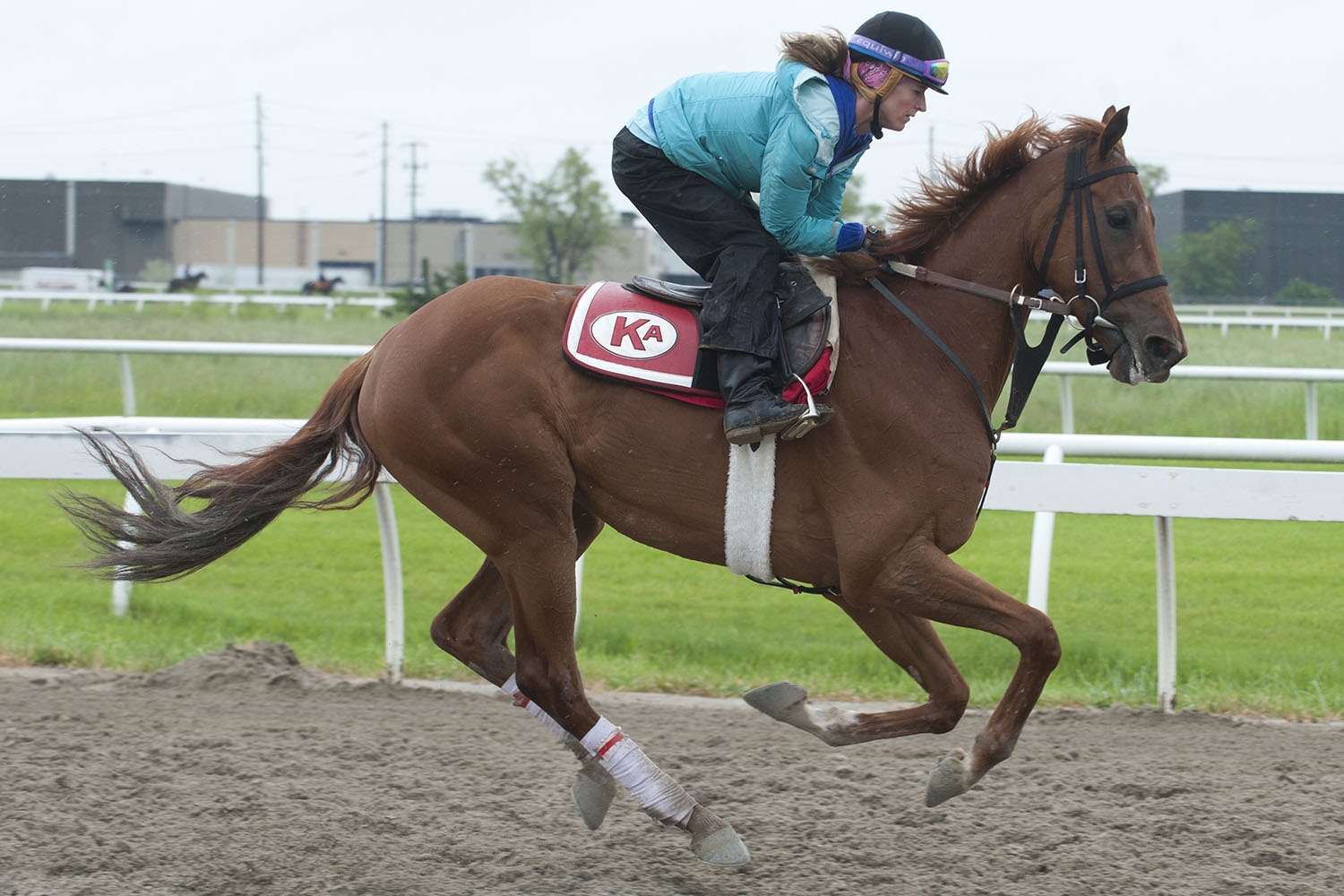 AN EARLY LOOK AT THE PROBABLE FIELD FOR THE 160TH RUNNING OF THE QUEEN'S PLATE (14)
Horse / Trainer / Owner / Jockey
Avie's Flatter / Josie Carroll / Ivan Dalos / Javier Castellano
Desert Ride (filly) / Neil Howard / Sam-Son Farm / Steven Bahen
Federal Law / Mark Casse / Qatar Racing Limited / Jamie Spencer
He's a Macho Man / Josie Carroll / Di Scola Boys Stable / Patrick Husbands
Jammin Still / Kevin Attard / Derek Chin / Alan Garcia
Krachenwagen / Angus Buntain / Greenoaks Farm / Jeffrey Alderson
Lucas n' Lori / Kevin Attard / Lori Cirillo and Kelly Waxman / Kazushi Kimura
Moon Swings / Michael De Paulo / Zilli Racing Stables / Jesse Campbell
One Bad Boy / Richard Baltas / Sayjay Racing LLC / Flavien Prat
Pay for Peace / Rachel Halden / Team Penney Racing and Carem Stables / Rafael Hernandez
Rising Star / Michael De Paulo / Zilli Racing Stables / Justin Stein
Skywire / Mark Casse / Gary Barber and Lou Tucci / Eurico Rosa Da Silva
Suitedconnected / Robert Earl Barnett / Joe Triumbari / Gary Boulanger
Tone Broke / Steve Asmussen / L & N Racing LLC / Luis Contreras
LUCAS N' LORI LOOKS TO SPRING QUEEN'S PLATE UPSET
TORONTO, June 22, 2019 – Seventeen years ago, T J's Lucky Moon pulled off an 82-1 Queen's Plate shocker. Can Lucas n' Lori deliver another longshot score in next Saturday's $1 million Canadian classic?
It was 2002 when Molinaro Stables' T J Lucky Moon, under Steve Bahen, lit up the toteboard in the 143rd running of the Plate. In just over a week, a one-time winner will endeavour to duplicate those very same underdog exploits.
Owned by Lori Cirillo and Kelly Waxman, Lucas n' Lori will make his stakes debut in the 1 1/4-mile 'Gallop for the Guineas.'
The enormity of the task isn't lost on Kevin Attard. But the finalist for the 2018 Sovereign Award as Canada's outstanding trainer isn't about to concede defeat before the gates open on the 160th edition of the Plate.
"On Plate day, there are so many elements that go into the race, other than the race itself," said Attard. "You have to be able to handle the crowd, you have to be able to handle the weather, the long post parade – those are some of the factors that can weigh in on that day for the horse. Hopefully, he's a horse that can take that all in. You always need a little racing luck on your side, so hopefully he has it on that day."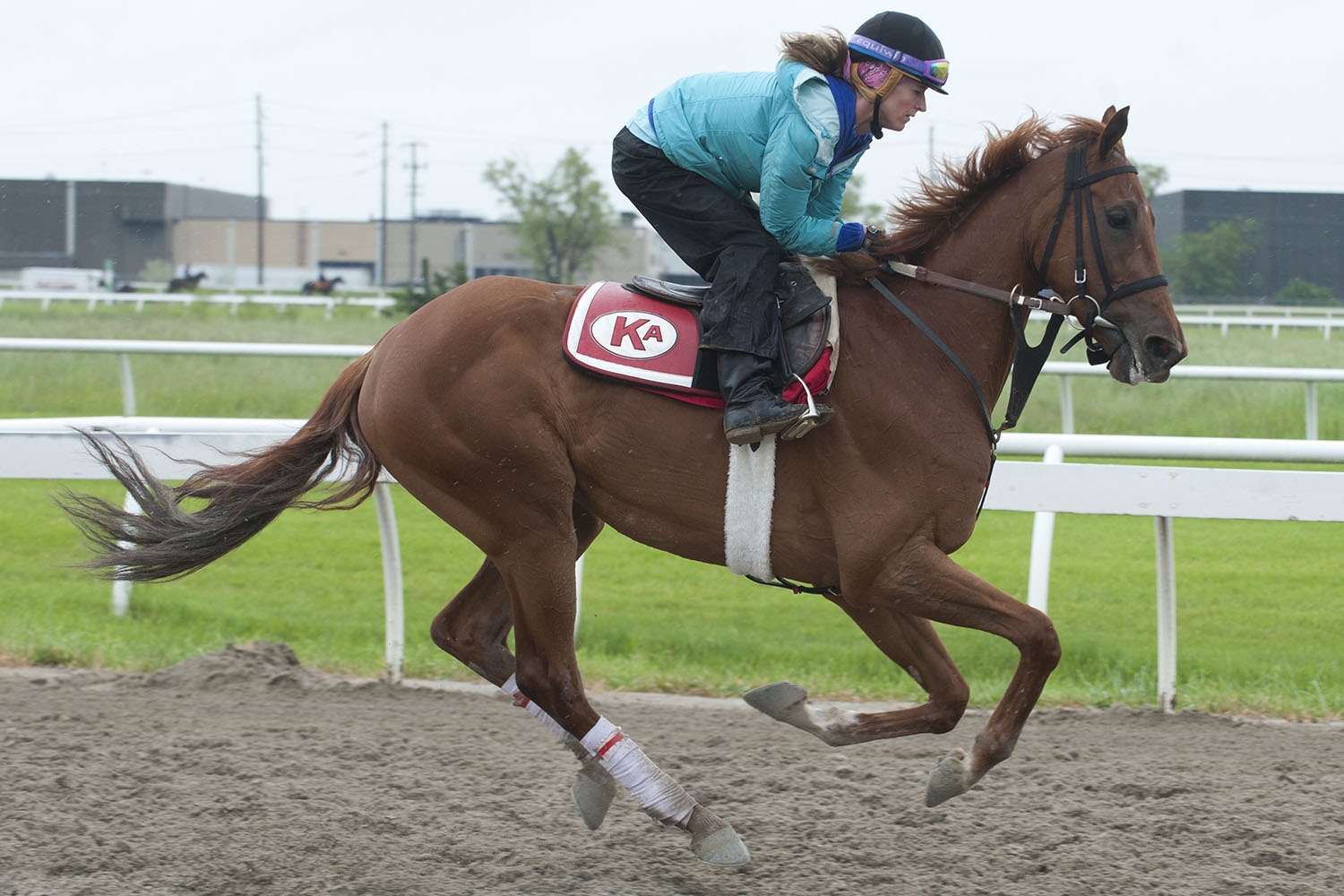 What's in a name? Co-owner, 15-year-old Lori Cirillo, has the answer.
"Kelly (co-owner, Waxman) has a son named Lucas," Cirillo said of the wife of prominent Standardbred breeder/owner Aaron Waxman. "And I'm obviously Lori. We wanted to name it after the two kids. If we ever get the chance to own a filly, we're going to name it Lori n' Lucas."
Bred by Silver Springs Stud LLC and Garry Parr, Lucas n' Lori launched his career on September 1, 2018. He finished second in his debut, one length back of the winner. After a fourth and another runner-up effort, the chestnut broke his maiden via a 2 1/4-length triumph at 1 1/16 miles over the Woodbine main track on November 30.
Lucas n' Lori comes into the Plate with one win and a pair of seconds from six lifetime starts.
"He's going to be a longshot," noted Attard. "But I don't think the distance will be a problem, so that's a big positive. He's been a handy horse to have. This is going to be asking a lot of him, but on any given day, any horse can step up under the right circumstances."
Attard is hoping that moment comes on a stakes-filled Saturday card on June 29.
"Mentally, he's starting to come around. It's a big jump up, but it's a mile-and-a-quarter, and there are a lot of horses that don't want to go that far. Hopefully, he's one that does. I suppose you can view it as, 'Go big or go home.' When you have a three-year-old Canadian-bred, a lot of people are dreaming and hoping. That's why they get into this great sport. My job is to prepare this horse the best I can and hopefully he's good enough."
For Cirillo, it's a dream come true.
"I've gone to the Queen's Plate for years and I just love watching it," said the daughter of long-time horse owner Frank Cirillo. "To know that I'm going to have a once-in-a-lifetime opportunity at this young age is just incredible. I'm so happy about it."
"I am very excited to have a horse in the Queen's Plate, and from what I know, we should be a longshot, so we will be able to enjoy the day with very little pressure and take in the great event," said Waxman. "Hopefully we can surprise some people, including ourselves!
"The horse is named after my first-born son (and Frank Cirillo's daughter Lori) who is two now and he's very fast and surprises me a lot, so hopefully Lucas n' Lori shares those traits on Plate day! We seem to have lots of luck when we are the underdog and some disappointments when we are favourite so I'm content with our role coming into the race."
Kazushi Kimura, the 2018 Sovereign Award recipient as Canada's top apprentice, gets the call for the Plate.
The native of Japan finished last season – his first Woodbine campaign – sixth in the jockey standings with 89 wins and more than $2.3 million in purse earnings.
FEATURE: CAN ONE OF DE PAULO'S MAIDEN RUNNERS SECURE THE PLATE?
By: Hayley Morrison for Woodbine Communications
Woodbine-based trainer Mike De Paulo has two chances to clinch this year's $1-million Queen's Plate, but there is one catch.
Both of his contenders, Rising Star and Moon Swings, have yet to win a race.
Despite that fact, De Paulo has faith in both his runners. Especially given their respective performances on June 8 in the Plate Trial, the final prep race for the Queen's Plate.
"They both ran together last time and they were fairly close at the end. They finished third and fourth. I don't know if you are a Ragozin believer or not, but Moon Swings ran an 11 Ragozin and the lower the number the better, running fourth. And Rising Star ran a 12 Ragozin. Ragozin (number) takes into account where you are on the track, how much weight you carry and all that. So number-wise, Moon Swings actually ran faster. Rising Star got bumped a little down the backstretch, bounced off the rail a little and it probably cost us a position for sure and he seemed to be gaining on the winner."
Can a horse that's never won a race finally do it in a historic race like the Queen's Plate?
If the history books could speak, they would say yes. Not a yes solely based on merit, but more so on the restrictions and format of the early editions of the race.
As a matter of fact, Louis Cauz points out in his book, The Plate: A Royal Tradition, that when the Queen's Plate was created, "among the more practical encouragements given to horsemen with the royal gift of fifty guineas from Queen Victoria was the fact that the Plate would be contested by horses bred in Ontario which had never won a race, a condition that gave the sporting farmer an equal chance with wealthy stud owners."
In 1868, eight years after the Plate's inception, Cauz also notes that "horses were ineligible which had won a stakes on the flat at a public race meeting where money was awarded."
Some racing forms even make mention of it being a maiden-based race at one point.
For example, in 1889 the racing form specifically stipulated within the Queen's Plate racing conditions: For all aged maidens, owned, bred and raised and trained in the Province of Ontario (Cauz, p. 75).
In 1887, Bonnie Duke became the first maiden to win the Queen's Plate going the current distance of a mile-and-a-quarter. Originally, when the Plate was first conceived it was run as a set of one-mile heats (between 1860 to 1867) with the best finisher of those several heats pocketing 50 guineas. After 1867, the distance changed to a dash of two miles (1868-1870), then a mile and three-quarters (1871), before changing to a mile and a half for the next 15 years.
A few other fun facts to be duly noted are that two unraced fillies, named Kitestring and Butter Scotch, managed to fly home with the guineas in 1890 and in 1899, respectively.
Obviously, when it comes to a race like the Queen's Plate, one that spans neatly over a century, there's a lot of ground to cover. Some of the basic facts go as follows:
The purse money has significantly increased over the years.
From 1939 onwards, only Canadian-bred three-year-olds have been eligible to compete for the Plate.
In 1957, a 1-1/4 mile became the official distance for the race.
In several editions throughout the years, the Plate was also known as the King's Plate (between 1902-1909 and then from 1911-1951) – but that's another story to save for a rainy day read.
Whether the Plate was run at different locations or at various distances, history shows that the prestigious race was once only open to horses that had never won public prize money or won a race prior to competing in the Plate. Therefore, it would appear that back in the day maidens were given more than equal opportunity to secure the big race.
The only maiden to be snubbed of that chance was Fred Henry, who according to Cauz, ran in the Plate a whopping five times between 1884 and 1889. He was a runner-up in the 1885, 1886 and 1887 instalment of the race.
On Woodbine's backstretch, asking people to recall maidens that have won the Plate, two names popped up: Willie the Kid, the 1940 Plate winner, and Golden Choice, the 1986 Plate winner.
However, the most prominent name that came to mind was Scatter the Gold. The Sam-Son owned and bred horse was the last (or most recent) maiden to win the race back in the 2000 edition of the Plate.
Although it's been nearly two decades since a maiden has reigned triumphant in the race, De Paulo has noted something special about his trainee Rising Star. The son of Ghostzapper (out of Purple Trillium) was purchased earlier this year for owner Robert Marzilli.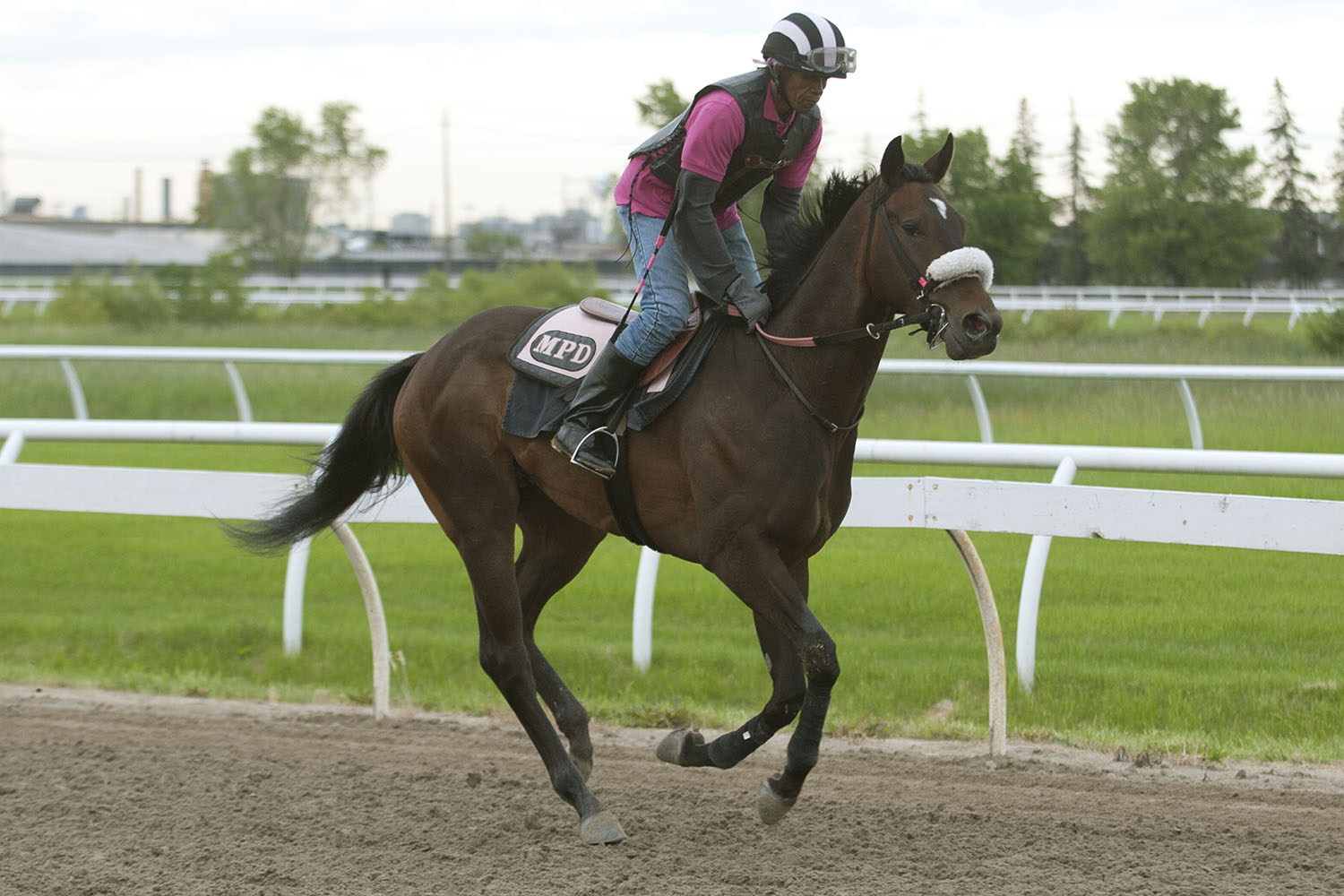 "We had this horse's half-brother, Seeking Albert, who was a real stayer. And we are thinking this horse is maybe a little like that. I'm actually really looking forward to getting him on the grass at some point too."
Seeking Albert did not run in the Queen's Plate, but ended up running fourth in the 2017 Breeders' Stakes, the third leg of the Canadian Triple Crown. Unlike the Queen's Plate, which covers about 10 furlongs (1-1/4 mile) over the main Tapeta track, the Breeders' Stakes asks horse and rider to go 12 furlongs (or 1-1/2 miles) over the turf course.
De Paulo's confidence in Rising Star may also stem from the fact that his sire, Ghostzapper, has produced both the 2015 Queen's Plate winner Shaman Ghost as well as the 2017 winner Holy Helena.
Aside from his substantial family lineage, Rising Star's strong closing third in the 1-1/8-mile Plate Trial has also provided some encouragement for De Paulo.
"It appears that Rising Star is sort of a galloper, like he just kind of keeps coming. I suppose I'm more confident of him getting the 1-1/4-mile than the other horse."
Jockey Justin Stein, who returned to race riding earlier this season and rode Rising Star in the Trial, will again have the leg up on the colt for the 160th edition of the Queen's Plate.
De Paulo has assigned jockey Jesse Campbell to pilot the other horse known as Moon Swings.
The cheeky chestnut gelding owned by Marzilli has mounted a pretty successful racing campaign thus far; posting several third-place finishes to Queen's Plate winterbook favourite and Ivan Dalos' homebred Avie's Flatter.
"Anytime you see a picture of Ivan Dalos' horse, you see Moon Swings in the background. He was third to him in the Coronation Futurity and the Cup and Saucer Stakes. He's always showed a bit of ability. We recently gelded him for his last start. Jesse (Campbell) always thought there was a little more and he just hadn't given it to us. We are hoping that with a little more time passing that that's going to set him on sort of a more positive attitude."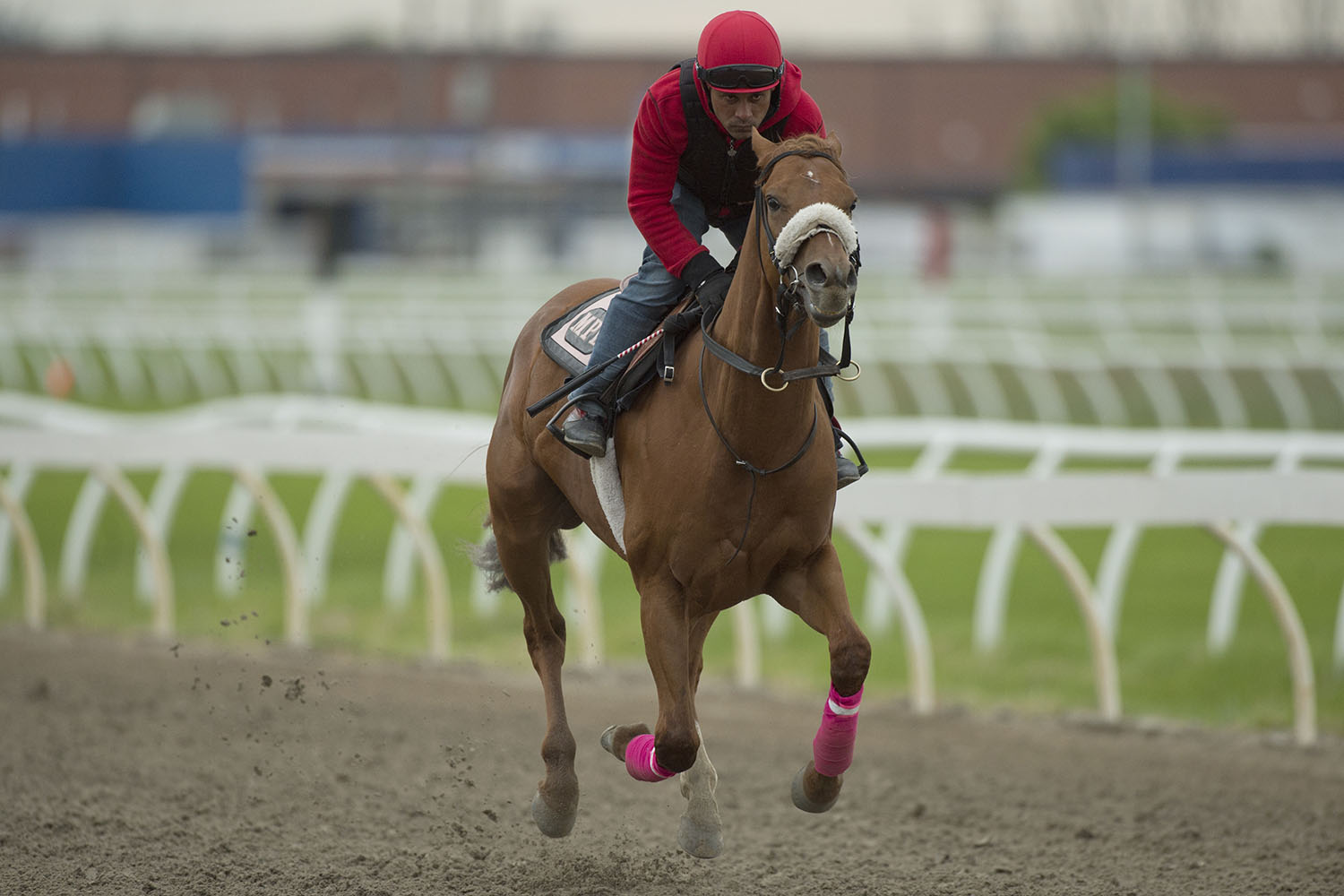 De Paulo does admit that Moon Swings has been kind of tricky to train and then watch run in the afternoon.
"I'm also hoping (Moon Swings) just wakes up one day and puts it all together and gives the effort that the jock seem to say he has. People breeze him in the morning and say, 'wow.' For whatever reason, he is not showing as much in the afternoons and he does in the mornings."
Campbell echoes similar sentiments, remaining puzzled about the gelding's somewhat lacklustre performance come race day.
"In the morning he shows me gears. He'll get down and really fire home and I have yet to see that in a race. There's been a handful of times in a race, I feel like he is going to give it to me, but he just doesn't for whatever reason, I don't know. It's kind of one of those things, you wish they could talk."
However, the seasoned jock does believe that gelding the chestnut son of Malibu Moon might make a difference.
"I don't know if we've necessarily seen the full effects of gelding him quite yet. So I'm hopeful that with a little bit more time that will help in the race. I'm not concerned about the distance. Honestly to date, you could say maybe the talent is not quite there. But I've really expected this horse to be further along in his career than what he is. I truly believe he is better than what he's shown."
Greatly anticipating whether the chestnut gelding will swing into action or the bay colt will rise to the top, their owner, Marzilli, is still more than pleased with both trainees so far.
"I think they are both talented horses. Moon Swings has never won a race yet, but he's been in some of the top races last year for the two-year-olds and always sort of made it in the money. Rising Star in the Plate Trial run…he came strong at the end, so I think going a 1-1/4-mile he might have a good chance of hitting the board," said Marzilli, whose been in the racing game for the last five years or so.
Partnering with De Paulo over that period of time, Marzilli has visited the winner's circle on various occasions with champs such as Caren and most recently multiple Grade 3 stakes winner Code Warrior.
To date, the Queen's Plate is still one race that has eluded his grasp.
What would it mean to Marzilli to capture the oldest continuously run stakes race in North America?
"I mean it would be outstanding, obviously. I actually promised one of my friends, he's an older gentleman, and I said before he croaks hopefully we will win the Plate. I've got to basically own up to what I say, so I'm hoping one day we'll win it."
It's ambitious and maybe even a 'swashbuckling' endeavour for a maiden to win the Plate these days, but according to the history books, it has happened.
More importantly, as any good racing fan knows, once the gates fly open, anything can happen. History is simply just waiting in the wings, eager and ready to crown their next four-legged hero.