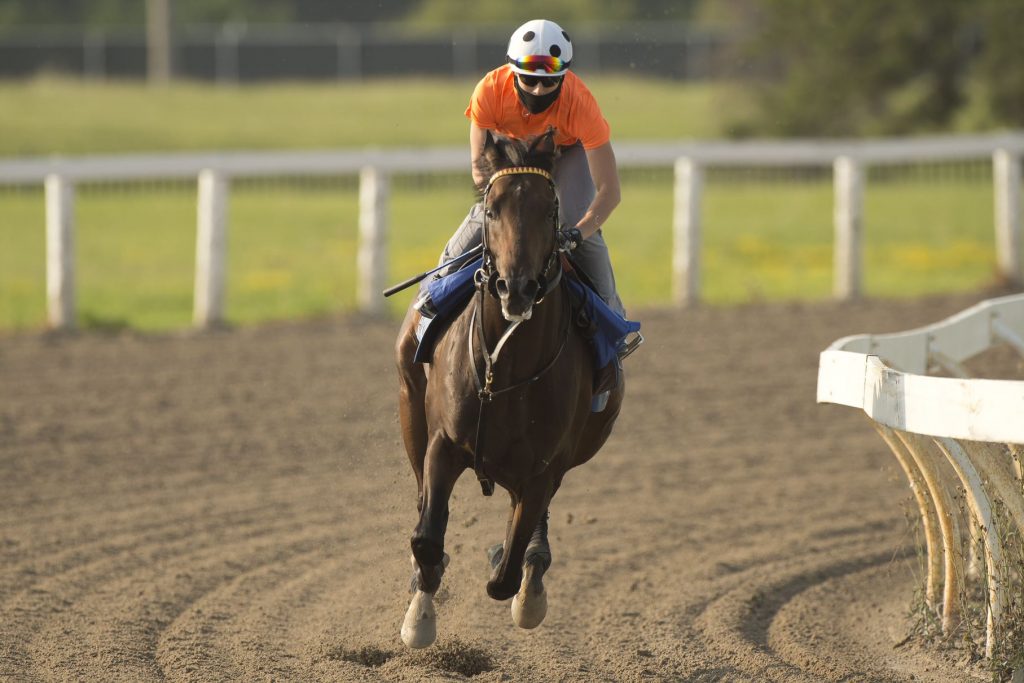 TORONTO, August 17, 2021 – A look at some of the contenders set to contest the 162nd running of The Queen's Plate, slated for this Sunday at Woodbine. The Queen's Plate is the first leg of the OLG Canadian Triple Crown of Thoroughbred Racing.
Tidal Forces, aka, "Brutus," set for Queen's Plate date
Sam-Son Farm will have a pair of chances, namely, Tidal Forces, and Dance Some Mo, to add a sixth Queen's Plate trophy to its impressive collection of horse racing hardware.
Listed at 50-1 in the Queen's Plate Winterbook, Tidal Forces, trained by Gail Cox, earned himself a nickname early on his career.
"We call him Brutus," noted Cox. "As a young horse, he had this huge neck, a big, fat, wide neck. As he's grown up, he's certainly lengthened out a bit and become much more refined. He's really quite beautiful. He's a pretty cool guy."
Unraced at two, Tidal Forces debuted in April at Gulfstream Park and galloped away with a win. Next time out, in mid-June at Woodbine, he was back in the winner's circle. In his final race before the Plate, the Marine Stakes on July 11, he was fifth.
One thing Cox won't have to worry about with her Plate charge is any pre-race jitters.
"When you're walking out to the track with him, you'd almost think he's lazy. He kind of wanders out and wanders back. But when you turn around to gallop him, he's quite powerful. That's just the type of horse you love to have, one who can turn the dial from laid-back to all business."
Cox, who teamed with Sam-Son Farm and El Tormenta to win the 2019 edition of the Grade 1 Woodbine Mile, is thrilled to have Tidal Forces in her barn.
Praise for the dark bay, who will have champion jockey Emma-Jayne Wilson aboard Sunday, flows easily for the veteran conditioner.
"He eats well and he's pretty easy to deal with. He walks over the paddock calmly. He's just very professional in everything he does. There are times when you see little signs of immaturity, losing focus a little bit, but I'm really happy with everything when it comes to him."
Juan Balbuena is the groom of Tidal Forces.
*
Avoman looks for Plate Trial-Plate double
After taking the Plate Trial three weeks ago, Avoman, a son of top Canadian sire Old Forester, goes after top prize in the $1 million Queen's Plate, Sunday at Woodbine.
Trained by Don MacRae, who co-owns with La Huerta Inc. (Jim and Graeme Bruce), the dark bay arrives at the 162nd running of Canada's iconic event in winning form.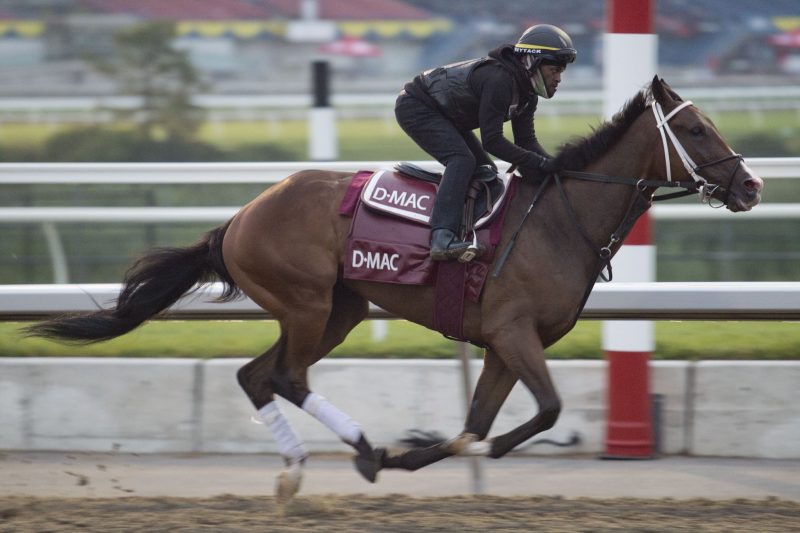 Avoman's confidence isn't lacking after the victory.
"I still think he's learning," offered MacRae. "I don't think we've reached the bottom of him yet. His last race… I only think he ran as hard as he needed to. Once he got the lead, he eased up on the gas a little bit. I still think there is more for him to give. The race didn't take a lot of out him. His arrogance level is even higher than before that race."
Bred by Joe Gee Thoroughbreds, Avoman finished third in his debut last September at Woodbine. After taking the Bull Page Stakes, he closed his 2-year-old campaign with a fifth in the Frost King Stakes. The Ontario-bred came into the Plate Trial off a third-place effort on July 3 at the Toronto oval.
How did his connections come up with the name Avoman?
"La Huerta Imports supplies tropical produce, including avocados," said MacRae. "When it came to the naming process, Jim mentioned that we call him Avoman. To me, that's the coolest name you could possibly come up with. We all love it."
The ownership group also cherishes the chance to be part of North America's oldest continually run stakes race.
"We're dreaming big… that's the whole part of being in this business," said MacRae. "I'm not going into the race with wild dreams thinking he's the horse to beat. We're hoping he can run the race of his life. It's a big field and a wide-open field."
Antonio Gallardo, who moved his tack to Woodbine in July, will once again be in the irons. Avoman's groom is Richard Taylor.
*
Riptide Rock right at home at Woodbine
Riptide Rock is two-for-two at Woodbine and his connections are hoping that perfect record is still intact when the sun goes down on August 22.
A Stronach Stables homebred, Riptide Rock was victorious in his racing debut last October 17 in a six-furlong maiden special weight contest over the E. P. Taylor Turf Course. The Point Of Entry son then wintered south of the border with trainer Jerry Hollendorfer, making four starts between February and May before returning to Woodbine to prep for the Queen's Plate. On June 16, he got his second win at the Toronto oval with an off-the-pace effort over six furlongs on the main track.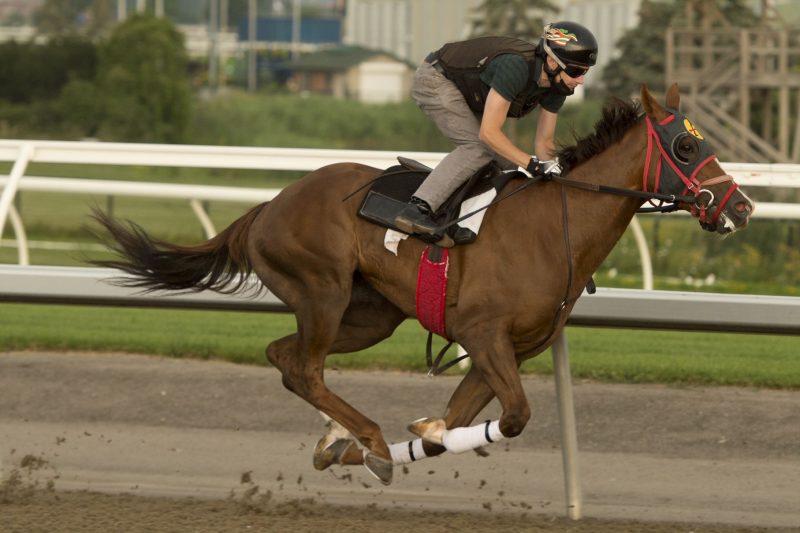 Sid Attard trains Riptide Rock in Canada, and the good feeling son of Point Of Entry is a favourite in his barn, getting extra attention from both exercise rider Alex Soultan and caretaker Joseph Ferris.
"My exercise boy really loves this horse, he takes forever with him, takes his time, lets him look around and all of this," said Attard. "Joseph, he loves the horse too, he's had him since we have him in. In the morning, when he's all done, he takes him out, grazes him, all this."
Attard said the horse returned from his southern sojourn in excellent condition and has maintained both his weight and his positive attitude over the last three months.
"Touching wood, he has been doing really, really good," said Attard. "I like the way he's going and I like the way he's looking too. He's keeping the weight really good and he's very happy.
"He likes to go out there and do his training," the trainer added. "Sometimes I see him galloping and he starts squealing, jumping around, when he's galloping and his tail goes up in the air, and I like to see that. He's happy."
If Riptide Rock and David Moran can get the job done on Sunday, happy might not be a big enough word to encompass Attard's feelings. The Queen's Plate has been an elusive goal for the Hall of Fame trainer, who has finished second and third but never raised the trophy.