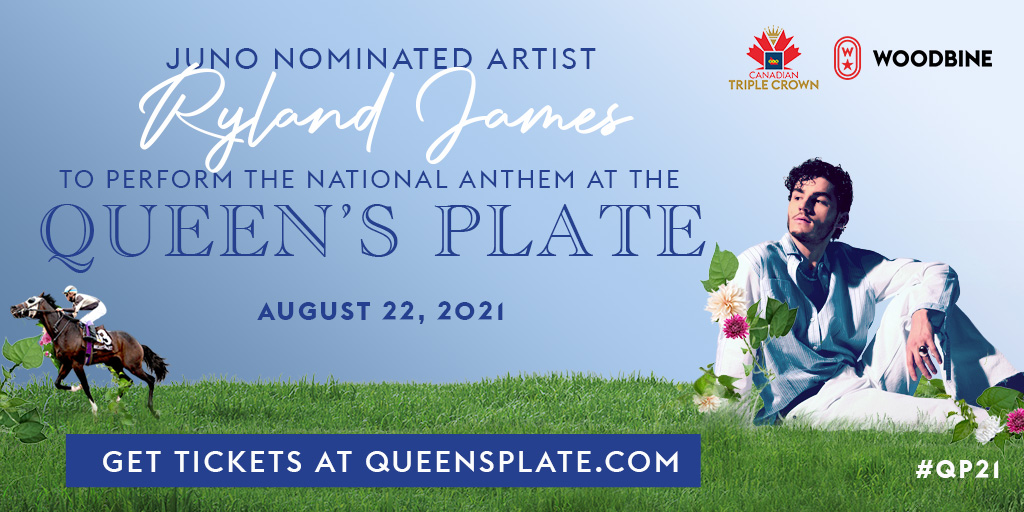 Toronto, ON – August 18, 2021 –JUNO Award-nominated and platinum certified singer-songwriter Ryland James is set to perform the National Anthem at Canada's most historic and prestigious horse race, The Queen's Plate, this Sunday, August 22.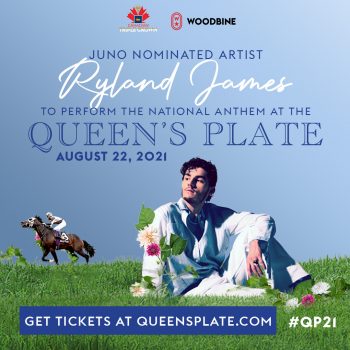 Ryland's performance of O'Canada is expected to be a special moment in the long and storied history of the event as spectators return to Woodbine Racetrack to watch The Queen's Plate, first leg of the OLG Canadian Triple Crown, for the first time in more than two years. The singing of the national anthem will be aired during the broadcast on TSN and CTV which starts at 4:30 p.m. ET.
"As we were planning this event under these unique circumstances, it was important for us to safely bring back as many Queen's Plate traditions as possible which includes live music," said Jim Lawson, CEO, Woodbine Entertainment. "We are thrilled to have Ryland be a big part of that and perform our national anthem at one of our country's most prestigious events. It will definitely be a special moment for our fans."
A native of Deseronto, Ontario, Ryland emerged onto global stage in 2019, with his breakout single "In My Head" via Universal Music Canada and Republic Records. The powerful track soared to #1 on Shazam Canada's Top 200 chart and was impressively certified platinum in Canada. Captivating audiences, he supported multiplatinum superstar Alessia Cara on a sold out North American tour and performed at festivals such as Life Is Beautiful. On the heels of his self-titled 2020 debut EP, Ryland James, he exceeded 70 million global streams. This year has been a busy one for the multiplatinum artist, releasing his single "Blame," the dancefloor banger "Save Me" with Shaun Frank, and his most personal song to date "3 Purple Hearts" all in a short amount of time.
Ryland will perform the national anthem in the trackside apron winner's circle, which will also be where legendary Canadian performing artist Jim Cuddy performs three songs.
Tickets for The Queen's Plate are on-sale now and are going quickly. Due to Government restrictions, spectators are permitted to attend up to 50% of the facilities regular capacity. Tickets start at $20 and are available through Ticketmaster.ca or QueensPlate.com.
Last year, The Queen's Plate was run at Woodbine Racetrack, keeping it as the longest continuously run stakes race in North America, but spectators were not permitted due to the pandemic and ensuing government restrictions.