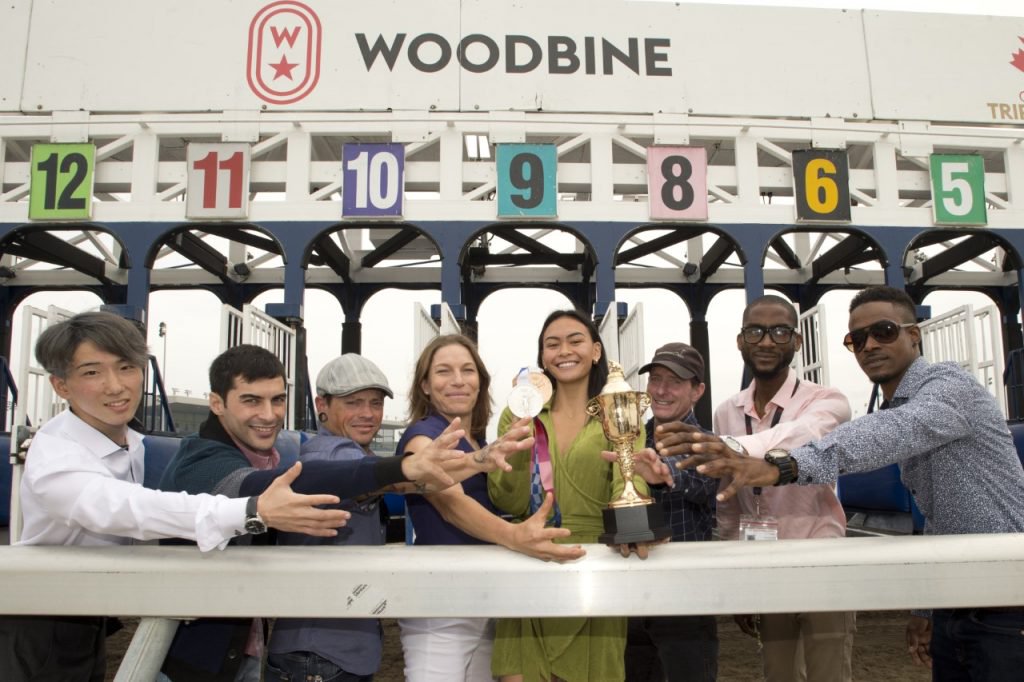 TORONTO, August 18, 2021 – The post-position draw for the 162nd running of The Queen's Plate was held Wednesday morning at Woodbine Racetrack.
A total of 13 horses were entered for this year's $1-million race. Following a draw for order of selection, the connections of the horses entered provided their post selection and thoughts on their Queen's Plate contender.
Sid Attard (Riptide Rock)
"He ran down south, you know he run over mile and 1/16. He looks like he can handle the distance no problem, and he's doing really good, and we'll give him a shot."
Colleen Dalos (H C Holiday)
"We're pretty excited. My father [Ivan Dalos] has been in the business over 40 years, as everybody knows, and I think we've had four shots at this Plate, we've hit the board three times, we have three seconds, this is what we covet, everybody wants to win on their home turf and their home ground. It means everything to us to win a Plate. What's also exciting is this is the son of Ami's Holiday who came second in the Plate and hit the board across the Triple Crown. So it's exciting for us to see our homebreds and the horses that we breed. This is four generations of Tall Oaks Farm breeding that has gone into this horse so we're so excited for H C Holiday."
Catherine Day Philips (Take a Chance)
"I think he's just developing, he's just really improving. He's improved a lot since he's come up to Canada. He enjoys the fresh air and he's liking being here.
"He's [Keveh Nicholls] riding well, he's been riding our horses well and all of us are looking forward to our first Plate win."
Kevin Attard (Munnyfor Ro)
"She's here and we're excited. We waited to see how she came out of the race. She seemed to handle the race really well in the Canadian Oaks. She had a good work in the interim and she's been doing really well she's in the feed tub and it seems like she's ready to fire again."
Joshua Attard (Keep Grinding)
"I am very excited and also very nerve wracking, that's for sure. I know Keep Grinding, he'll show up. He always tries, if you watch all his races, he never gives up and I know on Sunday he'll show up."
Kevin Attard (Haddassah)
"It was an oddly run race [Haddassah's last race]. I think he's kind of fallen off the radar a little bit because of it but this horse has a world of talent and we're really excited to be in this position with him and we're hoping for some racing luck and a good trip.
"He's indicated to me that he should [get the distance]. Obviously, we're hoping to get him relaxed early and I think that will be the key."
Breeda Hayes (Go Take Charge)
"Well you only getting one shot with a three-year-old so and he'll go a route of ground, so we're hoping for the best."
On owner-breeder Garland Williamson…
"It's big. He's a big owner, put a lot of money into the business, and hopefully things will work out right."
Michael Balaz (Dance Some Mo)
"Well, you know, I think we'd rather be outside [post 10] than inside, and it is a little bit of going with what's left, but he is a pretty versatile horse, so I think it's a little bit better for Patrick [jockey, Husbands] to be able to sort out a trip from there than the two [post].
"I think the last race he maybe got a little lonely out there on the lead and kind of was looking around, and you know no knock on Harlan Estate, that horse ran a great race there, but you know I think he got maybe a little bit lazy."
Don MacRae (Avoman)
"It's definitely a dream come true. I started out buying a $1,000 horse, a lot of long days and now I get to hang out with all you people and play in the biggest dance there is, so I am quite excited.
"The race [Plate Trial] seemed like it went real fast the way we were screaming and yelling. The way everything set up, I mean they walked the dog up front and we all run the last three-eighths of the mile real quick and we all got to scream so it was good feeling for sure."
On co-owners Jim and Graeme Bruce…
"Great guys, we have a lot of fun when we come to the races. They love the game they love the horses. They're in it for the horse, and the money is secondary, so, if we could get the big cheque it might become the primary thing, but yeah we're pretty excited."
Kevin Attard (Harlan Estate)
On his first two races at Woodbine…
"I've been really proud of this horse, he handled both races really well. First race he kind of was a little late kind of switching leads there, might have cost him a little bit, but he kind of put it together last time. The track was really slow that day. I thought he had to come from far behind on a dead track, and he got up in the nick of time, so he's a horse that is just going to fall out of the race hopefully there is an honest pace in front and we'll do some running late."
Gail Cox (Tidal Forces)
"He's doing great. He's worked really well coming into this race. I thought the last race he just was little bit wound up. He wasn't like his usual self, he didn't settle. And he certainly is doing well after that race."
On teaming with Sam-Son…
"I think it's just something that's so exciting, and I have been with them for a long time and changed careers from show jumping to racetrack and it's an honour to train for them. I'm very sad to see them getting out of the business, but we still have time left."
Carlos Grant (Derzkii)
"He's a nice horse and we decided to give him the shot, because he proved he belongs in this company. He had a good trip in the Plate Trial, just unfortunately he got hampered, so we decided to give him the shot. There's only one chance probably you get at it, so we decided to go here. The nerves are up for everyone, everyone, everyone."
Mitch Kursner (breeder, Safe Conduct)
"Oh, it means everything. It's just an unbelievable honour, and privilege and a dream come true. I want to congratulate [trainer] Phil Serpe and the wonderful Vukovich family at Wellspring for the great job they have done with him and wish them the best of luck on the weekend, and wish everybody all the best.
On what being in the Plate would mean to his grandfather…
"It would mean everything, really. He loved coming to the races and called a lot of the older trainers back in the day, friends. And we used to come to the track and sit in the kitchen; he's the one that got me started. It would mean the world to me, really. Just really grateful to be here."
Phil Serpe (Safe Conduct)
On how the horse will handle the Tapeta…
"I mean it is the unanswered question. He did not really care for slop, which was pretty obvious in his two races back over a very soft turf. We're hoping of course that he'll like the synthetic track. He's a horse that likes to train and really loves his job so we'll keep our fingers crossed and hope everything works out fort the best. I want to thank everybody for not putting any pressure on me by having to pick a post position. I appreciate post position one, so thank you.
"He has speed if we need it. Look, that's going to be up to Irad (jockey, Ortiz Jr). We have a very dangerous weapon on his back and I'm just going to leave that up to him. Obviously, it depends what happens at the break, but the horse is trained, Irad is the driver, I trust him. I think he's probably one of the top five, with due respect to so many other riders, riders in the country, and that's going to be his call."