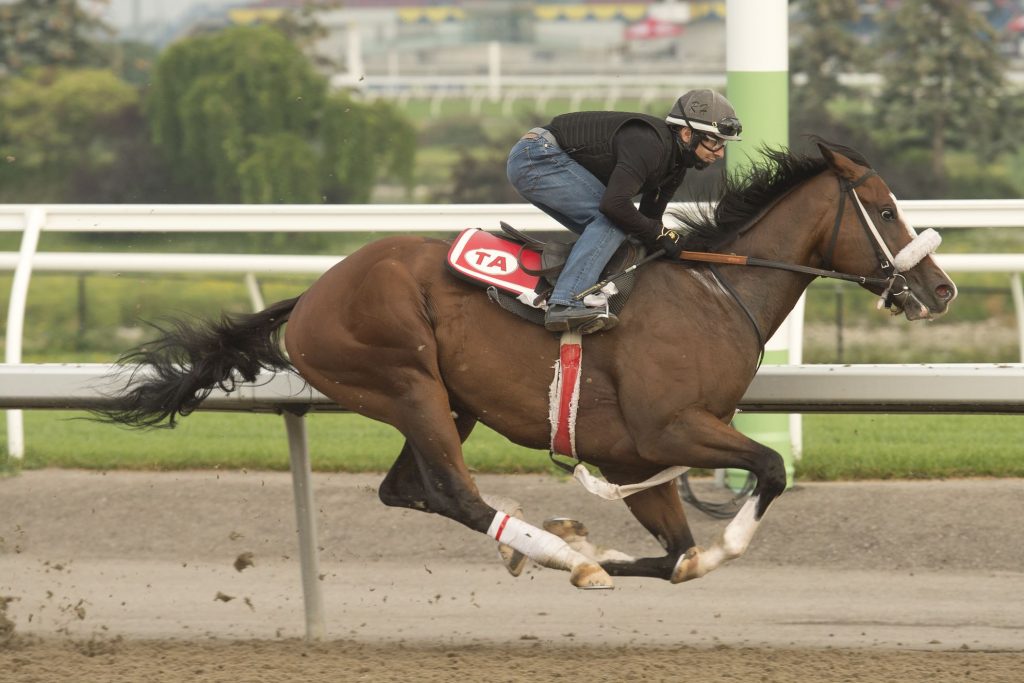 TORONTO, August 18, 2021 – A look at some of the contenders set to contest the 162nd running of the Queen's Plate, first leg of the OLG Canadian Triple Crown, slated for this Sunday at Woodbine. 
Full of energy, Safe Conduct revved up for Plate
Safe Conduct is a big horse with the energy to match.
"He has an exceptional amount of energy all the time and he just loves to train," said his New York-based trainer Philip Serpe. "The headlights are always on and he's ready to go."
A son of Bodemeister out of the Congrats mare Duchess Dancer, Safe Conduct's first and virtually only ordeal came the first time he had a workout on a turf course in Oklahoma as a 2-year-old.
"He came around a turn and I think he saw this more white than gray looking pony and he ducked in and stepped on a cone and the guy that rides him fell off him and (Safe Conduct) stepped on him and he cracked his ribs. But, other than that, he doesn't do anything wrong," Serpe said. "He never went anywhere. He just stood right there while the rider grabbed him."
Serpe said neither the slop nor soft track are to Safe Conduct's liking.
"I'm one of these guys that believes in the theory of, 'Okay, if he doesn't like soft turf and he doesn't like slop he may like Polytrack (at Woodbine) because he likes turf and the turf doesn't have to be firm.'"
Safe Conduct breezing on the Oklahoma turf with Irad Ortiz, Jr. up in 1:01.2. Last quarter in 23.2. Big gallop out. Will head to $1M Queen's Plate on Aug. 22 at Woodbine. Irad to ride for Serpe. pic.twitter.com/es82uAbF8r

— Keith-TripleDeadHeat (@TripleDeadHeat) August 13, 2021
Owned by Dr. Robert Vukovich's WellSpring Stables of Colts Neck, NJ, Safe Conduct will be ridden by Irad Ortiz, Jr., the Eclipse Award winner as Outstanding Jockey in each of the last three years.
*
Motion has Dance Some Mo ready for the big dance
Should gelding Dance Some Mo prevail in the Queen's Plate it would be a bittersweet victory for his Ontario owner and breeder Sam-Son Farm, which announced in October of 2020 that it was dispersing its racing and breeding stock before the end of 2022, bringing an end to a 50-year legacy in thoroughbred racing.
A win would be the third Plate triumph just in Dance Some Mo's family alone and the sixth by Sam-Son as an owner. Both Dance Some Mo's third and fourth dams — Dancethruthedawn (2001) and Dance Smartly (1991), respectively — won the Plate.
"I hoped to get him to this race. It was something that was important to me for (Sam-Son)," said Dance Some Mo's trainer Graham Motion, who is seeking his first Queen's Plate victory.
"He's a big, attractive horse. (Sam-Son) had high hopes for him when he came in from the farm. We experimented with the dirt, but, clearly, he was much better when we got him on the grass — and he handles the synthetic well," Motion said.
Dance Some Mo will be ridden by two-time Queen's Plate winner Patrick Husbands (Wando in 2003, Lexie Lou in 2014), who has nearly 3,500 career victories and earnings approaching $170 million. He is an eight-time winner of the Sovereign Award for Canada's Outstanding Jockey.
Sam-Son will also be represented in the Plate by Tidal Forces, a son of Malibu Moon, trained by Gail Cox.
*
Keep Grinding an Attard family affair
When Joshua Attard first raised the idea of taking a run at the 162nd Queen's Plate with Keep Grinding, trainer Tino Attard was cautious. He did not want to raise his grandson's expectations, knowing that many things could happen between the gelding's Nov. 20 maiden breaking effort in a 1 1/16-mile test on the Woodbine Tapeta and the nine months distant Queen's Plate.
After Keep Grinding came back with a third-place result in his sophomore debut on June 19 and then finished second in the Grade 3 Marine Stakes on July 11, both on the Tapeta at 1 1/16-miles, the elder Attard was ready for action.
"My grandson, he says, 'Nannu, maybe we've got a Plate horse here.' I said, 'Well, we'll keep playing around with him and see what happens', and we've decided we're going to go," said Attard. "Joshua is excited about it, I don't blame him."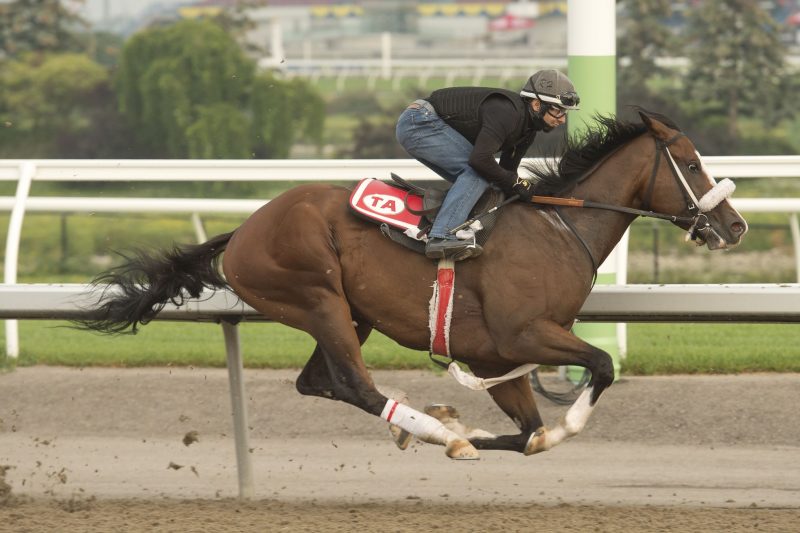 Joshua Attard had his eye on Keep Grinding at the 2019 Canadian Premier Yearling Sale and, with his grandfather's help, was able to purchase the son of Tizway privately for $13,000. The young owner, whose father is trainer Kevin Attard, then kept one eye on the colt's progress while doing his own work on the Woodbine backstretch last summer.
Sovereign Award winner Rafael Manuel Hernandez picks up the mount on Keep Grinding Sunday, as regular jockey Justin Stein will be aboard the Woodbine Oaks champion Munnyfor Ro on behalf of Kevin Attard.
A total of six horses will have an Attard connection in Sunday's race, but neither grandfather nor grandson would trade Keep Grinding for one those coming out of the Kevin or Sid Attard barns.
"I think he'll run good in there, believe me, he is working good," said Tino Attard, noting that the colt also takes excellent care of himself away from the racetrack, helped along by caretaker Beresford Lee. "He's an honest horse. What he's got, he gives it to you."
*
Field of 13 expected; Draw to be held Wednesday morning
The following horses are expected to run in this Sunday's $1 million race. Final entries close Wednesday morning.
Avoman
Dance Some Mo
Derzkii
Go Take Charge
H C Holiday
Haddassah
Harlan Estate
Keep Grinding
Munnyfor Ro
Riptide Rock
Safe Conduct
Take a Chance
Tidal Forces
The 162nd Queen's Plate breakfast and post position draw will be held Wednesday morning at Woodbine Racetrack. The festivities are scheduled to begin at 10 a.m. A live stream of the draw is available here.