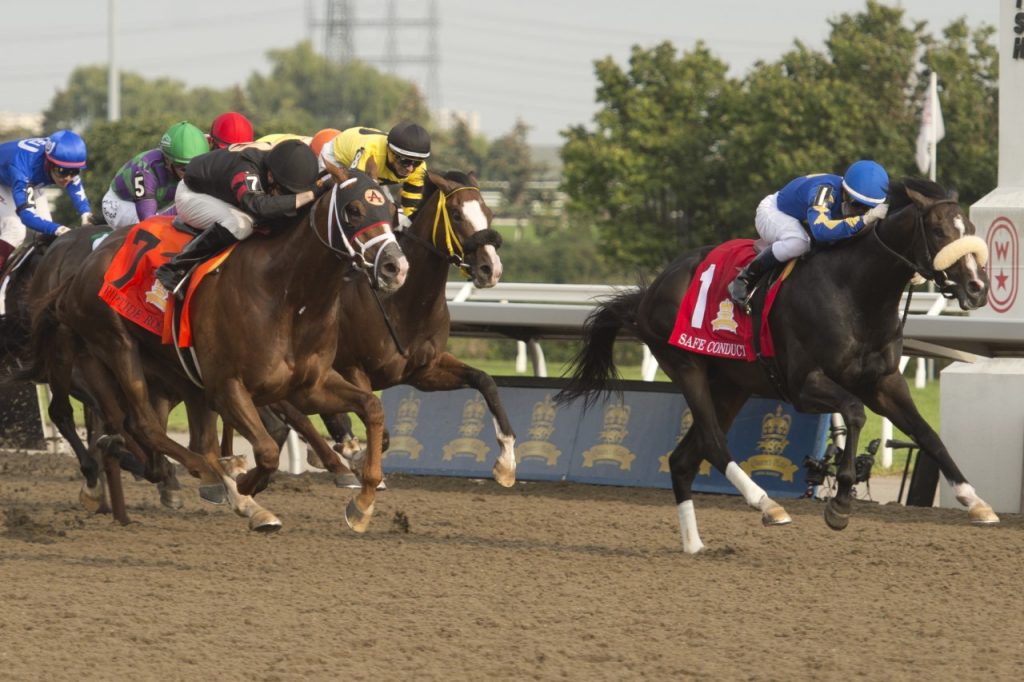 All Sources Handle Up 11% from 2020
TORONTO, August 23, 2021 – Safe Conduct's triumph in Sunday's 162nd running of The Queen's Plate, the first leg of the OLG Canadian Triple Crown, highlighted a tremendous day of world-class racing at Woodbine Racetrack that produced the second-highest wagering handle in event history.
A total of $16,122,170 was wagered on Sunday's 13-race card, including $3,491,564 on The Queen's Plate. The total handle is second-only to the 2019 event total of $18,005,973 and tops the 2020 handle of $14,532,678 by 11%.
"This year's Queen's Plate brought the energy of our great sport back in full-force to Woodbine with an outstanding crowd and thrilling racing," said Jim Lawson. "It's evident that this excitement was felt across North America and we're elated to see the support this great day of racing received as part of the continued growth of the Woodbine brand.
"On behalf of Woodbine, a sincere thank you to our staff, partners, horse racing community, horseplayers and fans for adding to the storied history of The Queen's Plate."
The Queen's Plate card included a trio of Grades Stakes races, 11 turf course races and several multi-leg wager guarantees. Horseplayers saw several generous payouts, including a 70-1 upset by Mambointheforest ($161.70) in the eighth-race. The Late Pick-5, which generated a pool of $491,899, featured three stakes contests as part of the sequence and returned $12,795.65 for a $1 ticket ($2,559.13 for $0.20).
With post time favourites going four for 13 on the program, the average $2 Win price (excluding the 70-1 upset) was $12.40.
The last time The Queen's Plate was run on a Sunday it generated a handle of $11 million (2017). The three previous Queen's Plate cards were run on Saturday.
Earlier in the week, Woodbine Entertainment successfully launched Dark Horse Bets, an innovative app that simplifies wagering on horse racing.
Live racing resumes Thursday afternoon at Woodbine and continues Thursday through Sunday for the remainder of the season. Fans and horseplayers can watch and wager on each day of racing through HPIbet.com or the newly redesigned Dark Horse Bets App, available for Apple and Android devices.
PHOTO BY MICHAEL BURNS
Safe Conduct digs in for jockey Irad Ortiz, Jr. to win the 162nd Queen's Plate on Sunday at Woodbine Racetrack.