TORONTO, August 10, 2022 – Woodbine Entertainment announced today that platinum-selling Canadian country duo, The Reklaws, have been named the celebrity ambassadors for this year's 163rd running of The Queen's Plate on Sunday, August 21 at Woodbine Racetrack.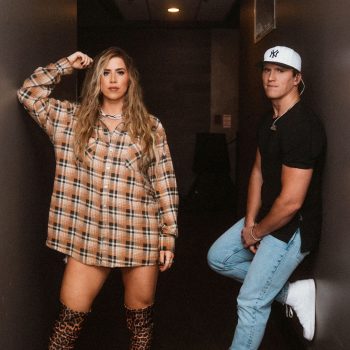 Comprised of siblings Jenna and Stuart Walker, The Reklaws are multiple-time CCMA Award winners and have received multiple JUNO Awards nominations. The duo has amassed 250 million-plus streams globally along with 10 gold and seven platinum-certified tracks.
As Queen's Plate celebrity ambassadors, The Reklaws will take the stage at Woodbine for a special performance, which will also be broadcast live on CTV and TSN (4 p.m. ET). The duo will also perform the ceremonial 'Riders Up' call just prior to The Queen's Plate race.
The Reklaws are no strangers to Woodbine and The Queen's Plate, having mixed their rural roots and country music fame with the sport of horse racing on multiple occasions. The Reklaws performed the national anthem at The Queen's Plate in 2018 and teamed with Woodbine in 2020 to film the music video for their single "Where I'm From", which helped raise funds for racehorse aftercare programs.
"The Reklaws have been great friends of Woodbine and to the horse racing industry, so it makes perfect sense that we welcome them back as this year's Queen's Plate celebrity ambassadors," said Jim Lawson, CEO of Woodbine Entertainment. "It's been a treat to watch their continued success and we know they will deliver a great performance on Plate day."
"We're so excited to be returning to the 163rd Queen's Plate – it's always one of our favourite events of the summer," said the Reklaws' Stuart Walker. "We're really humbled to have been asked to join Plate day as a celebrity ambassador and are looking forward to taking the stage to get the party started this year," echoed Jenna Walker.
Tickets to this year's Queen's Plate are on sale now through Ticketmaster.ca with multiple options available. Grandstand seats are selling fast, while limited dining packages and premium experiences also remain.
The Ketel One Clubhouse Social is the ultimate premium Queen's Plate experience, providing an enchanting social experience that highlights fashion, delectable gourmet treats, live music and much more in a relaxing yet sophisticated setting.
To view more details on Queen's Plate ticket and experience options, click here.
For the latest updates on this year's Queen's Plate, visit Woodbine.com, QueensPlate.com and follow @WoodbineTB on social media.

Woodbine Communications