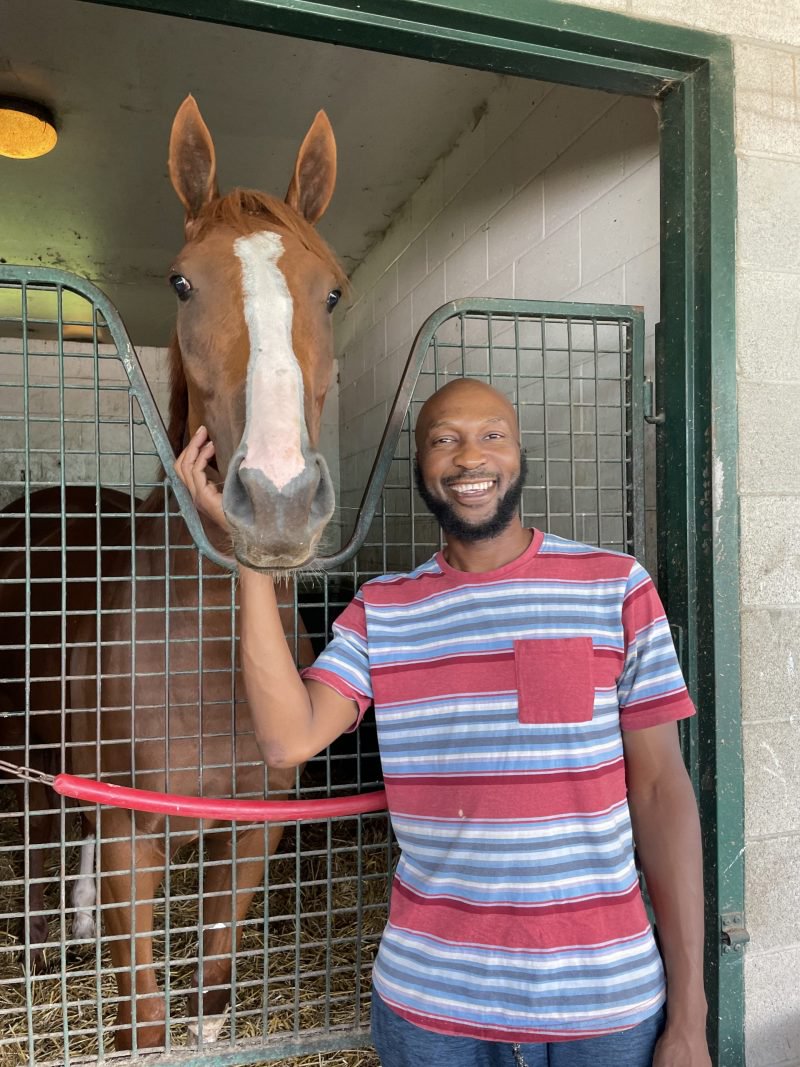 Sunday marks the 164th running of The King's Plate. The last King's Plate took place in 1951, and 2023 marks the first year of the historic name change since then. The $1 million classic is the most prestigious horse race in the country and the longest continually run stakes race in North America.
Ten grooms in The King's Plate provided insight into their horse's distinct personality, as well as sharing their personal bonds with the horses. Preparing for Woodbine's biggest race is no small feat, and the early mornings and long nights that got each horse Plate-ready is a huge undertaking and a team effort.
Kevin Attard trains four horses for the King's Plate this year. Howard Carter grooms two of those horses, Wickenheiser (Lemon Drop Kid-Game (FR)) and Moon Landing (Nyquist – Fragrance). Moon Landing is owned by Robert V LaPenta, e Five Racing Thoroughbreds, and Madaket Stables LLC. Carter has worked for Attard since 2013 and has been grooming the bay colt as of this year after the horse came back from Gulfstream for the winter.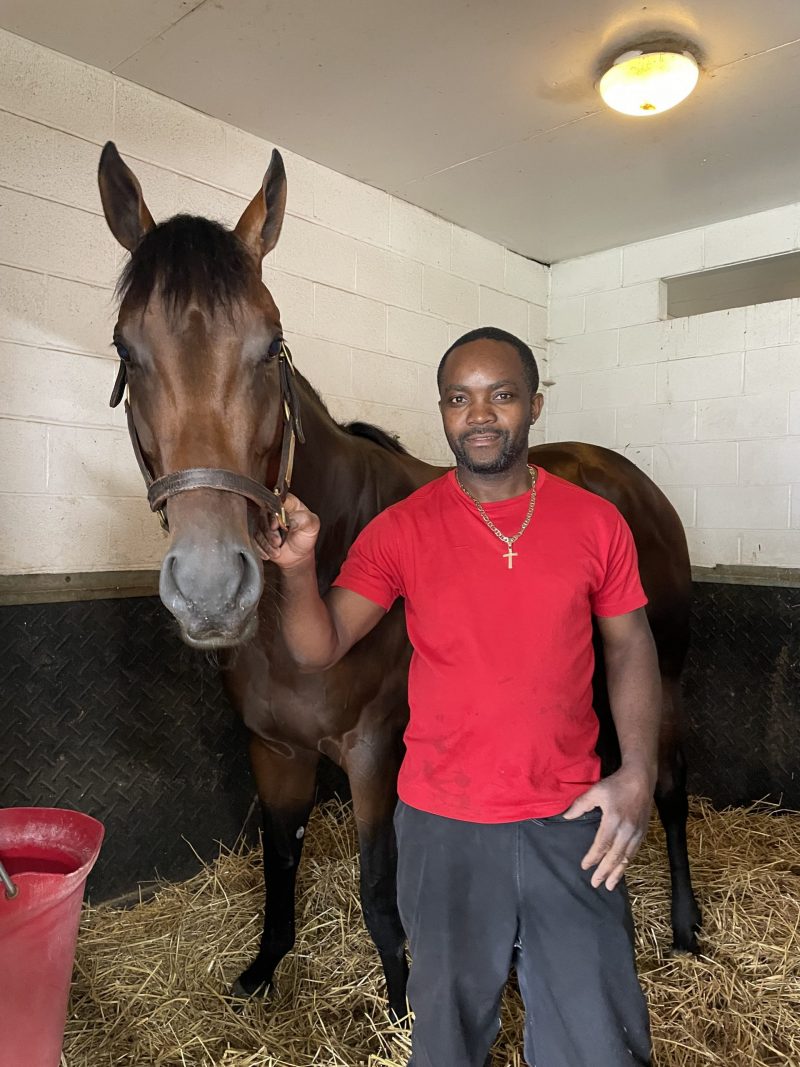 "He's very aggressive with food, but otherwise he's a nice horse to deal with," said Carter, who notes how Moon Landing even searches for carrots while walking in the shed. "He's easy."
Moon Landing is particularly drawn to carrots and grass.
"All six of the horses that I take care of are nice on the grass. They're all my favourite, I love them all. I take care of them all the same way. They give you their best, and I'm happy that they come back sound."
What makes Moon Landing unique, offers Carters, is his maturity.
"He doesn't give me a hard time. He's a horse that's mature and carries himself like a decent horse. The rider is the key thing too. What we don't see, they can feel it. Often, the riders can feel what the horses need, and the grooms can see it."
This is Carter's first King's Plate.
"I didn't have an opportunity with The Queen's Plate, but I have two with The King's Plate. Maybe it's my lucky year because of the change."
Stuart Simon's horse Twin City (Klimt-Minnie Apple Is) is owned by Simon, Brent McLellan, Russell McLellan, and Roy E. McLellan. Velore Wright has groomed the horse since he got on the track as a 2-year-old. She has been working for Simon for about three years.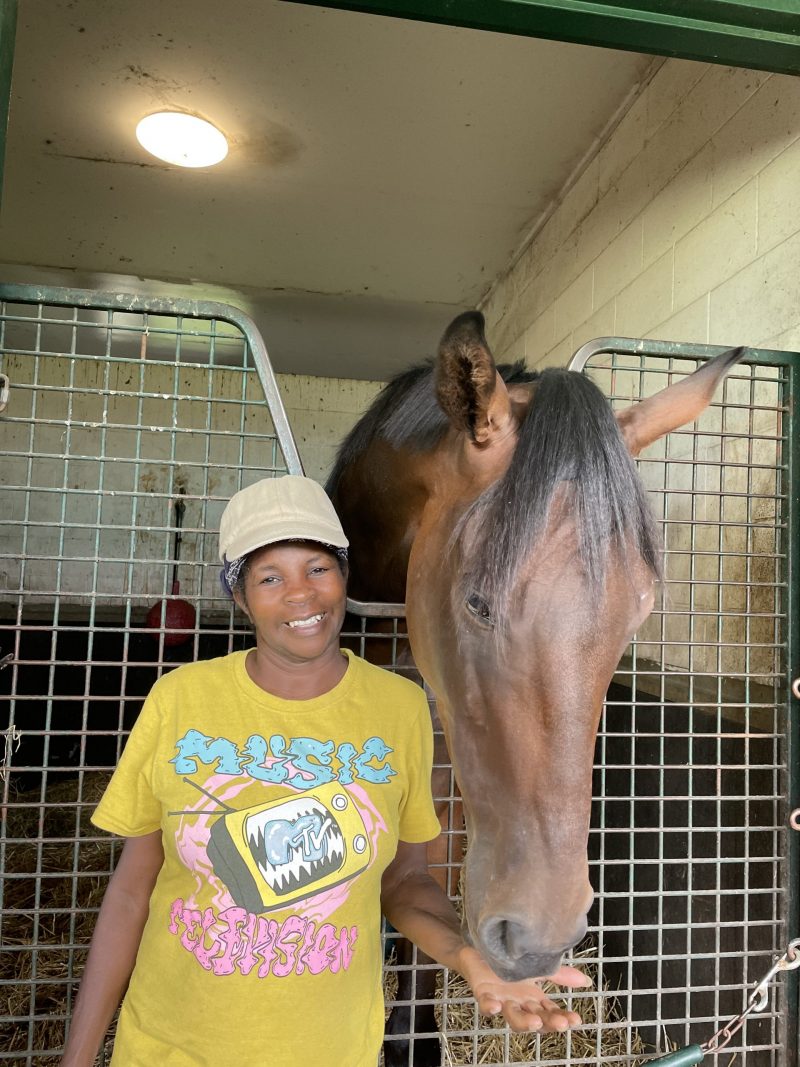 When Wright first saw Twin City, she first noticed his height and long legs.
"I came into the barn, and I saw this gigantic thing and I was like, 'Wow, this horse is so big.' The myth is if you have a big, long horse then they can't run. And when I started grooming him, I noticed he was very friendly. He has his mood swings every now and then, but he'll cuddle you up in the morning."
Wright commented on how the bay gelding surprised her.
"When we ran him last year as a 2-year-old for his first race, he got second. And then he got three more seconds. He could actually run! It surprised me because you wouldn't think it since he's so big."
She adds, "He's very friendly and has been good to me so far, I can't complain. He's a chill and humble horse. But when he goes on the track, it's all business. He's a totally different horse and has a whole different attitude."
When asked what sets him apart, Wright comments pointed to his height.
"He's the tallest one in the barn with his long legs."
She also points out how, on his left eye, he has a beauty mark that looks like he has a permanent teardrop.
"He frowns up with his eye, it's like a worried look."
Kaukokaipuu (Mr Speaker-Grey Pride) is trained by Ted Holder and owned by Culpepper Island Syndicate, which was formed by Holder.
The grey colt is a team effort in Holder's barn, but Marge Szigeti would be considered his groom. Szigeti has worked for Holder for about a year and has groomed Kaukokaipuu since the end of March of this year.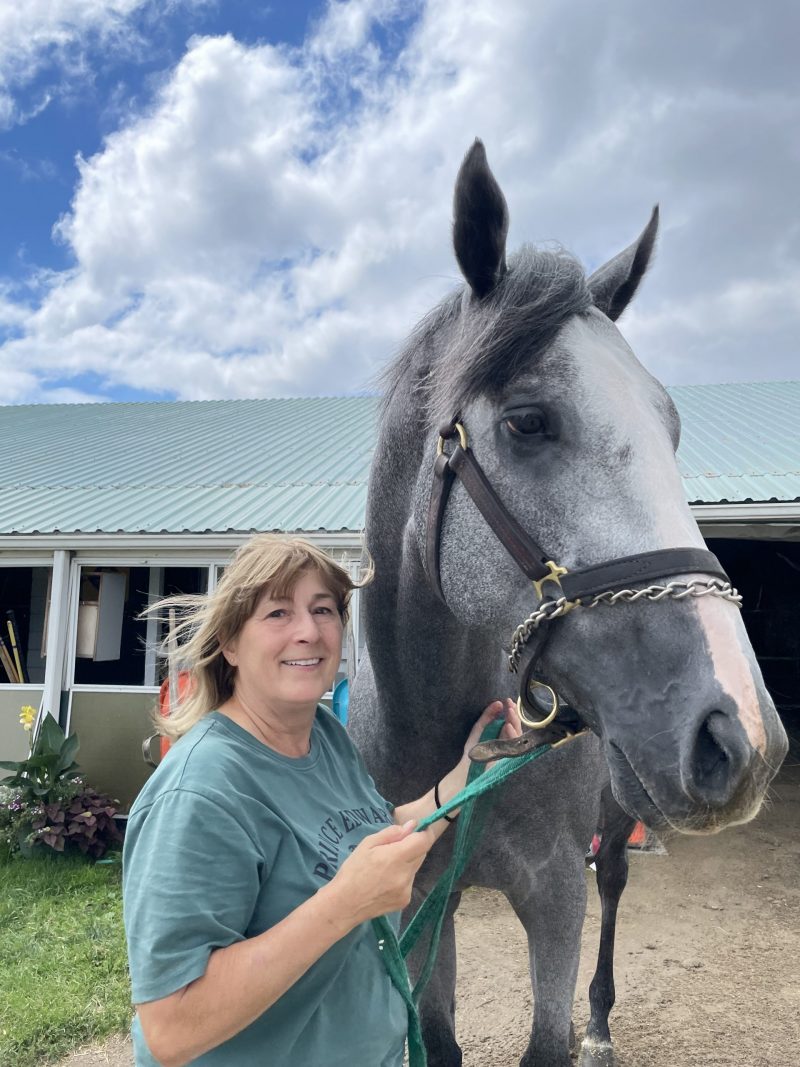 "He's a very happy horse. Last year there was no biting, but this year he knows he's a colt, so he started biting," Szigeti shares.
Lots of activity or wanting attention is what usually sets off his biting.
"In the mornings when there's activity, he's got his head out and does the helicopter head. If you get close enough, he'll want to bite you. Or, if you're walking a horse in the afternoon then he'll try to bite the hotwalkers as they're cooling the horses out. But once you're outside or in the stall with him, he's so loveable. If there were multiple people giving him attention, then he'd love that even more."
The horse is one of Szigeti's favourites.
"We're really getting close. Ted has to call me to catch him in the stall."
Kaukokaipuu loves carrots but on one condition.
"They have to be small pieces. He'll take it gently, finishes it, and then waits for another piece. He's such a gentleman with his small pieces of carrots."
He also gets excited to train in the mornings.
"Once he knows he's getting ready to go out in the morning, he's very impatient."
What makes Kaukokaipuu unique?
"His gentleness, when he wants to be."
Szigeti gets emotional when talk turns to the race.
"This is my second Plate," she said, tearing up. "I'm all these emotions. I can't put it into words."
Trainer Mark Casse has two horses in The King's Plate this year. The first is the 2023 Woodbine Oaks Winner Elysian Field (Hard Spun–Elysian), who is owned by Team Valor International and Gary Barber.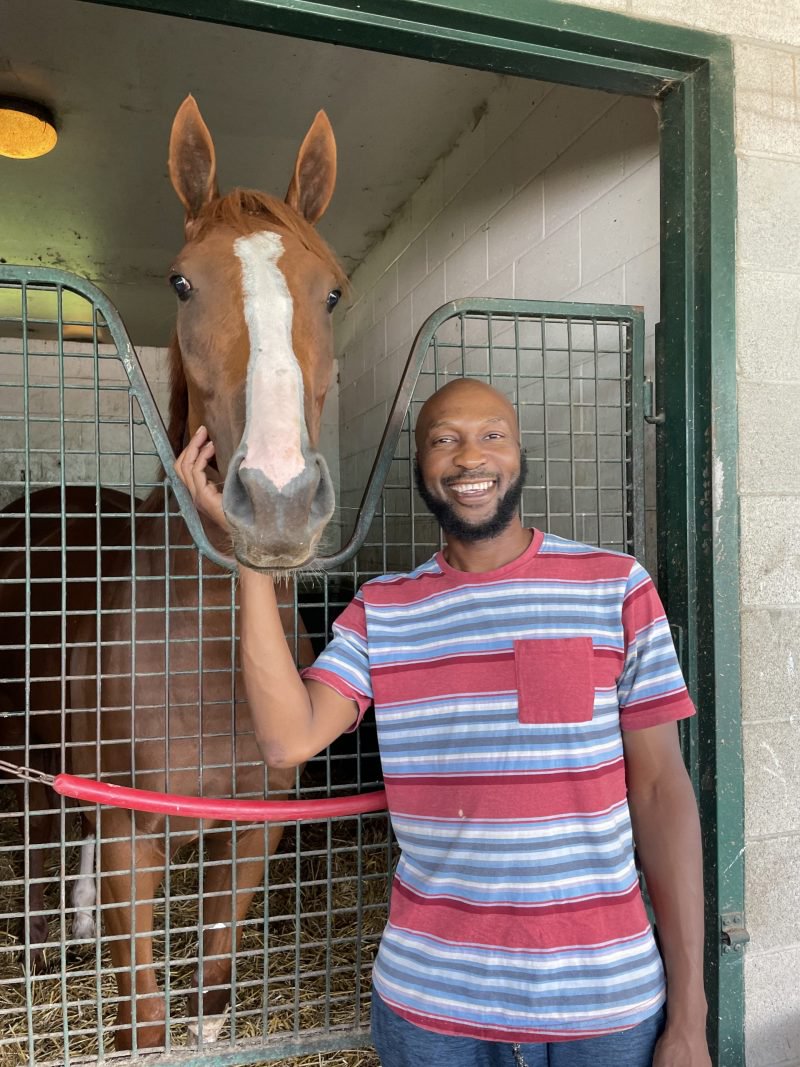 Gareth Daniel has worked for Casse for about 20 years and started grooming Elysian Field this year."She's one of my easiest horses to work with," said Daniel. "She's a real sweetheart. She loves her mints, and she always stands there until you give them to her. She never leaves a crumb of food."
Daniel also shares how the horse knows when she has to work in the morning or run in a race.
"She's so cool. When the tack goes on her, she's a different horse, she knows it's business time. She knows when she's running, and she puts on that racing persona."
Daniel has a water bottle full of mints for the horses that he grooms and notes how he has a "lovely bond" with Elysian Field.
"As long as I come here, they know the mints are going to come out."
Daniel is a Plate veteran.
"This has been my fifth horse in the Plate. It feels amazing. The intrigue of it, just being in there and just being involved in it and having a horse in there with the buzz."
Velocitor (Mor Spirit-Polar Plunge) is Attard's second horse in The King's Plate. The dark bay gelding is owned by Al & Bill Ulwelling.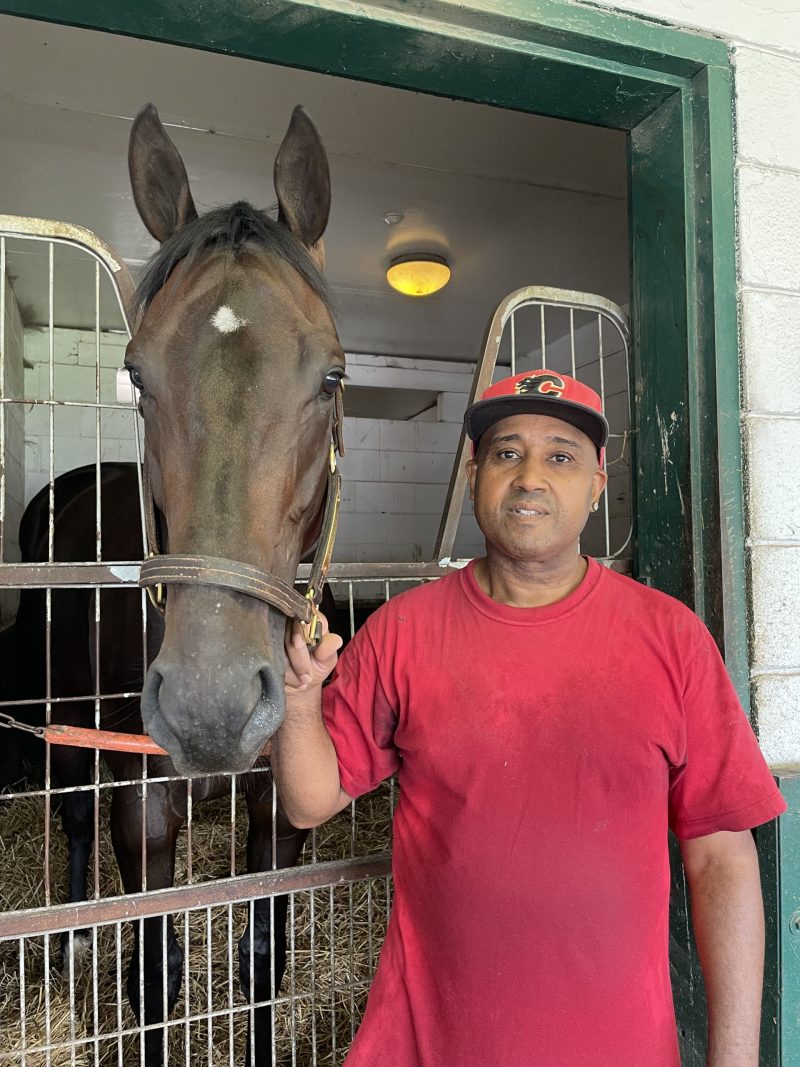 Raymond Harris has groomed Velocitor since he got to the track as a 2-year-old and has worked for Attard for about 10 years.
"He's very aggressive, especially in the morning when his bridle goes on. He'll toss you out of the way. "We have to get along. I love him, he's like my baby. When it's time to get his bath, he just stands there no problem. I have four more that I take care of, but he's my favourite."
Velocitor, who Harris also describes as, "high-strung" and "energetic," can be impatient to get out in the morning.
"He wants to go and loves his training. When it's time to get him ready, he uses his head and pushes you around. He just wants to get out."
Velocitor also relishes his racehorse role.
"When he goes out to train, he means business. No matter what the competition is, he always tries. When it's time for racing and he goes out there, he goes 100 percent. When he was a baby, he never missed the board. Last year he won three races and had a second and a third. So far this year, he had a bad start."
This is Harris' second Plate.
"It'll feel even better if we win it. It's special. It's my dream to win the Plate."
Trainer Michael De Paulo is running two horses for this year's King's Plate. The first, Stanley House (Army Mule-Stormy's Song) is owned by John E. Russell and Diana L. Russell.
Joseph De Paulo, Mike's son, grooms Stanley House and has done so ever since he got to Woodbine.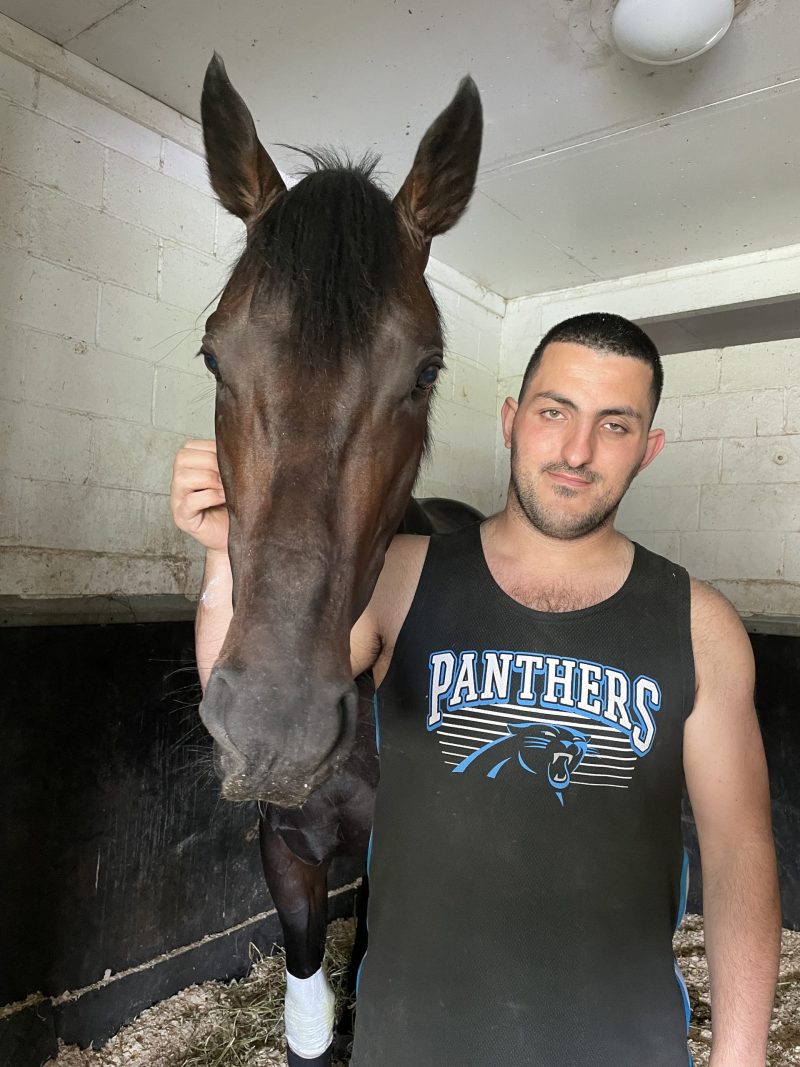 "He got to my stall and never left. We went to Florida, he came with us, and no one else has ever looked after him."
What's the best way to describe Stanley House?
"He's a class animal. He doesn't have the biggest personality, but he does everything right. He acts like a professional and is a gentleman. He's an outstanding horse, anyone could take care of him. He's a wonderful animal."
De Paulo also describes Stanley House as "regal" and "relaxed."
"He's a cuddly horse and likes his head rubs. We have a good relationship; he respects me and I respect him. Even when he eats the mints, he's gentle."
As for what makes Stanley House unique, De Paulo notes, "He's outstandingly classy. He does everything right, the way you show him to do it and how you expect him to do it. And that's how he does it."
De Paulo is excited about the big race.
"It's my father's dream to win the Plate. So, if I can help him achieve that, that's bigger for me than winning a race."
Ivan Forde grooms Paramount Prince (Society's Chairman-Platinum Steel), the second horse trained by Mark Casse in the Plate. Paramount Prince won the 2023 Plate Trial Stakes and is owned by Michael J. Langlois and Gary Barber.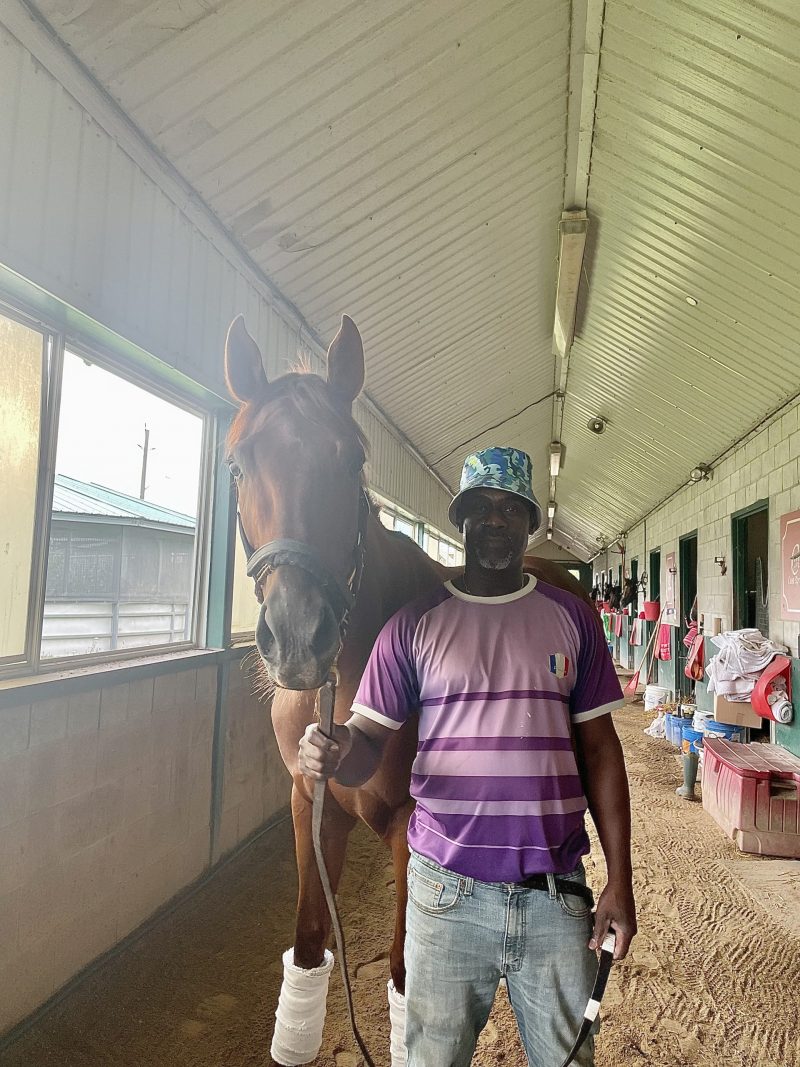 Forde has worked for Casse for 17 years and has been grooming the horse as of this year.
"He's an easy horse to get along with. He's nice to be around and is a happy horse. He does bite though."
When asked if the chestnut gelding is his favourite, Forde responds, "All of my horses are my favourites, I treat them all the same. He's relaxed and calm on race day until he's ready to get going."
Forde has had multiple horses in the Plate over the years.
"I've been in the Plate many times, more than six times. I've groomed some good horses, like Lexie Lou and Neepawa."
Lexie Lou had 10 lifetime wins, one of them coming in the 2014 Woodbine Oaks and Neepawa won the 2018 Breeders' Stakes at Woodbine.
He shares more about what makes horses like Paramount Prince special.
"On the day they run, they have to show their talent. We hope for a good trip on Sunday. And best of luck to everyone in the race. May the best horse win."
De Paulo's second horse in The King's Plate is Cool Kiss (Kantharos-Hot Kiss), owned by Newtop Stables, John E. Russell, and Joseph De Paulo.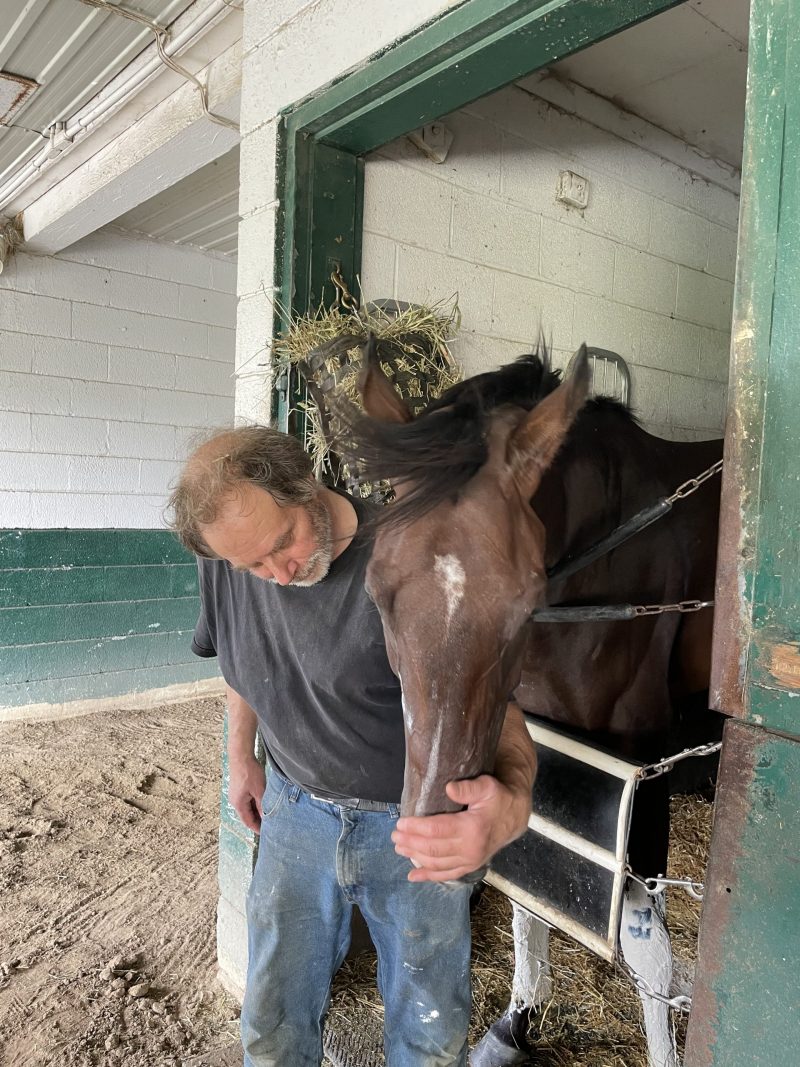 Howard Pottins grooms Cool Kiss and has done so since the horse got to the track as a 2-year-old last year and previously groomed Cool Kiss' mother, Hot Kiss. Pottins has worked for De Paulo for 16 years.
Pottins notes the horse's journey from a 2-year-old to a 3-year-old and how the horse has become kinder and less aggressive.
"He's as kind a horse as you'll ever meet. He didn't start out that way, but he's grown up. A very kind horse. When he was a colt, he was aggressive and immature, but now he's grown up. He can be a little crazy but in a good way. He knows what he's about."
As for the bond between Pottins and Cool Kiss, "We're buddies. He beats up on me, but I let him do that. Good racehorses always want to train. They want to get going. He doesn't like waiting."
Mints and grazing are Cool Kiss' favourite treats.
"He is food-motivated but that's not why he trains or runs well, he just loves to do it. But there's no question that the food helps."
Ahead of the King's Plate, Pottins is focusing on the horse's safety.
"Whatever happens, happens. As long as they come back okay."
Philip My Dear (Silent Name (JPN)–Involuntary) is Attard's fourth horse in this year's Plate. The dark bay colt is owned by Raroma Stable, LLC.
Joshua Attard, son of Kevin Attard, has groomed Philip My Dear since he got to the track as a two-year-old.
"He's very playful," said Joshua. "He's always happy all the time. He's always feeling good. He wants to bite you. He means it sometimes, but he just wants to play and wants attention."
Attard shares more about his bond with the horse.
"We have a pretty good bond, I always feed him mints, try to keep him happy. Every day after I feed, I take him outside and give him some grass. He's one of my favourites for sure. Mints and carrots are his favourites. He eats everything. He doesn't leave anything in the tub."
Attard shares how Philip My Dear gets excited to train in the mornings.
"He's a little impatient to go out in the morning. He digs and wants to get out of his stall and go train."
As for what makes the horse unique, Attard points to his good-natured ways.
"He's happy every day. Some horses have a bad day, but he always has his head out in the front of the stall. I've never seen a day where he's sad or upset."
This year is Attard's first Plate for a horse that he grooms.
"I'm both excited and nervous but he'll try his best. I've been grooming now for three years. To have my first horse in The King's Plate in only my third year is remarkable."
Renico Lafond is the trainer and groom of Morstachy's (Mor Spirit-Wekiva Mist). Morstachy's was claimed by Lafond on July 23 of this year and is owned by Kris Manohar.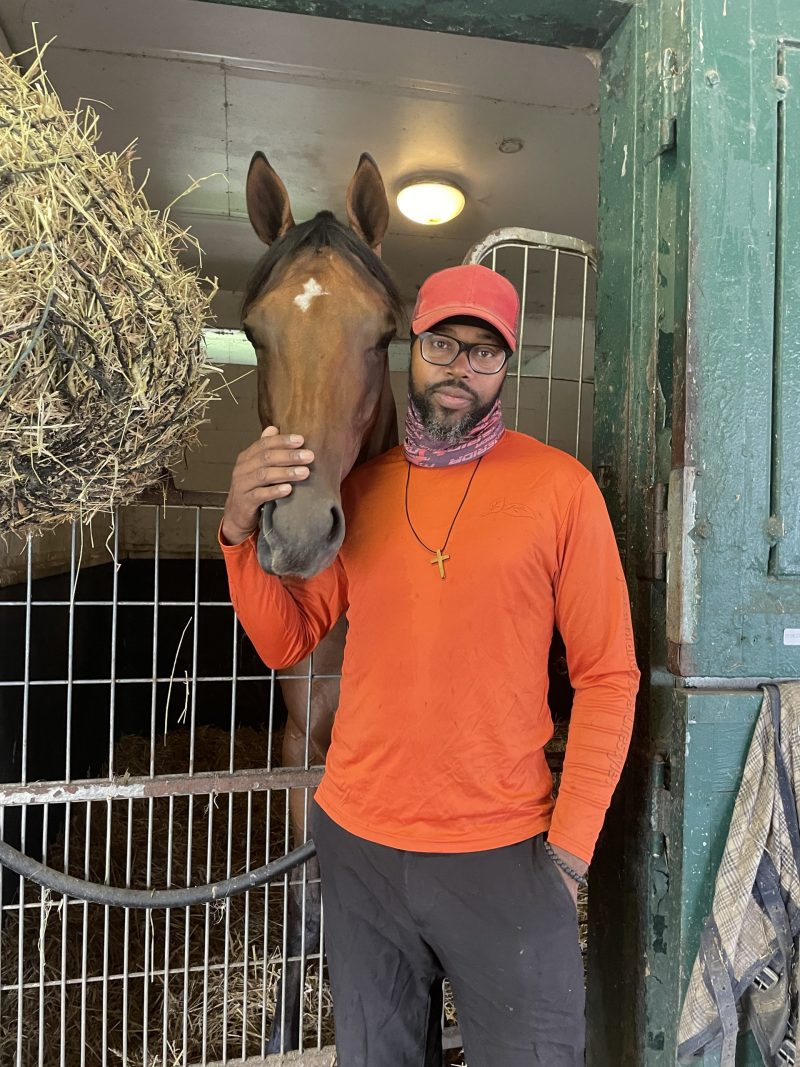 "When I first got him, he was very timid and shy. Now he's very vocal and outgoing. He's very loving to me. He was very high-strung at first, but he's calmed down a lot."
Lafond shares the importance of establishing a bond with the horses they take care of and how every horse is different.
"I spent a lot of time with him, and he became more trustworthy of me. He's now very demanding of food and attention. It shows how much when a horse trusts someone, how much they'll do. They'll do the best they can because they know that they're loved, and you take the time to understand the animal. They can't talk but they talk through physical action. If you listen as a human being and see what they really want, they will tell you. They'll give you their all if you do all that you can to make sure that they're happy and safe. You can tell if they're happy or sad."
Lafond likes a challenge, and Morstachy's initially was one for him, due to his high-strung attitude.
The horse's progress impressed Lafond.
"He's come a long way. I do wish I had more time with him but the time I did have with him, I got a lot accomplished. He worked the other day, and I was impressed, and the jockey was shocked too. It was the best he's ever worked, and he did it gracefully and easily."
Lafond is the only one who handles Morstachy's on a day-to-day basis, something that is important for a horse like him.
"We've got a really strong bond. Before he was always worried but after a week, he started to drop his guard, and he could put his head on my shoulder. Then he started bossing me around and pawing for food. It's amazing how fast he came around."
Morstachy's drew Lafond to him based on how he finishes in a race.
"The way he closes in a race, that powerful kick that he gives. That's what got me interested in him, I love that about him. His mindset has come a long way and he's more focused now. He's really happy to actually do it."
This year marks Lafond's first Plate starter.
"Even though I'm a small person with an underrated horse, when you take the time to learn about them and spend time with them, they'll do anything for you. They'll give their all for you once they're happy. That's the key. "I'm ecstatic. I'm going in confident and want to make sure everyone's safe. For myself, I'm the youngest trainer in the race."
As for being in The King's Plate, Lafond is embracing all the excitement surrounding the big race.
"It's hard to believe. Let's go for it. Whatever happens, happens, but we're in."
Regarding this year's historic name change, Lafond says, "It's mind-blowing. It's one to remember. You won't forget this one."
By Sophie Charalambous for Woodbine Communications