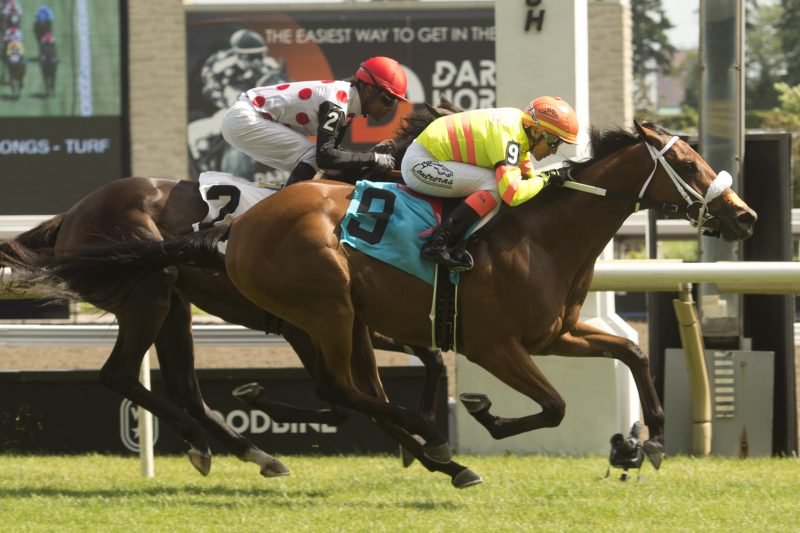 An owner's silks are a unique representative of not only the owner but their horses and the jockeys who wear them. Each owner has their own distinct design with various colour combinations to represent and differentiate themselves, with each set of silks having a story behind it. The design and colour symbolism can take on various meanings, whether that be historical or cultural significance. But the story is always personal.
Three owners in The 164th King's Plate shared more about the process and symbolism behind their silks, as well as their thoughts and feelings about being in this historic race.
John E. Russell owns Stanley House (Army Mule – Stormy's Song) in a 50/50 partnership with his wife, Diana. Russell also has another horse in the big race with Cool Kiss (Kantharos – Hot Kiss), made up of a partnership alongside Newtop Stables and Joseph De Paulo. Cool Kiss wears Newtop Stables' silks, and the decision on whose silks were chosen was, as Russell puts it, "very informal". Both horses are trained by Michael De Paulo. Russell's silks are described as "Royal blue, white blocks, blue sleeves, and fuchsia hoop with a blue cap."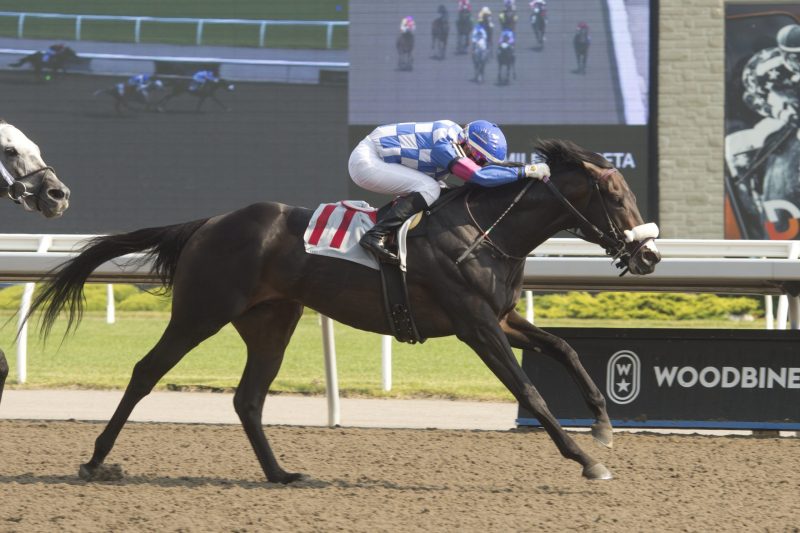 For his personal silks, Russell took inspiration from Penny Chenery's silks, who trained Secretariat. "I'm sure everyone would recognize that they're very similar to Penny Chenery who bred and raced Secretariat. I've always thought, and most people would agree, that he was the best racehorse of all time, so it was kind of always in the back of my mind. I thought that if I was in a position to be in this sport, I would want to utilize something similar, but didn't want to copy."
John and Diana got the chance opportunity to meet Chenery in Saratoga in the early-mid 90s. "I've always admired Penny. She just happened to be sitting adjacent to us in the grandstand and I looked over and said, 'Jeez, that looks like Penny'. We had a bit of a conversation with her, and it stuck in my mind. That was the big motivating factor in the colours. It was important that they were not the same but were a memory of Secretariat and her."
Russell shares that Secretariat's success and ability were inspirational to him and a goal of his. He wanted to model his silks similar to Chenery's for that reason, "We took the blue and white checkered body of the jacket and made a change on the sleeves to put a fuscia band on the arms. We wanted to give it a little identity for ourselves and wanted a personal zip. Diana has a very artistic way about her, and she pulls out some colours, like 'Can we put this on the arm?'"
Russell also notes the multiple connections that Secretariat has to Canada and Canadian racing, noting how the horse's final race took place at Woodbine.
This marks Russell's first Plate. "It's kind of crazy for a small operation like ours to have two horses in the biggest race in the country. A partnership in one of them and another one we own entirely. To say the least, it's pretty exciting. We're very excited about the upcoming race and how well we've been approached for the race. Julia Bell has been really helpful in guiding us through how the day will shape up. We're really looking forward to the day."
When asked about how it would feel for their silks to be the first to cross the wire for The King's Plate, Russell says with a smile, "I can't imagine. They're both legitimate chances in the race. In horse races, anything can happen, I just hope for a good, safe trip for everybody. It's a pretty remarkable story really, considering we never have more than one or two horses. We're competing with the big boys and they both belong and that's exciting. The silks always look great when you hit the wire first. They look fantastic."
When talking more about the day ahead, "Both horses are legitimate in the race. Stanley was the favourite in the Plate Trial and Cool Kiss snuck up and got a second. We hope the same for the Plate."
Russell shares his appreciation for De Paulo and his family, who have worked with Russell since 2010. "I would be most pleased for Michael and his family. Both horses are trained by Michael, and it's been a great experience with him leading up to the race. They're (Michael, Joseph, and Josie De Paulo) great people, and we're very lucky to be associated with them. Michael organized our breeding partnership (Phoenix Racing) and purchased Stanley House as a yearling for Diana & I. He's been there every step of the way."
Javier Castellano will ride Stanley House and Emma-Jayne Wilson will ride Cool Kiss. "We're in good hands all the way around," Russell said.
Kaukokaipuu (Mr Speaker – Grey Pride) is owned by Culpepper Island Syndicate and trained by Ted Holder. The Syndicate was formed by Holder, with the majority of the syndicate being made up of the Holder family, including his children and cousins.
"The syndicate was formed by me. It was originally just going to be my family," Holder shares. "But then, I told Edna Black, a good friend of mine, that I think this horse is going to be a nice horse and I should bring her along. The horse has a lot of class, he's not a high-maintenance horse. And away we went. My cousins are also involved in the horse. And Pink Racing is involved, I brought them along because they owned his sister (Hallanvaara). Most of the syndicate is made up of me and my family."
The Culpepper Island Syndicate silks are "Yellow, blue diamond yoke, with a blue hoop on the sleeves, and a yellow cap." These silks have been used by Holder since 1987 in Barbados. Colour symbolism was a big part of the decision-making process for the designs of Culpepper Island Syndicate's silks. "Blue is my favourite colour and yellow was the colour of my high school. I look good in blue and yellow, so my horse will look good in blue and yellow too. So, I decided to go that route with the blue and yellow."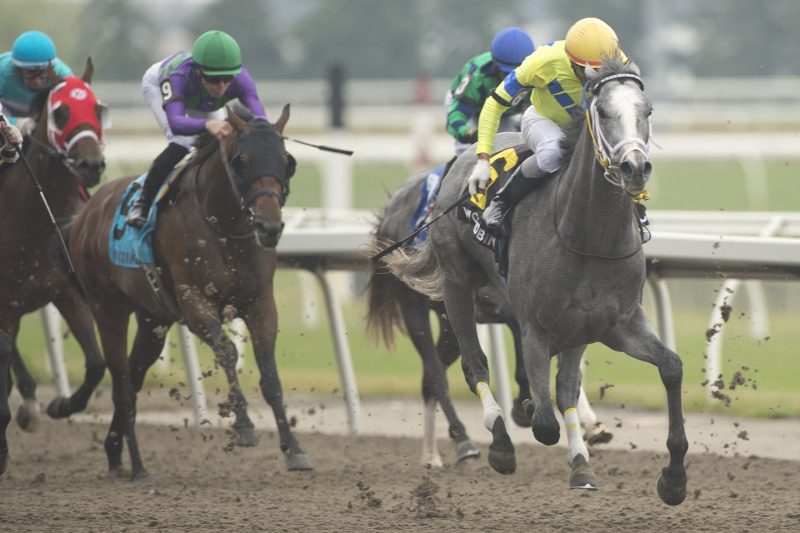 Holder also notes the popularity of blue in historic silks, "Blue is one of the primary colours." As for the decision to incorporate blue diamonds in the design, "Chevrons were a big thing in England. So, I went for that."
Holder noticed Kaukokaipuu's talent early on. He wanted to be proactive and make the ownership of the grey colt a partnership and team effort, rather than just for himself. Since he owns most of the horse, alongside his family, it was Holder's choice to have the horse be a group representation. "It's not about me, it's about the group. There's always a team behind it."
This is also Holder's first Plate. "I've only run in about five stake races. He's a really nice horse on the track."
When asked about the historical significance of the biggest horse race in Canada, as well as this year's historic name change, he shares, "A lot of history will be created that day. I didn't really start to think of the historical side of it until about a month ago. I started thinking about Ricky Griffith and everything started to go off in my mind. I'm the first trainer from Barbados. There are a lot of firsts. A lot of history can be created. Then I started to get excited. And I want to create it, I want to win. And the horse is certainly acting like he wants to win. He's happy."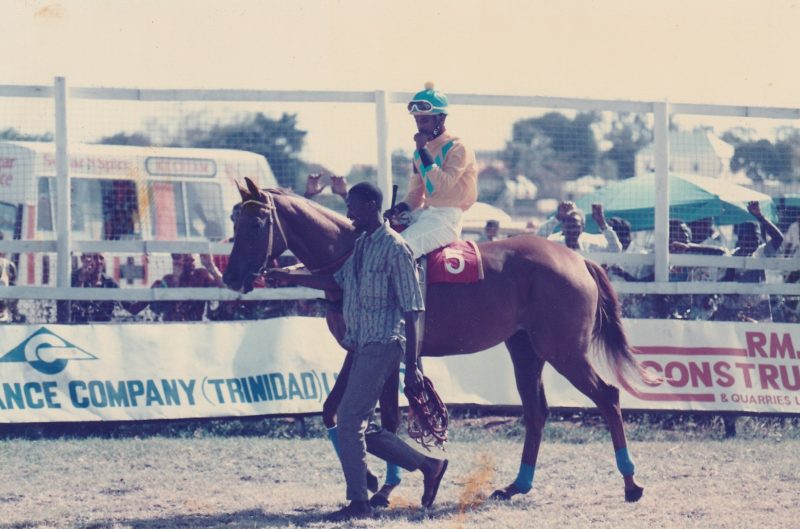 Holder reflects on what it means for his silks to be in the first King's Plate since 1951. "It means a lot. I brought them from Barbados. I've had them under my personal name before. My own personal horses race under my black and white silks. The horses that are a part of my partnerships and syndicates will compete under the blue and yellow silks."
Al & Bill Ulwelling are a father-son ownership duo that has been working with trainer Kevin Attard for years. They have two horses running in this year's Plate; the first is Velocitor, and the second is Wickenheiser, who is owned in partnership with Clay Scherer and Kevin Attard. They also have a horse that they bred in the Plate, Morstachy's, who was claimed from Attard at the end of July and is now trained by Renico Lafond.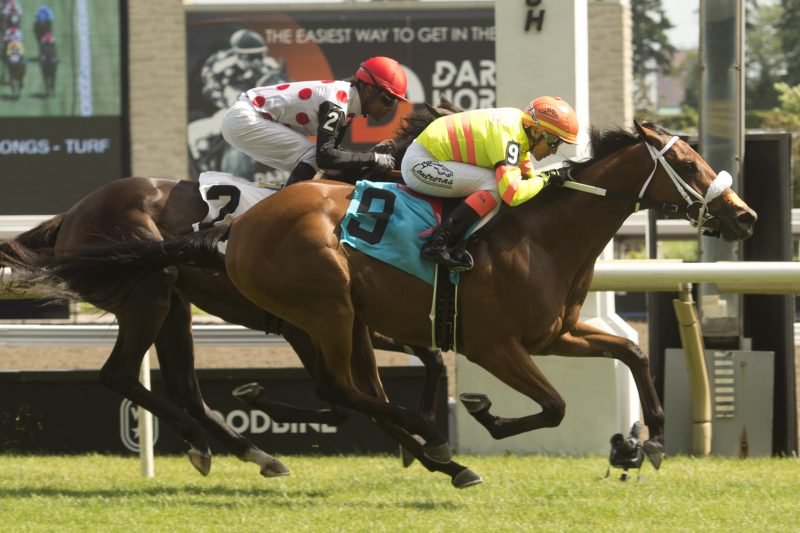 Al, who makes up the son part of the father-son ownership, talks more about their horses in the Plate, "We're the majority owners of Wickenheiser, so she runs in our silks. My father and I don't take on partners in horse racing, but this particular horse has tons of upsides, so we got Clay and Kevin involved. And she will run in our silks."
"I have two daughters, we're big on girl power and we would love to see Wickenheiser win the Plate." Wickenheiser is named after Hayley Wickenheiser, Olympic gold medal-winning hockey player. "Kevin named her and came up with the world's best female hockey player."
The Ulwelling's silks are "Yellow, orange 'A & B', orange chevrons on sleeves, with an orange cap." It was a journey to get to the silks they have today, as their original silks didn't start out as distinct.
Al shares the story, "We came up with those silks probably around 12-14 years ago. We started using them because our first silks were bright lime green and pretty basic. My father & I are both in the welding industry so we can't see that well, so we figured if we had the bright lime green, then we could see our horses in the backstretch. We went to Saratoga at that time for our silks to be approved and they didn't approve them. I think they didn't accept the lime green ones because they were plain and needed markings on them. We had only been in the business for four to five years when we went up there. Honestly, it was a blessing that they helped us get silks more representable of us."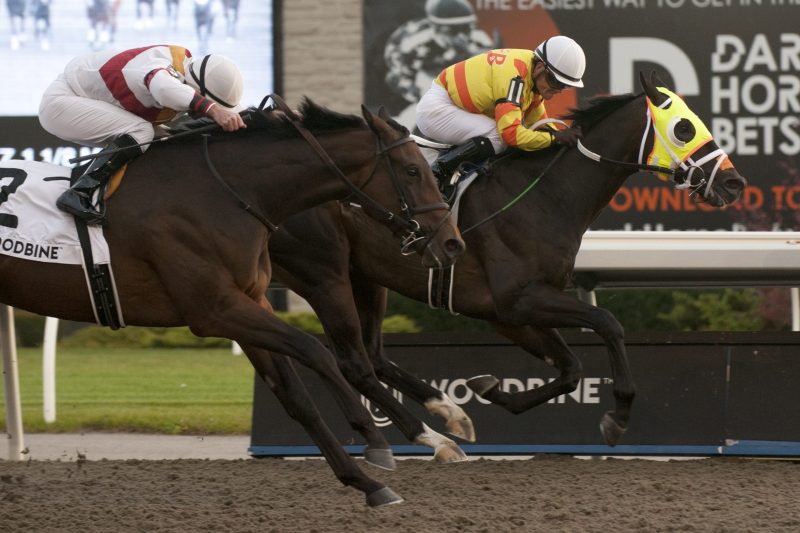 Ulwelling expands more about the design process and the upgrading of their silks, "We worked with the artist up there and said that they could do anything they want but we need them to be bright so we could see them. We made them bright yellow with orange chevrons with A&B for us, the father-son team we've got. I thought we needed to add some class and sophistication to them but at the same time, we needed them to be bright. They helped us and we put our name on them because ultimately at the end of the day, it's something that my father and I wanted to do together. Horses are a bond between my father and I. We've worked together and have been in the same business for 29 years. The significance of the A&B on there represents us together, we talk about the horses. As Kevin's father and my father get older, they still want to be a part of it, and for my father to see the first letter of his name on his silks every time we win a big race or run well in the race. There was a lot of thought into our silks. It did take some time, but we have some really nice silks now."
The Ulwellings have raced in the Plate before, "We've run a few in the Plate, not so lucky so far, but we're going to keep trying until we win it and then when we win it, to win it again. That's the goal of ours, to run and win Woodbine's biggest race, we just love it up there. It's a special place. It is a goal of ours and we've made a commitment about two years ago to make sure our Plate horses are better."
As for the historic name change, Al comments on the possibility of winning The King's Plate, "It would mean just about everything. It's quite the honour to be in the Plate and we feel that the Plate is the pinnacle of Canadian racing. It's the pinnacle race of the year. We want to win it; we don't just want to run in it. And we want to accomplish our goals and for Kevin and his team to accomplish their goals, and the jockeys, and everyone that tries hard. I don't know a better feeling right now. We're out there to win this."
By Sophie Charalambous for Woodbine Communications