The horse racing community mourns the loss of Canadian Hall of Fame builder, Gustav Schickedanz whom passed away on June 17. A very successful construction and development entrepreneur, Mr. Schickedanz was inducted into the Canadian Racing Hall of Fame in 2009 and received the E.P. Taylor Award of Merit recognizing life-long dedication and commitment to thoroughbred racing at the 2018 Sovereign Awards held in April.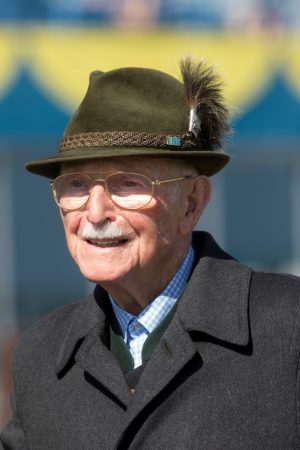 Mr. Schickedanz got into the racing industry first as an owner, then as an owner and breeder, operating out of his Schonberg Farm in King township, Ontario. His most successful horses include Queen's Plate winner Woodcarver, along with fellow Sovereign Award winners Mobil, Glanmire, Kimchi and the last Canadian Triple Crown winner, 2003's Canadian Horse of the Year, Wando.
"Gus was a dedicated, passionate horse owner and breeder who through the level of excellence his team achieved, helped to promote and elevate Canadian thoroughbred horse racing," said Jim Lawson, CEO of Woodbine Entertainment. "His legacy will remain, and his presence will be felt for years to come. On behalf of Woodbine Entertainment, we send our condolences to Gus's many friends and family."
Born in Memel, Lithuania, Mr. Schickedanz came to Canada as a 21-year-old in 1950. With his brothers, Mr. Schickedanz created one of largest homebuilding companies in the province. In addition to the indelible mark he leaves on thoroughbred racing, Mr. Schickedanz partnered with Canadian Racing Hall of Fame standardbred Builder Charles Armstrong to breed one of Canada's richest Canadian-bred trotters, Goodtimes.
Obituary:
https://www.legacy.com/obituaries/thestar/obituary.aspx?n=gustav-schickedanz&pid=193184150&fhid=17671
Service Information:
Thursday, June 20th, 2019 12:30 p.m.
Egan Funeral Home; 203 Queen St. S. (Hwy. 50), Bolton