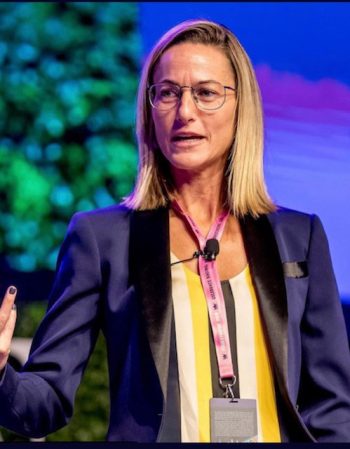 Toronto, ON – June 16, 2022 – Woodbine Entertainment announced today that high-profile Thoroughbred owner and breeder, Jaime Roth, of LNJ Foxwood Stables, has been appointed to its Board of Directors.
"Woodbine is excited to announce the appointment of Jaime to its Board of Directors," said Christine Magee, Chair, Woodbine Entertainment Board of Directors. "We look forward to working with Jaime and will benefit greatly from her expertise as we leverage her horse racing experience to continue to grow the sport of horse racing in Ontario, and our brand and racing product globally."
Roth is a graduate of the University of Wisconsin and holds a degree in Journalism as well as a Masters in Sports Business from New York University. After years of following Thoroughbred racing as a fan she wanted to get involved at the business level. In 2012, Jaime and her parents Larry and Nanci Roth started LNJ Foxwood Stables. In only four years, the family–owned stable is in full swing and has emerged as a major racing outfit in the U.S. and abroad. Jaime and her family care deeply about the welfare of all animals, especially Thoroughbreds. In January 2016, LNJ Foxwoods had the honour of sponsoring the Thoroughbred Charities of America (TCA) Stallion Season Auction and look forward to maintaining its strong relationship with the TCA.
In December of 2020 during the height of COVID-19 Pandemic, Horses First Fund, founded by Roth, donated a nutritious, hot meal each week to the 130 backstretch workers living on Woodbine Racetrack property. The Horses First Fund assists Thoroughbreds and their caretakers in need of emergency aid due to large scale neglect, natural disaster, or other catastrophes.
LNJ Foxwoods has enjoyed great success at Woodbine, including with their outstanding multiple graded stakes winning mare, Boardroom, as well as with 2020 Breeders' Stakes winner, Belichick, whom they co-own with NK Racing. Roth is also on the Board of Directors for Keeneland and a Breeders' Cup Member.
"Jaime's valuable experience in horse racing, horse ownership and breeding adds significant depth of racing knowledge on our Board and complements the wide-ranging business experience of our existing Directors," said Jim Lawson, CEO, Woodbine Entertainment. "As we continue to invest in racing and ancillary initiatives that will support the growth of our sport in Ontario, Jaime's knowledge and passion for our industry will be tremendously valuable."
Woodbine Entertainment also announced that Mark Saunders is re-joining its Board of Directors after taking a short leave of absence to run in the recent Provincial Election.
Saunders is a retired police officer and most recently, the Chief of Police for the Toronto Police Service. As Chief of Police, Saunders successfully led the largest municipal Police Service in Canada and fourth largest in North America, helping to keep Toronto safe. As Deputy Chief, Saunders created and operationalized the "C3" Unit, a unit whose mandate is to investigate cybercrime and provide technology based investigative support throughout the Service.
"We are also very excited to welcome back Mark and his valuable insights, experience and perspective to our Board," said Magee.
Saunders and Roth's appointments to Woodbine Entertainment's Board of Directors is subject to regulatory approval.
Woodbine Communications