See below for a rundown of all the 2019 action!
Canadian Trotting Classic
3-years-old Trotters
WHAT THE HILL (1:51.4)
7:30pm
$605,000
TBD
50% to the winner
One (1) Mile
Live Music + Giveaways
Enjoy live music from the Corona Deck and don't forget to arrive early, the first 800 guest will receive a commemorative photograph featuring the 2019 Hambletonian champion Forbidden Trade. Free Programs are available for the first 300 guest as well!
From 6 – 6:30 PM there's a special meet and greet autograph signing with Bob McClure which also includes a free t-shirt giveaway.
Drink + Food
Savour your favourites all evening long at Woodbine Mohawk Park! Join us at the Terrace Trackside Buffet for a wide range of chef-inspired creations. Our  Mohawk Harvest Kitchen features a locally grown and sourced menu that is sure to tantalize your taste buds. Be sure to make your reservation early!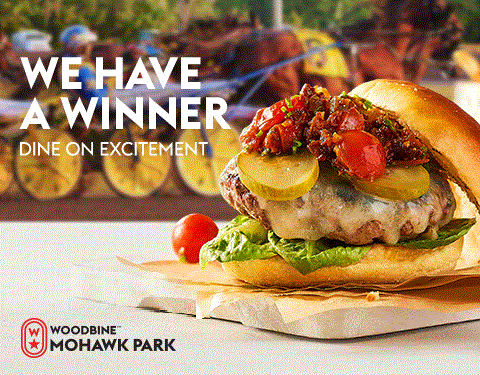 Learn more about what's happening at Woodbine Mohawk Park, how to get here, and other useful tools to plan your visit.