By Dave Briggs – @dbriggs1969
June 18, 2021 – Benoit Baillargeon was more than ready when racing returned to Woodbine Mohawk Park on Friday (June 11) after a two-month layoff due to province-wide COVID-19 restrictions. The veteran trainer has won five of 13 starts through Tuesday and earned a cheque in all but one race, collecting $47,920 with a record of 5-2-1.
"I'm not complaining. I had five wins and a couple of seconds," he said, laughing.
Team Baillargeon won Friday with Voelz Delight, recorded victories with HP Mama B and HP Napoleon on Saturday and visited the winner's circle twice more on Monday with Dealin With Dewey and HP Bruxelles, respectively.
"It's good to be back. Last year I had a great year, but we were only away (due to COVID-19) for two months. This year, we've been away almost four months already. We've raced five, six weeks this winter and I just raced racehorses. I'm counting on the OSS (Ontario Sires Stakes) to make my year, but we'll make it. We'll be okay. Hopefully, it will be the last lockdown and we'll be okay."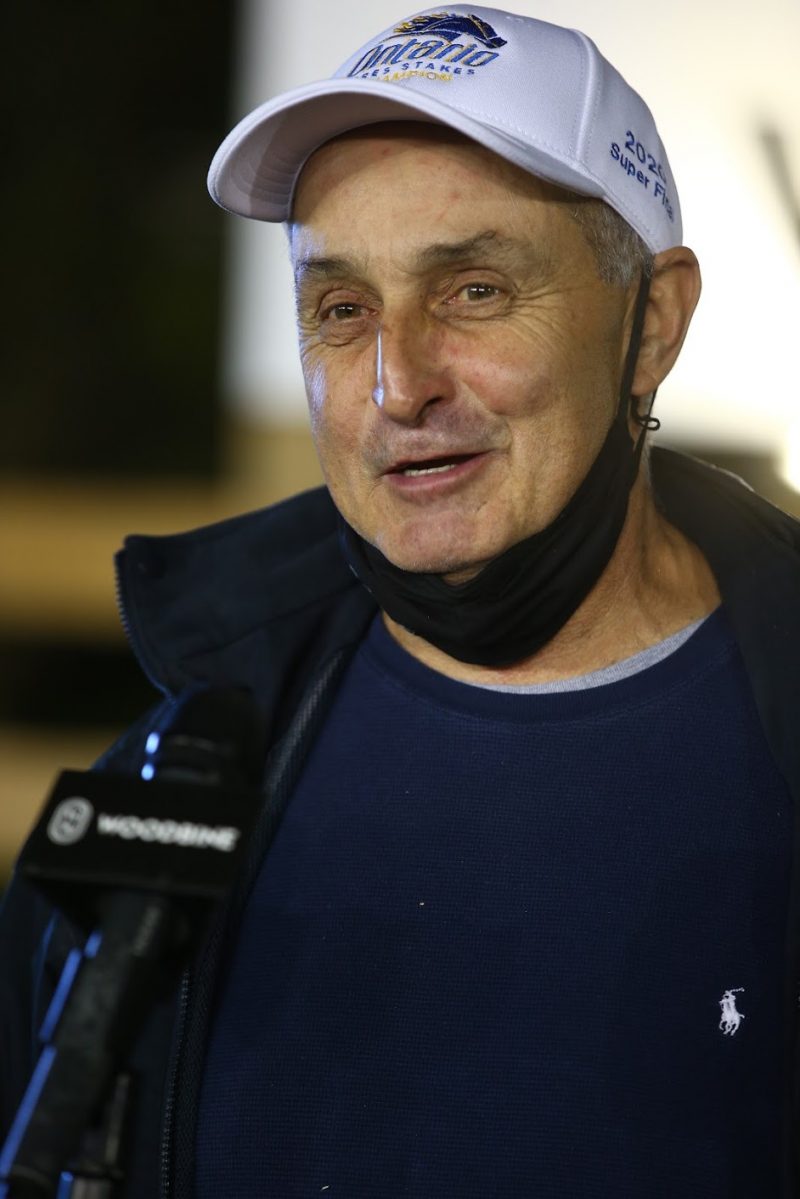 During the most recent stoppage, Baillargeon sent nine horses to race in the United States under the care of his daughter and chief assistant, Sara Baillargeon. Ben said he has mixed feelings about that experience.
"At the end of the day, my U.S. experience was fair," Ben said. "It was a good experience for Sara. You always learn something and I stayed out of it. I said, 'You're on your own for awhile.'"
The experience made the Baillargeons appreciate racing in Ontario even more.
"I told my daughter, 'Do you see now how good we have it in Ontario?' We race 12 months a year and we're half-an-hour from Mohawk," Ben said. "I sent her over there with nine horses and they spent five hours a day on the road.
"If you're at Magical Acres and you have to go to Yonkers you have to leave at 12 to race in the second race if you need Lasix. If you go to Pocono, that's a five-hour trip with traffic. You're always on the road over there. Here, we have it very good, but I knew about that and she didn't. I think she knows now. There's very good racing in Ontario. In my book, there's no better place. The OSS program is good, the Grand Circuit races we have are good. Here at home, it's 12 months a year, four to five days a week. How can you beat that?"
That said, Ben said he did find some positives during a break from racing.
"I'm happy to be back racing, don't get me wrong, but I'm going to be 63 years old next month. I didn't really mind staying home at night, but now I'm happy to race," he said. "We got a little break… I was down to 28 horses up here. I really like that number. I can work with that pretty easily. But I was getting tired of training horses, not meaning being part of the business, but when we were not racing every day was a training day."
Ben said he's expecting good things from a stable that features "some in every class, mostly" and already has high hopes for one of his 2-year-olds, though he stressed it was far too early to know for sure.
"There's a Walner filly that we have that we bought without seeing. We saw the video. My owner Santo (Vena) bought her, as a matter of fact. I was trying to buy a couple at (the Standardbred Horse Sales Company auction in) Timonium and Santo had the computer set so he could bid online and I had a few people look over the horses for me. It worked out.
"This filly, all we saw was the video of her. The mother is a full-sister to Muscle Hill that has already produced one that's been in :52. The video looked great and she was $32,000. I've never done any work. I've never had anyone look at her. She was a late May 24 foal. I said to Santo, 'That's cheap. She's worth that just for breeding. Let's try.' We bid $32,000 and we got her. Her name is Watts Hanover. I got her x-rayed and there's no chips, nothing. Everything was good. She's been nothing but great all winter. I've been in 2:05 with her. You never know until you race with the competition how good you are. If you're good, there might be five better than you and it will give you the sixth spot. You don't make money with the sixth spot. But, so far so good."
For Team Baillargeon, so far so good also applies to the return to racing.