MILTON, January 6, 2023– Just like her star standardbred, Camilla Christoforou is taking everything, including the O'Brien Awards, in stride. 
It's a moment she will likely never forget, the one when she found out Safe Conduct was named as one of the two finalists for top three-year-old trotting colt honours in Canada.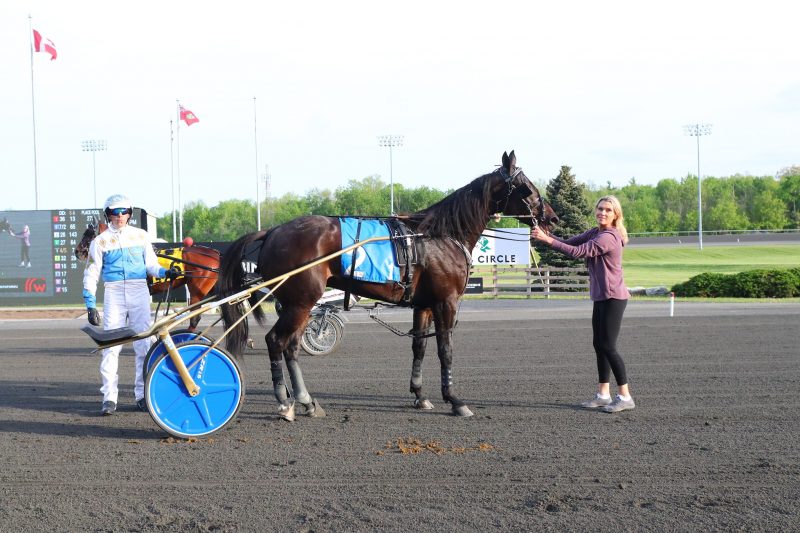 "It's amazing," started Christoforou, now in her second year of training. "We have been so busy, and I didn't even think about it, and then we saw it posted. Just to be nominated is big. I am so happy that he is a finalist. He truly deserves it." 
The path to O'Brien recognition was certainly not a smooth one for Safe Conduct, who is co-owned and co-bred by her father-in-law Charalambos Christoforou and driven by her husband Chris Christoforou. 
In fact, his stat lines for 2021 wouldn't have suggested better times, literally and figuratively, were in the cards for the son of Archangel, who posted one win in six starts. 
But the person holding the training reins had faith in her young, albeit at times, unfocused charge. 
"He has lots of personality. I've had him since he was a baby. He's a homebred, which makes it even more special. He's such a wonderful horse. When he went out and won his second start as a two-year-old, the OSS Gold (a gutsy neck nod over his fellow 2022 O'Brien finalist Twin B Archie in the Ontario Sires Stakes Gold final), he showed what he was capable of. But it's been a rollercoaster, especially when he was two and still a stud. He just wasn't mature enough and he was making breaks. But we all knew he was a nice horse and had lots of speed. It was just a question of time, him being able to put it all together." 
A decision after his final race as a two-year-old would turn out to be a game changer for the horse and his connections. 
"When we stopped him at two, we did geld him. We saw that he wasn't concentrating and that we needed to have him gelded. So, we did that, and coming back, he was a different horse. All of the sudden, he grew up over the months he had off. He was more relaxed. Even training down, he was really good. He came out and won his first start. I was just hoping he would stay flat and concentrate. And that's just what he did."  
Safe Conduct continued to roll on from that one-length triumph at Mohawk on May 23. 
After stringing together 12 solid starts in a row, he saved his best for last when he lined up behind the gate for the $225,000 Ontario Sire Stakes Super Final for three-year-old trotting males group at Mohawk on October 15. 
Saddled with post eight in the field of 10 and sent on his way at 10-1, Safe Conduct was settled into sixth early through an opening panel reached in :26.3. A first-over Tymal Tiggs followed by Twin B Archie enabled Safe Conduct to follow cover third over.  
Sent four wide, Safe Conduct stormed home fastest of all to win by just over a length in 1:53.3, missing his own lifetime mark by a fifth of a second.  
"Especially the last few moments before the wire, when I realized that he was going to win, I was screaming. I was thinking that I was so glad there weren't any cameras on me in that moment because that would be embarrassing. I don't even remember much of the winner's circle. I was just overwhelmed. If there was one race I wanted to win, that was the one."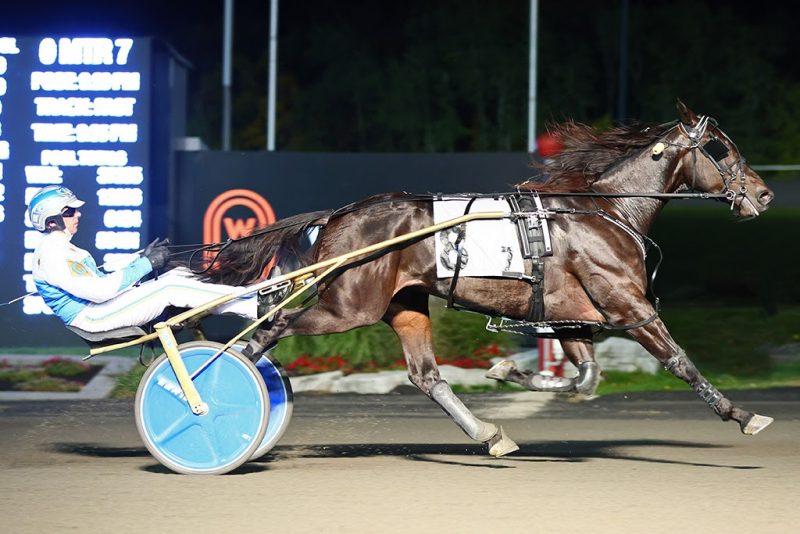 A storybook ending to a tale with a nearly equal balance of highs and lows. 
Even through the rough patches, Christoforou's faith in the trotter was unwavering. 
"There were times when luck wasn't on his side, where the races didn't turn out the way we had hoped or he had a tough post position, but overall, I was never disappointed in him. Patient, that's what we have been. We never pushed him. If we felt he wasn't right, we didn't race him. We didn't train him hard. At the end of the season in the Super Final, it was the race where he was at the top of his game. He was not tired, and he raced his best race. I stopped with him when he was on top, and he was the best. Now, he's had three months off to relax in the paddock and recover. We're ready to bring him back in January." 
It wasn't only a banner year for Safe Conduct. 
Christoforou, who won 12 races, along with 19 top-three finishes in her first year as a trainer, followed it up with a strong sophomore campaign, highlighted by 16 wins and just shy of $590,000 in earnings. 
A pair of two-year-old fillies, namely, Pretty Special and Northern Charlotte, produced solid results on the racetrack. 
"Overall, it's been a pretty good year. I don't have too many horses racing. I have some older ones racing and they did okay. I had two really nice two-year-old fillies, Pretty Special and Northern Charlotte. One made the Super Final and both horses raced in the Gold. Pretty Special was really good that day in the Super Final, but we were disappointed at the result. A horse on the inside of her, they bumped together, and they hit wheels. It was too loud for her, and she got scared, jumped up and broke stride. It's too bad because I think she would have done well.  
"Spartan General, he's a really nice horse too. He was racing in the free-for-all ranks, but he had a lot of problems, some soundness issues. He is another nice one, but that's another rollercoaster."  
A familiar ride for Christoforou, but not something for her to bemoan.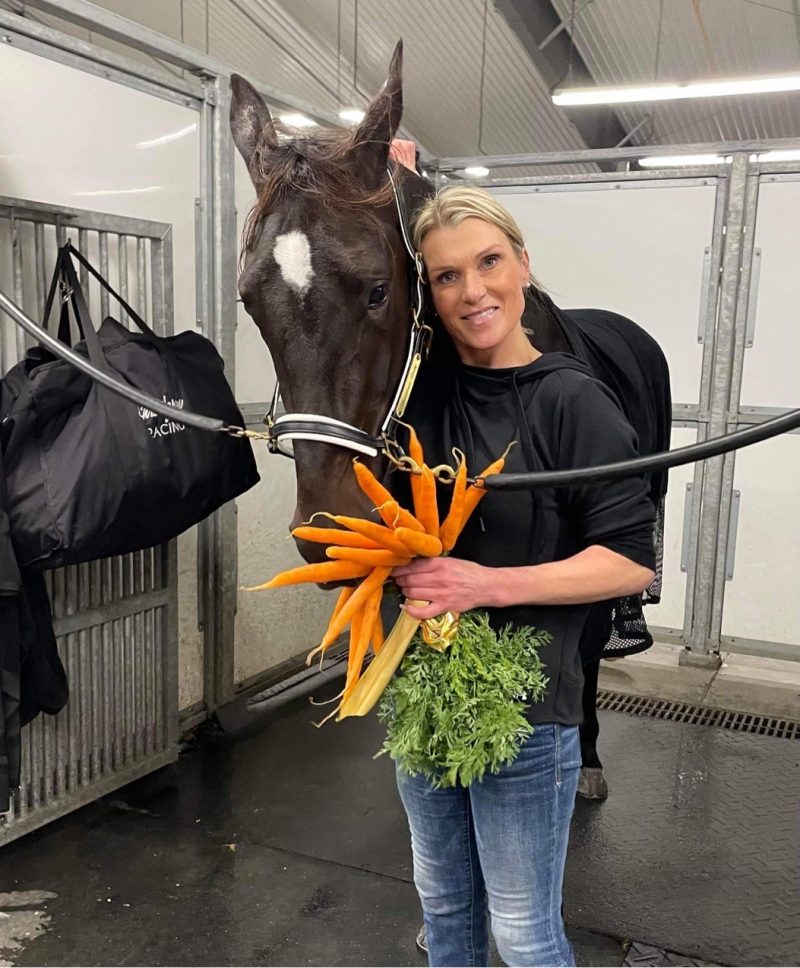 Not when there is always something to look forward to, which would include the evening of February 4 when Canada's standardbred champions are crowned at the annual O'Brien Awards festivities.    
"To see his name as a finalist and know the journey that he has taken to get there makes me so happy," said Christforou, who had eight horses in 2021, 15 this year and somewhere between 18-20 for 2023. "It's my father-in-law and his longtime ownership partner's horse, so that makes it extra special, to have it be in the family. For him to be my first horse as a finalist, he is the perfect one." 
Until then, it's business as usual at the barn, where everything, good days or bad, and everything else in between, are always taken in stride. 
Chris Lomon, Woodbine Communications / @WoodbineComms