Dave Briggs for Woodbine.com 
August 5, 2021 – David Anderson was in the process of moving to a new house in Aurora, ON this week when he found some trinkets in his closet that reminded him of his quest to win the Hambletonian — a journey that continues Saturday afternoon (Aug. 7) at The Meadowlands racetrack in New Jersey when he will send out his trotter Spy Booth in the $1 million race.
"I found some great stuff, some memorabilia, some stuff shoved in pockets… I found an old John Campbell driving suit, signed by John, in one of my closets," said Anderson, who sits on the board of Ontario Racing.
More poignant were a few items that reminded Anderson of his late father, Bob, a Canadian Horse Racing Hall of Famer and long-time Woodbine Entertainment Group (WEG) director that started the family's journey in horse racing from his Anderson Farms of St. Thomas, ON.
"There was an old picture that somebody had given me at the funeral that I had in the suit that I wore at the funeral and it was just a really cool picture of my dad and I had forgotten all about it," Anderson said. "That'll be one that I frame and put on the wall."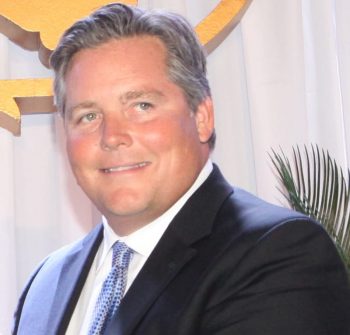 Bob Anderson was a noted thoroughbred breeder who was convinced by David to give standardbred ownership and breeding a try. In 2007, father and son raced filly Pampered Princess in the Hambletonian. Pampered Princess was sent off as the third betting choice and was second by a nose at the top of the stretch but made a break and finished seventh-placed-sixth. Hall of Famer Tim Tetrick drove Pampered Princess and he will drive Spy Booth on Saturday.
"(It's a chance at) redemption for Tetrick," Anderson said.
Though, the odds will be steep. If Spy Booth wins it will not only be a monumental upset, it would also go down as a first in the race's 96-year history. A win would make the gelded son of Muscles Yankee—Amour Heiress the first horse to break his or her maiden by winning the Hambletonian.
Spy Booth is 0-for-9 lifetime and 15-1 in the morning line odds. He will start from post 3.
Last Saturday (July 31), the 3-year-old trotter finished fifth in his Hambletonian elimination at the hands of Yannick Gingras to sneak into the final. The trotter then lucked into the services of Tetrick when Gingras opted to drive elimination winner Delayed Hanover in the final.
"We're playing David versus Goliath here and trying to be a giant killer," Anderson said. "It's really a wide-open year. We debated about even putting the horse in, but we're all sportsmen and we're in it for these big days. This is the Kentucky Derby of standardbreds and we want to be in the show."
Anderson, who continues his father's legacy of breeding thoroughbreds at Anderson Farms of St. Thomas, ON, is the man who picked out Spy Booth as a yearling and convinced fellow prominent Canadian owners John Fielding, Robert LeBlanc and Marvin Katz to help defray the trotter's $460,000 (U.S.) price tag from the 2019 Standardbred Horse Sales Company sale.
"As they say, you've got to be in it to win it. I'm kind of riding on the coat tails of my three lucky partners, who have already won (the Hambletonian) before."
Anderson, like Spy Booth, is hoping to break his Hambletonian maiden on Saturday.
Fielding won the 2015 Hambletonian with Pinkman. LeBlanc was co-owner of 2020 Hambletonian winner Ramona Hill and Katz co-owned 2010 winner Muscle Massive, who was groomed by Spy Booth's trainer, Nancy Takter.
"Don't worry," Anderson said, laughing, "we're not expecting to win. We're just thrilled to make the final.
"It's four Canucks invading the Meadowlands and trying to pick up a nice check if we can. We're all going to be there. Win, lose or draw we'll have a fun day. It's just good to be in it."