MILTON, September 17, 2019 – Whether it's horse racing, hockey or every day life, Ed Olczyk is always up for the challenge.
It seems as though the Breeders Crown Charity Challenge is tailor-made for the person who skated in over 1,000 NHL games for seven different teams, the same one who has a passion for horse racing, and for making a difference in the lives of others.
When the call came in asking if Olczyk wanted to be part of the unique event surrounding one of horse racing's most prestigious events, he jumped at the opportunity.
"It's nice to be asked and it's nice to be part of it," said the U.S. Hockey Hall of Fame inductee. "When you have an opportunity in a public setting to draw that awareness, whatever the cause, battle or disease may be, that's what we're supposed to do. I'm looking forward to helping in any way I can."
Showcasing four teams consisting of a celebrity, a charity of their choosing and an award-winning three-year-old Standardbred, the Breeders Crown Challenge has generated plenty of buzz ahead of the Breeders Crown, October 25-26, at Woodbine Mohawk Park.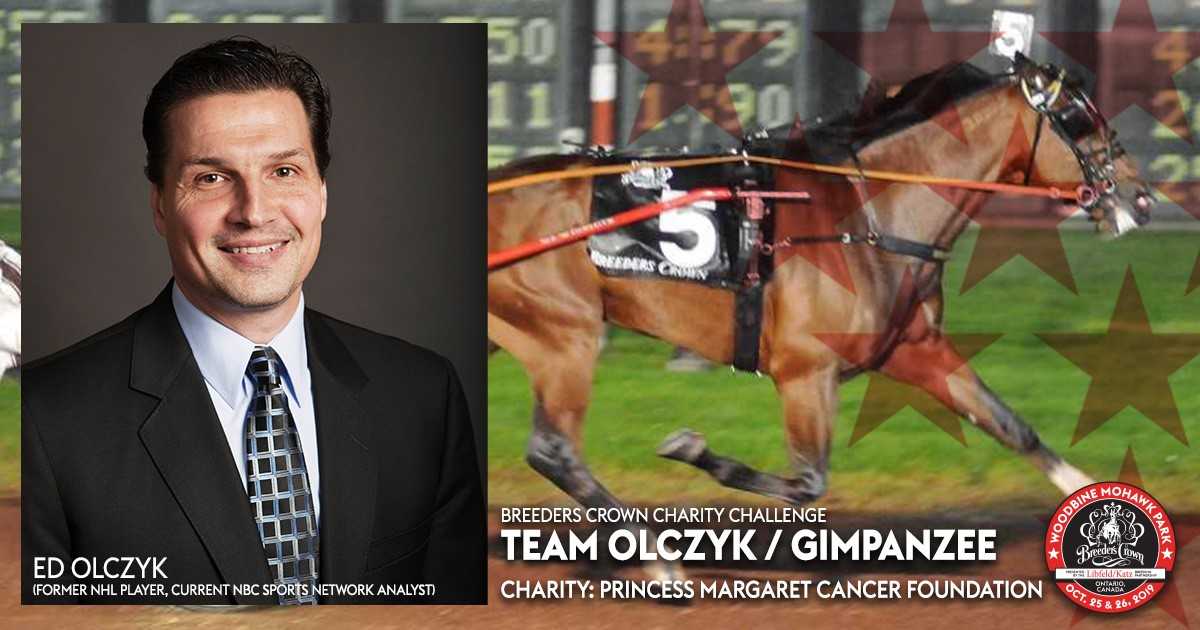 Olczyk is joined for the charity challenge by former Major League Baseball star, current MLB analyst and horse racing aficionado Dan Plesac, former Canadian Football League standout, coach and humanitarian Mike "Pinball" Clemons, and Kim MacDonald, national TV host on The Weather Network and breast cancer awareness advocate.
The connections of Dan Patch Award winners Captain Crunch (Plesac), Gimpanzee (Olczyk), Warrawee Ubeaut (Clemons) and Woodside Charm (MacDonald) have pledged one per cent of their earnings from June 1, 2019 to October 26, 2019 to go towards the charity of their celebrity.
Each charity is receiving one per cent of their horse's earnings from June 1, 2019 through October 26, 2019. Each is guaranteed to receive a minimum of $5,000.
Through donations from several industry participants, Libfeld-Katz Breeding Partnership has secured a series of stallion breedings that will be auctioned off at this October's Lexington Selected Yearling Sale. The proceeds (estimated at $100,000) will be donated to the winning celebrity's charity.
The challenge portion of the initiative features the teams competing to garner the most votes in a Facebook poll. The poll closes on October 26, 2019 and the team with the most votes will receive a significant donation from the funds raised by the breeding auction.
The funds raised for the Breeders Crown Charity Challenge are expected to exceed $100,000, which will mark the single largest donation by Woodbine Cares.
Olczyk, who was diagnosed with colon cancer in 2017, chose Princess Margaret Cancer Foundation as his charity.
"It's an opportunity to be a part of something where you can give back," said the Chicago native. "Obviously, with my battle against colon cancer the past few years, any dollar towards research, any dollar towards an opportunity for somebody to live a little bit more comfortably – that goes a long way. So however I can give back, whether in the moment, or long distance, I feel it's important to do that."
Olczyk, whose big league career was one of the finest ever by an American player, suited up with the Toronto Maple Leafs, Winnipeg Jets, New York Rangers, Los Angeles Kings, Chicago Blackhawks, and Pittsburgh Penguins, before he took over the reins as head coach of the Pittsburgh Penguins from 2003 to 2005.
In all, the centre scored 342 goals and recorded 794 points in 1,031 regular season NHL games.
Olczyk is also involved in Thoroughbred racing and has been a guest commentator and handicapper for NBC Sports broadcasts of the Kentucky Derby, Kentucky Oaks and the Belmont Stakes. He also claimed top honours in the Pegasus World Cup Betting Championship in 2018, earning the first-place prize of $137,500.
This year, he threw his hat into the Standardbred ring, joining the fractional ownership ranks through TheStable.ca. Fellow NHL alumni Doug Gilmour and Rick Vaive became clients of TheStable.ca last year.
Olczyk is part-owner of Olympic Hopeful, an Illinois-bred filly who made her debut this June.
The 53-year-old Olczyk hosted an evening at Hawthorne Race Course in Cicero, Illinois, a night when the racetrack awarded fractions of the filly to five contest winners.
"I've had horses on my own, I've been involved in partnerships with a lot of different people," started Olczyk, a television colour commentator for NHL on NBC and Chicago Blackhawks games on NBC Sports Chicago and WGN-TV. "You get to meet a lot of great people. From owning horses with my former linemate in Toronto, in Gary Leeman, back in the day, to owning with (NHL great) Denis Savard and (Colorado Avalanche defenceman) Erik Johnson… it's a way to stay active, and to be part of a team."
It's also a way to watch great athletes perform.
"It's just amazing to see them," said Olczyk of the horses. "I remember as a kid going to old Arlington Park – I was maybe 12 or 13 – and seeing those horses going up and down the track warming up was amazing. Whether it's Standardbreds or Thoroughbreds, they really are incredible athletes. To be able to do what they do – it's incredible."
*
The 36th edition of the Breeders Crown presented by Libfeld/Katz Breeding Partnership showcases $6 million (USD) in purses and the top Standardbreds, drivers, trainers, owners and breeders from around the world. Friday evening's Crown action offers four championships for two-year-olds, while three-year-olds and up will be in the spotlight Saturday evening in eight championship races.
For news, updates, and more on the Breeders Crown, visit woodbine.com/mohawk/events/breeders-crown/
 – By Chris Lomon for Woodbine.com