TORONTO, December 15, 2017 – Football collided with harness racing on Friday evening, as Woodbine Racetrack hosted the Grey Cup champion Toronto Argonauts for a night at the races.
The Argonauts have been making the rounds following their 27-24 victory over the Calgary Stampeders in the 105th Grey Cup on November 26 in Ottawa. The champs have been to rallies, Santa Claus Parades and Sick Kids Hospital spreading cheer on the heels of their record 17th Grey Cup title.
Woodbine Racetrack was proud to host the champions for a night of racing and dining on Friday.
Defensive back Matt Black got the night started by making a guest appearance on the Woodbine Racing Live "Pre-Game" show, chatting about the Grey Cup victory, which included his huge interception late in the game.
Members of the Double Blue then had the chance to head over to the Standardbred paddock and meet the equine athletes, drivers, trainers, caretakers and staff. The Argonauts brought along the Grey Cup for their visit to Woodbine and posed for many photos.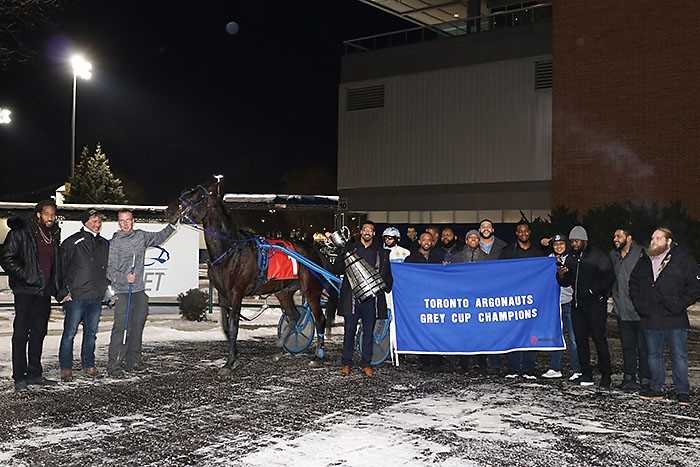 Several players even had the chance to go for a ride in the Starting Gate and got to experience harness racing up close.
The Argonauts also enjoyed dinner in the Woodbine Club and had the chance to make a special winner's circle presentation following the evening's sixth-race. Ironically, the sixth-race was won by driver Chris Christoforou, who's colours fit in perfect with the Double Blue.
Below are some of the social media highlights from the Argonauts visit to Woodbine.
Make sure to follow the Argonauts on Twitter and visit www.argonauts.ca for news, tickets and more.
Welcome to the #GreyCup champion @TorontoArgos to @WoodbineSB – showing off the hardware! pic.twitter.com/oRDTmijI0y

— Dawn Lupul (@WoodbineDawn) December 16, 2017
ARRRRGOOOS! The @WoodbineSB paddock is catching #GreyCup fever with your @TorontoArgos! #BetWoodbine pic.twitter.com/xBFuPflW3F

— Woodbine – Mohawk Park (@WoodbineSB) December 16, 2017
Grey Cup Champs, Toronto Argonauts visited @WoodbineSB on Saturday night with trophy in hand. pic.twitter.com/Dw0uN8AOu2

— Clive Cohen (@woodbinephotos) December 16, 2017
The @TorontoArgos are getting the hang of the Standardbred game @WoodbineSB – horsey noises and everything! #BetWoodbine pic.twitter.com/5I5tuXvWYD

— Dawn Lupul (@WoodbineDawn) December 16, 2017
.@TorontoArgos and Grey Cup catching a view of tonight's First-Race at #BetWoodbine pic.twitter.com/d5KCfYDqco

— Mark McKelvie (@MohawkMarkM) December 16, 2017
Starting Gate ride needs a game of Rock, Paper, Scissors to decide who gets to sit at the top beside the starter! @TorontoArgos pic.twitter.com/bDfZKOW47R

— Mark McKelvie (@MohawkMarkM) December 16, 2017
Who do you like in #BetWoodbine's fifth race? A couple horses have the luck of the #GreyCup with them tonight, thanks to the @TorontoArgos. pic.twitter.com/3N5CnZRCYF

— Woodbine – Mohawk Park (@WoodbineSB) December 16, 2017
"That's a flag!"

The @TorontoArgos showing the range of emotions that every horse racing fan goes through! #1 Kameran Hanover wins "The Argos Trot". pic.twitter.com/LYUTBd0Q5J

— Mark McKelvie (@MohawkMarkM) December 16, 2017
I'm sure the Grey Cup has been filled with many things over the years, but tonight it's carrots going to Race 6 winner Kameran Hanover! pic.twitter.com/W9ABOh3CO5

— Mark McKelvie (@MohawkMarkM) December 16, 2017
Kameran Hanover & @TheRealCCjr1 take the sixth for the double blue, presented by the @TorontoArgos! #BetWoodbine #GreyCup pic.twitter.com/XJWjkq7gCL

— Woodbine – Mohawk Park (@WoodbineSB) December 16, 2017
Fun night @WoodbineSB ! Thank you to @TorontoArgos for helping us celebrate 2017 Grey Championship with you. @ChrrisK @MattBlack39 @Mr513RicoMurray @SLemonator @DeclanCross38 @troyydiesel @tholmes57 pic.twitter.com/ycuMl18fTr

— Jim Lawson (@JJL_Sports) December 16, 2017