James MacDonald admits past trips to drive in major stakes races at The Meadowlands in New Jersey have been daunting. But this weekend, Canada's leading driver has many reasons to be confident about his four drives in Breeders Crown eliminations. The two-year-old events will be contested tonight (Oct. 22) with the events for horses three and older going Saturday afternoon (Oct. 23).
"Any other year I've gone there it's been, 'Don't screw up and don't get in anyone's way and try not to make yourself look like too big of an idiot.' This year, I've been down there, I've had some success there. I know the guys, I know the racing. It's kind of another race for me now. It's not as much pressure, for sure, as years prior," MacDonald said Thursday.
Tonight, MacDonald will drive Threepointbluechip (race 10, post 3, 15-1) in a $25,000 Crown elimination for two-year-old trotting colts for his brother Anthony MacDonald's TheStable.ca. On Saturday, James has three Crown drives: Logan Park (race 3, post 7, 8-1) in a three-year-old colt trot test for trainer Rob Fellows; Beach Crazy (race 4, post 8, 15-1) in a three-year-old filly pace event for trainer Stacy Chiodo and Amazone Duharas (race 5, post 5, 9-2) in an elimination for three-year-old filly trotters for trainer Gueriel. The Breeders Crown finals will be contested the evening of Friday, Oct. 29 for two-year-olds. The eight other divisions will go in a special afternoon card on Saturday, Oct. 30.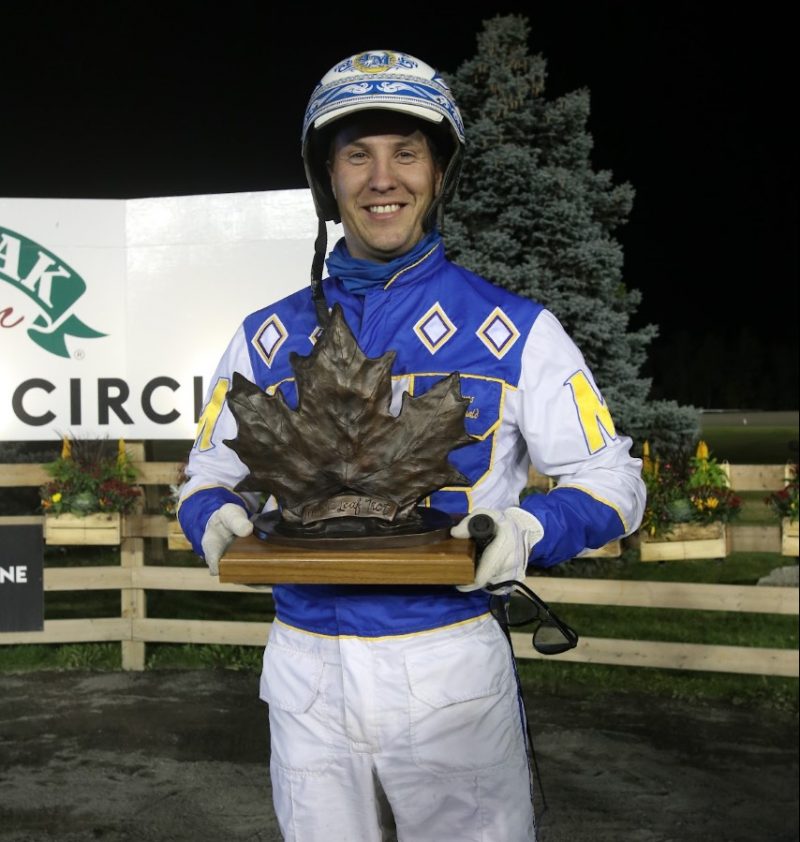 MacDonald has three main reasons to be confident he can score his first Breeders Crown victory. Beginning in May, he spent five weeks driving at The Meadowlands and other U.S. tracks while racing was locked down in Ontario due to COVID-19 restrictions. MacDonald also has a comfortable lead in both Canada and on the Woodbine Mohawk Park leaderboard in both earnings ($6,035,342 / $5,382,988) and wins (226 and 197) in 2021 and has already surpassed his career best for single-season winnings. He is also coming off a stellar performance on Saturday (Sept. 16) at Mohawk when he won three of the eight $225,000 Ontario Sires Stakes Super Finals.
"It was good to have a really good night that night because I've said in interviews prior that (the Super Finals) has been such a bad night for me over the years. I haven't had a lot of luck. It was good to get the monkey off my back," James said, adding he hopes that success carries over to the Breeders Crown.
"I've only raced in a few (Crown events) and I haven't had a lot of luck in those either," he said.
Lifetime, James has had 12 Breeders Crown drives — all but two of them on home turf at either Woodbine Racetrack or Woodbine Mohawk Park. His best finish was a third in a Crown elimination in 2019 at Mohawk with Covered Bridge in the sophomore pacing colt division. James has never earned a cheque in a Breeders Crown final.
This year, he said he committed to making the trip to drive Threepointbluechip in the Crown for his brother and then the other three drives followed.
"It's one of those things that if you're doing well, everyone kind of wants you," he said. "I drove Logan Park in the Super Final, so Rob had asked if I was going down or if I planned on going down. That's how I came about that one. The rest, I'm not really sure. I had driven for Stacy when I was down (in the U.S.), so that was probably from being down there already and kind of driving for a little bit. So, that probably helped. The Amazone (Duharas) horse, Louis (Roy) texted me the other day and said Denis Gueriel had asked if I was going down. I'm not really sure. Maybe Louis put him on me. I'm not sure how that one came about, but I'm happy it did."
Saturday will mark the first time James has driven either Beach Crazy or Amazone Duharas.
"I haven't driven Amazone Duharas, but she looks good on paper. She raced well in Lexington. I don't really know. I love Anthony's colt, that's why I said I would go for him. He's been racing great up here, but it's such a deep division we'll see how he stacks up. He's been terrific with what he's had to do so far, but this is quite a bit different than that. I'm hoping I can have some luck with him. It would be nice to see my brother Anthony get one in the final for TheStable," James said. "He's a good horse. He drew badly last week and that kind of took care of him. I think a lot of people see that and say, 'Maybe he's no good.' But he was terrific last week. So, I think he's going in against a lot of horses that have had a long year and he hasn't. He just has three races or so and he's coming into the race really fresh."
James, 35, had his first Breeders Crown drive at age 26 in 2012 when trainer Jeff Gillis put him down to drive Jet Wash in the three-year-old filly pace event at Woodbine. James qualified her for the final, but finished 10th.
"It was really my first taste of a race like that," James said. "When you're lining up beside Brian Sears and David Miller and Yannick Gingras; I don't know if my brother Mark was in there, but there was Jody and all the guys that you grew up watching and idolizing. To go behind the gate with them was surreal."
Now that James MacDonald has earned his place among those other drivers, he's hoping the results will be a lot different.
Dave Briggs for Woodbine Communications