Through good times and bad, Jonathan Drury has always found a way to keep his wheels in motion.
The journey to 1,700 career wins in the race bike has seen its share of good times and bad, big victories and narrow losses, as well as everything in between, for the seasoned Standardbred driver who calls Fergus, Ontario, home.
Yet, throughout it all, triumphs and challenges, the 32-year-old Drury has remained a levelheaded competitor, one whose focus is rarely cast beyond his next drive.
"There will always be highs and lows with this sport. That's the one thing you can be sure of. But you just need to have faith in yourself, trust what you do, work hard, and then hopefully everything falls into place."
In typical fashion, Drury will resist the urge to look down the track too far, just as he has done from the first day he earned his driving and training licenses nearly 15 years ago.
His rookie season in the sulky began at Flamboro and Georgian Downs in 2008. A few years later, a move to Kawartha Downs turned out to be a game changer for Drury, who drove for trainers Corey Johnson and Carmen Auciello, associations that soon made others take notice of his talents.
Four years after his first pari-mutuel drive, Drury won 206 races with his horses earning just shy of $1.5 million. He recorded his first Super Final victory in the two-year-old pacing colt division in 2016, guiding longshot Arsenal Seelster to a come-from-behind 1:53 score. That same year, Drury drove North America Cup winner Betting Line to victory in the Somebeachsomewhere Stakes and a trio of Ontario Sires Stakes Gold events.
Three years ago, Drury's horses topped $3.65 in purse money, a personal-best mark in the category. In 2020, he finished eighth among all drivers with more than $2.9 million in earnings at Canadian racetracks and contested his first Pepsi North America Cup, teaming with Auciello pupil Moneyman Hill.
The 2021 racing season was not close to Drury's best from a statistical standpoint, one that yielded 71 wins and slightly over $1.25 million in the earnings ledger.
But the numbers don't begin to tell the entire story.
Shoulder surgery, which took place in mid-January, was initially expected to keep him out of action for 4-6 months.
Drury, who underwent the same procedure five years earlier, had another timeline, albeit wishful thinking, in mind when he heard the prognosis.
"It was a pretty solid setback, in knowing that you were not going to be racing for a while. There was a lot of pain with this one, a lot more than the one I had before. Six weeks in a sling and a lot more of a challenge to get back to feeling right. But I definitely wanted to be back sooner than what I was told at the outset."
Going from participant to fan wasn't as mentally challenging as Drury had anticipated.
Watching races was a nearly nightly activity.
"I sat and home and watched a lot of racing. I like to keep up with the horses I had been driving or raced against. When you are watching all of that, you definitely want to get back as soon as you can. It's a tough game to get back into. Once you lose a bunch of drives, it's hard to get them back. It's always nice when you can get things going again."
Eight weeks after his operation, he was back on track and lining up horses behind the Mohawk starter's car.
In hindsight, Drury's return was, admittedly, a little rushed.
"Looking back, I came back a little earlier than I should have. It didn't bother me, and the doctors told me that I was healed up and okay, but I still don't think I was at 100 percent when I started up again. When we were shut down for the second time, that gave me the chance for proper healing."
In the end, the 2021 racing season felt like unfinished business for Drury, whose father, Barry, has operated a small stable of pacers and trotters for years.
But rather than lament a year of what ifs, the driver in yellow and blue colours opted for optimism, looking at 2022 as an opportunity to chase career-best numbers.
"It was an okay year, certainly not as good as other ones, but that was kind of expected with being off. It took a while to get comfortable again. I didn't quite feel like myself out there when I first started driving again, but as the year went on, things started to get better."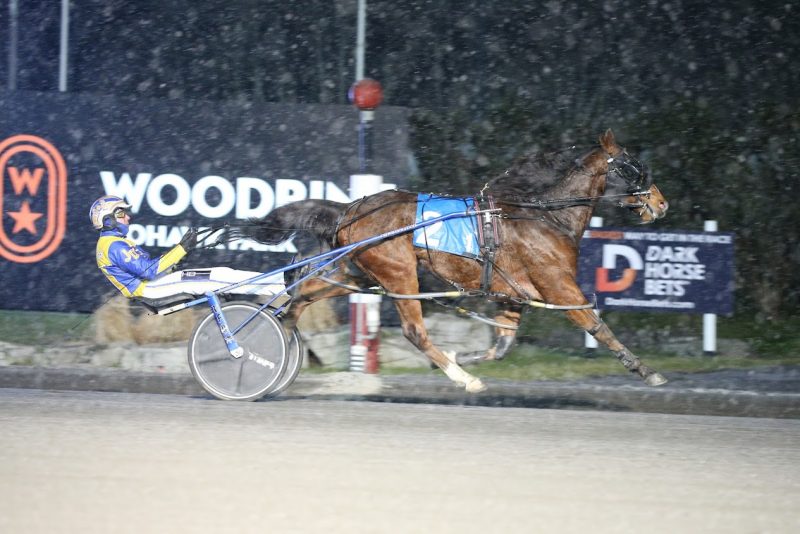 So far, Drury is off to a strong start in 2022.
His first drive of the year resulted in a trip to the winner's circle when he piloted Auciello trainee Saratoga Blue Chip to victory on January 1.
"I feel like things are back to the way they used to be, and I've been having a little bit of luck to begin the year."
His goal for 2022, as it is at the start of each year, is to win more races than the previous campaign.
"I just try and improve on the previous year. I just want to continue to get better. Obviously, there are a lot of big races to look forward to in the spring, summer and beyond that, but I try and keep things in the here and now. I'm driving some nice horses and hopefully I can pick up some more. I'm excited to see what this year has in store."
On this day, Drury has been on the road for a bit, taking care of chores on an off day of racing at the Milton oval.
Not a surprise for the reinsman who knows a thing or two about keeping his wheels in motion.
"It was tough last year, but hopefully I can stay healthy throughout 2022 and have a year to remember. You just need to remind yourself that whatever the obstacle is, you try your best to keep going forward."
Chris Lomon, Woodbine Communications