By Dave Briggs
May 20, 2021 – As a native New Zealander, trainer Nifty Norman comes by his laid-back approach naturally, which certainly helps when it comes to perennial slow starter Amigo Volo, the 2020 Dan Patch winner as the top 3-year-old male trotter in the United States.
Norman doesn't sound the least bit concerned that Amigo Volo has had a couple of so-so qualifiers and an eighth-place finish in his pari-mutuel debut on May 15 at The Meadowlands as the gelding prepares for a start Saturday (May 22) in a $50,000 Graduate leg for 4-year-old trotters at the New Jersey track (Race 10, 6:20 p.m. first race post).
"I'm not too worried about him. He's always a little bit this way at this time of year. It always takes him a few races to get him in shape," Norman said Wednesday. "He was a little disappointing last week. I thought he would be better than he was, but he trained well today. It's just kind of a process, really. He usually gets better as we go… I think he'll get better this week without being great, but I think he'll improve as we go on.
"I don't push the horse along. I let him race himself into shape. Once he gets a few starts under his belt, he seems to really start thriving on racing. That's just the way I've handled him."
Amigo Volo, owned by the Pinske Stables of Plato, MN and David J Miller (not the Hall of Fame driver) of Lake Mary, FL, was eighth in his first start at 2 in 2019 before finding his stride and finishing the year with a victory in the Breeders Crown at Woodbine Mohawk Park and one in the $181,600 Matron at Dover Downs.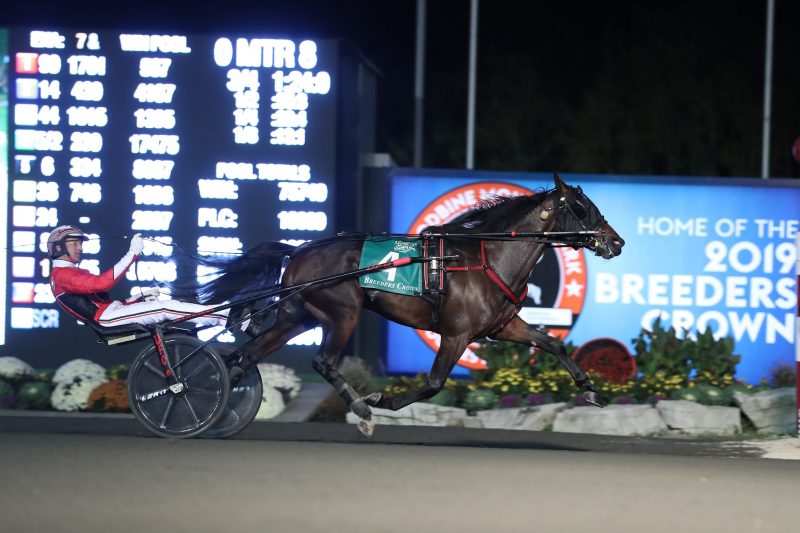 At 3, the son of Father Patrick out of Margarita Momma was sixth in his seasonal debut and then cashed a cheque in his next 14 starts, including a fourth-place finish in the $1 million Hambletonian and victories in the $252,000 Pennsylvania Sires Stakes championship at Harrah's Philadelphia, the $444,000 Kentucky Futurity at Red Mile, the $500,000 Breeders Crown at Harrah's Hoosier Park and the $162,350 Matron at Dover Downs en route to being voted tops in his division.
Lifetime, Amigo Volo has a record of 15-3-2 in 28 starts, earnings of $1,550,044 and a mark of 1:50.2.
"He's had two pretty big years," Norman said of the trotter driven by two-time U.S. Driver of the Year Dexter Dunn. "You can't expect him to be too sharp right off the bat. He did have a pretty laid-back winter and he put on a lot of weight, but that's what we wanted him to do — let him have a rest."
"We staked him to everything this year because there's only a small number of races for (4-year-olds) anyway… I'm just hoping he will gain momentum as the year goes on and by Breeders Crown time he could be pretty strong again. A lot of them don't make it through the year, but the open trotting ranks is always small numbers and there's a little bit of drop off, so we're just going to play it by ear, see how he comes along and see how the opposition handles it, as well."
Since Amigo Volo is a gelding, Norman said he will likely space out the trotter's starts this year to try to preserve the horse for years for racing to come.
"One thing about him, he's always been extremely sound and extremely healthy," Norman said.