By Dave Briggs
May 14, 2021 – Hall of Fame trainer Joe Holloway said he wished his undefeated superstar Perfect Sting had an easier pari-mutuel start to his 2021 campaign, but admits he's pumped to see how the 3-year-old pacing colt fares Sunday (May 16) against three of his chief rivals. The race marks the first huge tilt of the year in the Standardbred world.
"I'm excited for it," Holloway said of the Perfect Sting's seasonal debut in a $51,045 Pennsylvania Sires Stakes (PASS) division at The Downs at Mohegan Sun Pocono against top colts Abuckabett Hanover, Sumna Cum Laude, Lou's Pearlman and others (race 9, 5 p.m. first race post time).
Holloway, 64, has conditioned such stars as Jenna's Beach Boy, Always A Virgin, She's A Great Lady and both of Perfect Sting's blazingly-fast parents, Always B Miki and Shebestingin, but he said Perfect Sting is "the best horse" he's had.
The New Jersey-based trainer said "the tough part" is having Perfect Sting face such huge rivals in the first pari-mutuel start of his sophomore campaign after being crowned the 2020 winner of the U.S. Dan Patch Award as the top freshman pacing colt in the nation.
"Everybody is going to be gunning for you," he said of Sunday's start. "(Always A) Virgin, (Always B) Miki and other horses weren't expected to be the best when they first started (their 3-year-old seasons). They kind of grew as they started racing, but Jenna ('s Beach Boy), he'd been 2-year-old of the year and was forced to race in the 3-year-old open his first start and then the second week, the owner had him in the regular open and he raced older horses."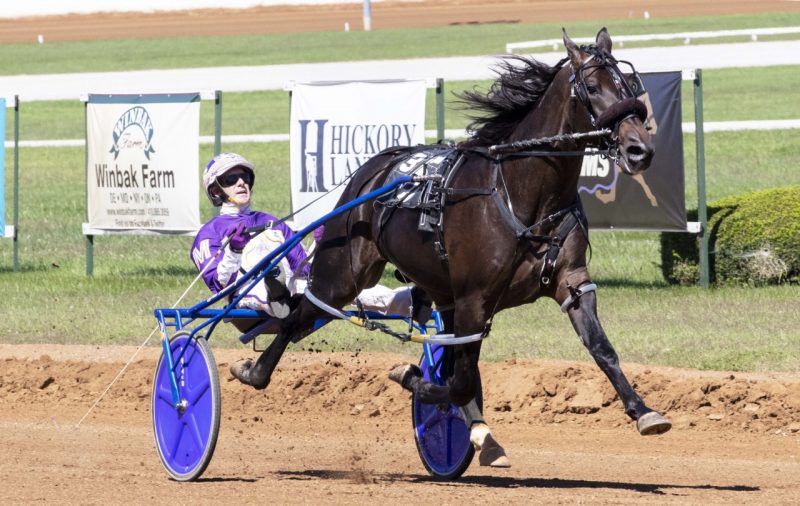 Still, Perfect Sting comes into Sunday's race off two strong qualifiers at The Meadowlands on April 23 (1:52.2) and April 30 (1:52.3), respectively. In the latter, driver David Miller even allowed the colt to be passed before retaking the lead and cruising to victory to the consternation of part-owner and breeder Marty Granoff of Val D'Or Farms, who shares Perfect Sting with Brittany Farms of Kentucky.
"Marty Granoff didn't like him getting passed," Holloway said, laughing. "Dave will say he'd like to sit behind someone for a change. I'll just have to keep Marty happy, that's all… He said, 'Look, look, that horse went on by him!' That's Marty, he wants to win every race by five or six. He does like the pressure of it, though, so it's funny.
"(Remaining perfect) would be nice but there's a lot of things and as long as he wins the right ones… Horses like that, there's times when they get beat. Actually, Jenna, he lost twice, but he was still the best horse out there. Somebeachsomewhere lost in the (Meadowlands) Pace… They don't lose often, but they can get beat. It happens.
"Would I like to be undefeated? Oh, I think that would be the thrill of a lifetime and coming at the end of my career, that would be pretty cool, but meanwhile I'm pretty realistic and I doubt it's going to happen and not because the horse isn't good, it's just that anything can happen."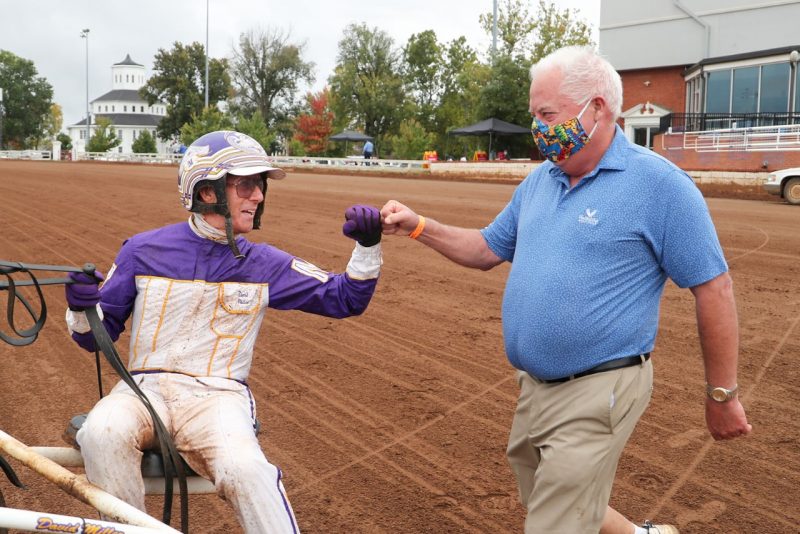 Holloway, who injured his shoulder in a training accident in early April, said the toughest part has been not being able to sit behind Perfect Sting since April 10.
"I'm handling (the pressure) part fine, but I'm not real thrilled about sitting on the sidelines right now, but I think that'll only be another couple of weeks. There's all kind of ways to skin a cat and the horse hasn't missed a beat without me being the one sitting behind him. It's just the way you're used to doing things, you know? I like to sit behind them, I like to see everything. Other people think they can see just as much or more from the sidelines, so that's neither here nor there, just what I would like."
As for how his champion has changed from a freshman to a sophomore, Holloway said the pacer is, "more mature mentally. He's been training extremely well, which you could never say that about him before… you always had to make him do his work, but right now he's much more up for it.
"He's all play. In the morning, he's tough to handle because all he wants to do is play and he doesn't get tired. He's light on his feet. He's got it all… He's good-looking, he's good-gaited, he's sound and he's fast and he's tough."
On Sunday, we'll find out if Perfect Sting extends his undefeated streak to 11 career races and pushes his career earnings over $550,000 (U.S.) as he preps for the biggest sophomore races on the continent.