TORONTO, December 26, 2017 – The 2017 Woodbine Standardbred racing season wrapped up Tuesday afternoon with a special 12-race matinee card.
The finals of the Valedictory and Niagara Series highlighted the final card of 2017.
An 18-day break between starts was no issue for Jazzy Image in the $34,400 Niagara Series final.
The Aaron Lambert trained three-year-old pacing filly got away mid-pack with driver Trevor Henry and came first up in the third-quarter to pull to within a length turning for home. In the stretch, Jazzy Image was able to out duel the leader Cloud Diva to win by a length in 1:54.4.
Purchased privately in November by Trent Stohler Stable Inc, Jazzy Image shipped up to Woodbine and captured an opening leg division of the Niagara on December 8, but did not compete in the second round on December 15.
The daughter of Rockin Image is now five for 31 this season with $63,285 earned.
Jazzy Image paid $7 to win.
Sophomore pacing fillies, who were non-winners of $60,000 lifetime as of October 31, 2017, were eligible to the Niagara.
Tony O'Sullivan trainee Windsun Gotham, who won a first leg division, braved the elements and came first up to win the $34,000 Valedictory final in 1:54.1.
Driven by Sylvain Filion, Windsun Gotham got away mid-pack and waited patiently while things shook out up front. The O'Sullivan trainee was moved first up at the half and grinded up to the wheel of leader Brave World at three-quarters.
In the stretch, Windsun Gotham powered to the lead and was able to hold off an inside charging Homey Joe to win by a neck. Better B Rolling, who was going for a series sweep, got a second-over trip and finished third.
Owned by Thomas Pollack and O'Sullivan Racing Inc, Windsun Gotham is now six for 19 in 2017 after making just one start as a two-year-old. The gelded son of American Ideal pushed his career earnings to $78,122 with Tuesday's score.
The O'Sullivan trainee paid $12.20 to win.
Sophomore pacing colts and geldings, who were non-winners of $60,000 lifetime as of October 31, 2017, were eligible to the Valedictory.
There was no drama on the final day when it came to the driver, trainer and owner titles for the season.
Doug McNair, 27, captured his first Woodbine Entertainment driving title by leading all reinsmen in victories during 2017. The Guelph, Ontario resident finished the season with 294 wins, $5.5 million in earnings and was the top driver during the Woodbine Winter meet and Mohawk Summer meet.
Louis Philippe Roy finished second in the driver standings with 275 wins.
For the third consecutive season, Richard Moreau was the leading conditioner in 2017 at Woodbine and Mohawk. The Puslinch, Ontario resident won 167 races and sent out the winners of over $2.9 million this season on the Woodbine Circuit.
Carmen Auciello finished second in the trainer standings with 91 wins.
McNair and Moreau teamed up to win three-races on Tuesday's card.
Brad Grant led all owners in victories for the second consecutive season. The Milton, Ontario resident had 60 victories during 2017 at Woodbine and Mohawk, many of which he teamed up with McNair and Moreau.
Grant also led all owners in earnings, as his horses banked over $1.2 million in 2017.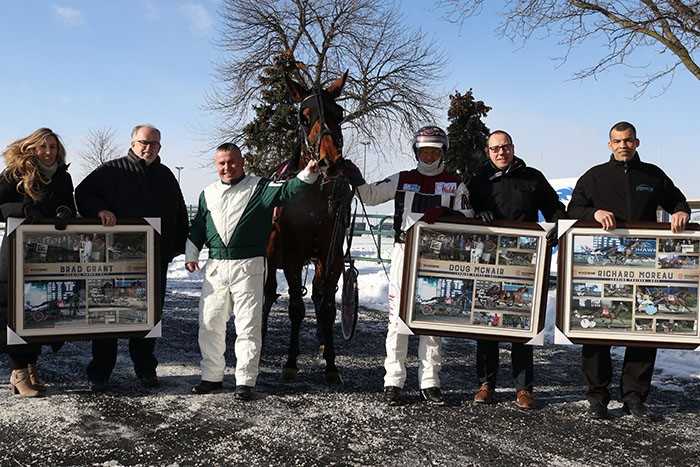 Grant, McNair and Moreau were recognized for their exceptional campaigns with a special presentation during Tuesday afternoon's card.
Also on Tuesday, trainer Isaac Waxman picked up his 500th career victory in the afternoon's fourth-race with claiming pacer Prince Giovanni.
Waxman entered the afternoon just two wins shy of the milestone and picked up a victory early in the day at Western Fair before scoring his 500th at Woodbine.
Live Standardbred racing at Woodbine is now on a 10-day break.
The Standardbreds will get back to action for their first card of 2018 on Saturday, January 6. Post time is 7:30 p.m.