MILTON, March 3, 2018 – Woodbine Entertainment today announced that 79 three-year-old pacers have been nominated to the 35th edition of the Pepsi North America Cup.
The $1 million Pepsi North America Cup is Canada's richest harness race and this year's edition is scheduled for Saturday, June 16 at Woodbine, Mohawk Park. The eliminations for the $1 million final will take place the week prior on Saturday, June 9.
This year's number of nominated three-year-old pacers is up by 19 over last year's total of 60.
Headlining the group of eligible sophomores is O'Brien Award winner Stay Hungry and Dan Patch Award winner Lost In Time.
The award-winning colts squared off on multiple occasions in 2017 with each capturing marquee events over the course of the season.
A son of the late-Somebeachsomewhere, Stay Hungry won six of nine starts as a rookie, including the $600,000 Breeders Crown at Hoosier Park. The Tony Alagna trainee banked $557,088 in 2017 for owners Brad Grant, Woodbine's leading-owner, and Irwin Samelman.
Stay Hungry qualified twice and raced four-times last season at Mohawk. He was driven in eight of nine starts by Woodbine's top-driver Doug McNair.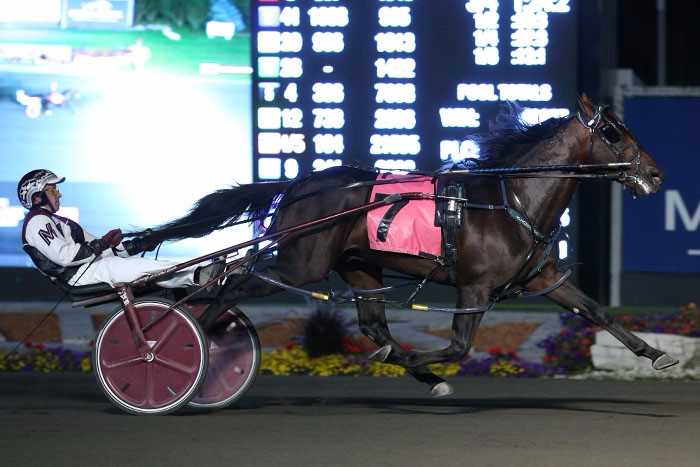 Lost In Time will be looking to create more magic at Mohawk Park in 2018 after he burst onto the scene as a two-year-old to capture the $816,000 Metro Pace for original trainer Jim Mulinix.
The son of A Rocknroll Dance attracted the interest of several prominent owners following his Metro score and eventually moved into the care of Jimmy Takter to finish off his two-year-old campaign.
Lost In Time won the $411,700 Governor's Cup by a nose over Stay Hungry to finish 2017 with five wins in nine starts and $687,432 in earnings. The bay colt will be looking to add to those totals in 2018 for owners Diamond Creek Racing, J And T Silva Stables LLC, William Rufenacht and Team S Racing Stable.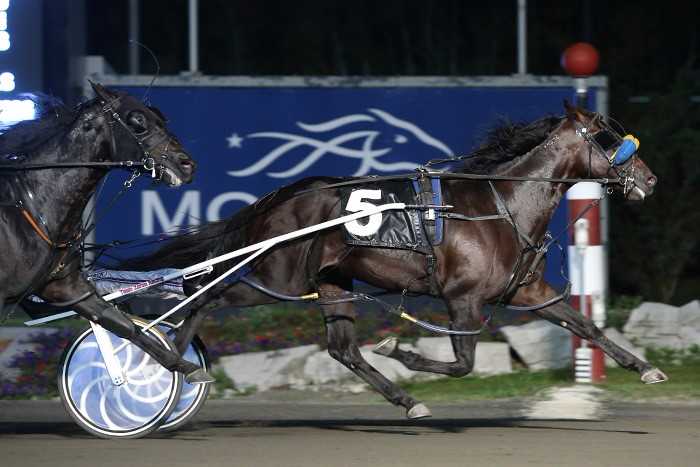 Lost In Time has already grabbed headlines in 2018, as co-owner Scott Robinson recently gifted a share of the colt to professional wrestling legend Ric Flair.
The late-great Somebeachsomewhere is again the leading sire of Pepsi North America Cup nominees with 17 sons eligible. "The Beach" captured the 2008 edition and sired the 2013 champion Captaintreacherous.
A total of 24 Ontario Sires Stakes eligible sophomores have been nominated to this year's event. Mach Three leads the way among Ontario stallions with eight eligible three-year-olds.
The number of 79 nominated sophomores is the highest number of nominees for the Pepsi North America Cup since 2011 (83).
A total of three sustaining payments are required to remain eligible to the Pepsi North America Cup. The first sustaining payment ($1,000 CAD, $810 USD) is due Wednesday, March 15. The final two payments are due April 15 and May 15.
Below is the full list of eligible three-year-old pacers to this year's Pepsi North America Cup.
ALWAYS BET DE GREY
AMERICAN HISTORY
ATOMIC SEELSTER
AVALON HANOVER
BABES DIG ME
BACKSTREET SHADOW
BEACHIN LINDY
BIG TALKING MAN
BURNING MIDNIGHT
CALIFORNIA CRUISIN
CAM I AM
CAPTAIN DEO
CASIMIR RICHIE P
CHOCOLATE SWIRL
CINNAMACK
CLOSING STATEMENT
COURTLY CHOICE
DECLAN SEELSTER
DONE WELL
DORSODURO HANOVER
DRAGON TIME
DURHAM TOWN
FASHIONONTHEBEACH
GD WESTERN JOE
GHOST DANCE
GRAND TETON
HAYDEN HANOVER
HITMAN HILL
HUDSON PHIL
INTERNET HANOVER
JET AVIATION
JIMTASTIC
JUSTWIGGLEIT
KARPATHIAN KID
KWIK TALKIN
LARRYS PETROCK
LATHER UP
LEVIS DAY
LOST IN TIME
MACADOODLEDOO
MAJOR AUTHORITY
MASON HANOVER
MISSION THREE
MISTER MOJO RISIN
NOAHS MILL
NUTCRACKER SWEET
ODDS ON LAUDERDALE
PANTHER SEELSTER
PARISI
PEDRO HANOVER
PHIL THE THRILL
POINTS NORTH
PRO BEACH
QUINTSENTIAL TERROR
ROOTIN TOOTIN
SCOUTS REPORT
SEEING EYE SINGLE
SHADOW MOON
SHNITZLEDOSOMETHIN
SOMETIMESAWINNER
SPORTS LEGEND
SPRINGSTEEN
ST LADS NEPTUNE
STAY HUNGRY
SUMMER TRAVEL
TALBOTCREEKWHISKEY
THE DOWNTOWN BUS
THOMAS B HANOVER
TOPVILLE OLYMPIAN
TORRIN HANOVER
TRUMP THAT
TURBO HILL
TWIN B TUFFENUFF
VENOM
WES DELIGHT
WESTERN PASSAGE
WHATSTROUBLNUROCKY
WHEN YOU DANCE
WHOS BETTER
Total Horses: 79