CAMP​BELLVILLE, June 15 – Trainer Tony Alagna is set to make his fifth appearance in the $1,000,000 Pepsi North America Cup on Saturday, June 17 when he sends Western Hill, a Western Ideal gelding from the Art Major mare Cosmo Blue Chip, from post nine with Doug McNair driving the 20-1 morning-line shot.
In 2013, Alagna won with, the favorite, Captaintreacherous and was third with stable mate Wake Up Peter. He is aiming for his second win in "The Cup", trying with Artspeak (who was fifth in the 2015 edition) and Racing Hill (second in 2016). 
"We tend to choose specific families of horses when we go to purchase yearlings," Alagna said regarding his capability to send contenders into The Cup year in and year out. "If you follow the families of horses I've had in the North America Cup, they all usually come from great maternal pedigrees, so I feel that contributes greatly to get horses to the North America Cup for us."
Going for a one-million dollar prize, Alagna does not have a ritualistic routine to ready his contenders for the race.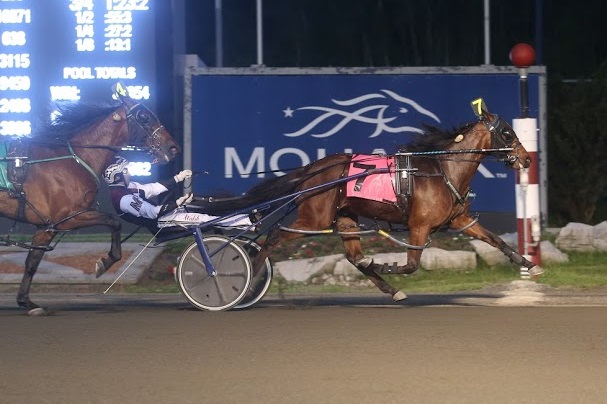 "They kind of tell you going into the race what they're looking for," Alagna said. "[Western Hill] raced well in his start before [The Cup] eliminations, so he didn't require a lot of work. He pretty much had a couple of [training] trips before each race and has seemed to respond well."
Leading up to The Cup, Western Hill, who is owned by Tom Hill, only raced twice, off a two-year-old campaign consisting of four wins in 10 starts. In his first start of the year, he lagged off the gate but sprinted home to finish seventh and followed that effort with a 1:51.4 victory against overnight stock at Mohawk. He's entering The Cup off his fastest mile to date, a 1:51.1 runner-up off-the-pace finish to elimination winner Downbytheseaside.
"We had this horse last year but we didn't get him ready this winter," Alagna said. "Another trainer got the horse ready and qualified him, then we got the horse back after that. We made a few adjustments and got him back on the routine we had him on the year before and that's why the horse has responded as well as he has."
Racing from far off the pace, on the front, and mid-pack, Western Hill has displayed a versatile racing style, though Western Hill's fastest race came off a trip.
"Against these kind of horses, he's definitely better off a trip," Alagna said. "He likes to run horses down; he likes a target. Some of the races he was in last year he had to be forwardly placed just because I thought he was good enough to win either way and we couldn't take any chances of getting him into a traffic jam coming from off the pace."
Alagna's past contenders, Captaintreacherous, Artspeak, and Racing Hill, entered The Cup as favorites or as major contenders. Western Hill approaches the event as a longer shot needing the correct circumstances to propel him to victory.
"When you have a longer shot, you have less pressure, but you still want to see the horse continue to improve," Alagna said. "That's what we're looking for, especially with post position nine it makes [winning] a little bit tougher. We're going to need some speed up front; we're going to need a decent pace to be able to get money from the nine-hole. But we have a horse that was 15, 20-to-one in his elimination, so you hope the horse improves and then move onto the next stakes race and hope for a better post position.
Alagna has in mind what he expects to see from Western Hill in the North America Cup final, but admits he doesn't get in his driver's ear and knows things don't always go as planned.
"I'd probably say he's going to come from off the pace, but one thing about me is I never tell anybody that drives for me what to do," Alagna also said. "Things change too quickly—we had She's Watching in a [Fan Hanover] elimination and the plan was to come from off the pace because she has such a big last quarter in her, but nobody was on the gate so [Scott Zeron] left off the gate and got her in third.
So many things can happen once the gate folds and drivers have to make the split-second decisions they are paid to make."
By Ray Cotolo for woodbine.com
Here is the field for the $1 million Pepsi North America Cup.
1. Ocean Colony (Yannick Gingras/Jimmy Takter) 10-1
2. Downbytheseaside (Brian Sears/Brian Brown) 3-1
3. Huntsville (Tim Tetrick/Ray Schnittker) 8/5
4. Fear The Dragon (David Miller/Brian Brown) 2-1
5. Sports Column (Chris Christoforou/Blake MacIntosh) 25-1
6. Classic Pro (Trevor Henry/Dr. Ian Moore) 20-1
7. Ozone Blue Chip (Brett Miller/Ron Coyne) 25-1
8. Filibuster Hanover (Louis Philippe Roy/Ron Burke) 15-1
9. Western Hill (Doug McNair/Tony Alagna) 20-1
10. Miso Fast (Matt Kakaley/Ron Burke) 20-1
​​