CAMPBELLVILLE, September 1 – Grand Circuit week continued Friday at Mohawk Racetrack with the Simcoe Stakes for sophomore trotting fillies and the Champlain Stakes for two-year-old trotters.
The Simcoe Stakes featured a field of 11 competing for $166,872, while two $93,880 divisions were required for the Champlain. 
Ariana G added another trophy to her impressive collection with a 1:53.1 victory in the Simcoe Stakes.
The ultra-talented daughter of Muscle Hill started from the second-tier in Friday's contest. Driver Yannick Gingras elected to follow a mid-pack starter at the start and was able to drop the heavy-favourite in third at the opening-quarter.
Ariana G wouldn't sit for long and was moved to the lead approaching the half. The Jimmy Takter trained filly touched down on the lead just after trotting by the half in :56.1.
Ariana G posted a :29 third-quarter setting her up well for the stretch. Southwind Tesla came first up and confronted the favourite turning for home, but Gingras sat motionless and allowed Ariana G to turn aside all challengers with ease to win by 2 ¾ lengths.
"She felt really good," said Gingras following the race. "Down the stretch I was just taking it easy on her, the plugs were still in, just measuring them off and trying to save some for the future."
Feed Your Head, who is also trained by Takter, was able to edge out Southwind Tesla for second.
Owned by Marvin Katz and Al Libfeld, Ariana G improved to four for four at Mohawk with her Simcoe Stakes victory. The Hambletonian Oaks winner is now seven for nine this season with over $600,000 earned.
Ariana G, who will likely race next in the Elegantimage Stakes eliminations on September 9, is now a 16-time winner with over $1.4 million earned. She paid $2.90 to win.
Sire Muscle Hill swept Friday's Champlain Stakes, as his sons You Know You Do and Night Rhythm were victorious.
You Know You Do went to the lead and never looked back to win the opening division in 1:55.1.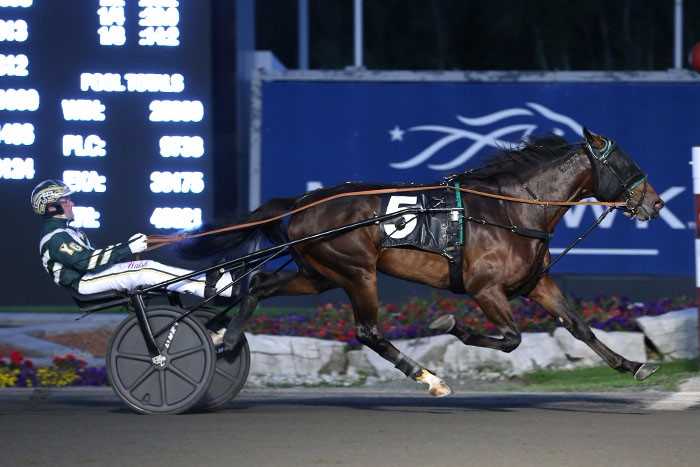 The Takter trainee found the front at the opening-quarter with driver Yannick Gingras and proceeded to post fractions of :29, :58.2 and 1:27. Alarm Detector, who came in undefeated, got away last in the field of seven and never got close to making things interesting with You Know You Do.
The Takter student trotted home in :28.1 to win by 6 ¾ lengths over Alarm Detector, who also trotted home in :28.1. Embolden was third, while Winning American was fourth.
Owned by Howard Taylor, Order By Stable, Bud Hatfield, Katz and Libfeld, You Know You Do is now four for six in his rookie season. The Peter Haughton champion, who was a $350,000 Harrisburg yearling purchase, has banked $253,872.
"He was exceptional tonight," said co-owner Katz. "This is a really top-end colt and we are thrilled and proud of him."
You Know You Do paid $3.60 to win.
The second division saw Frank Antonacci trainees finish one-two in a three-horse win photo.
Cruising In Style and driver Anthony MacDonald went to the front and tried to trot away from their rivals. The son of Muscle Mass posted fractions of :29, :58.4 and 1:27.3 to lead by three-lengths turning for home.
Antonacci trainees Night Rhythm and Kinda Lucky Lindy sat third and fourth at the head of the lane and both unleashed strong stretch rallies to chase down the leader.
Night Rhythm came up the inside with driver Scott Zeron, while Kinda Lucky Lindy and driver Rick Zeron were charging on the outside. At the wire, Night Rhythm prevailed by a head over Kinda Lucky Lindy and half a length over Cruising In Style for a 1:57.2 maiden-breaking score.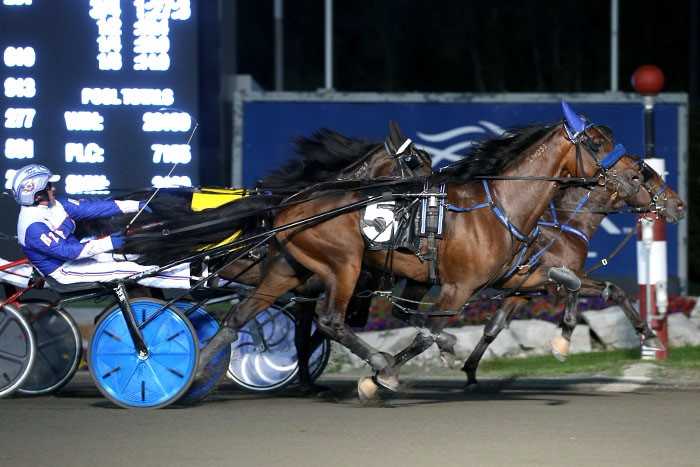 Owned by Lindy Farms of Connecticut and Robert Rudolph, Night Rhythm came into the Champlain after competing in a pair of Stallion Series events in Pennsylvania.
"I think they chose to race him in The Stallion Series just to keep him brave," said Scott Zeron post-race. "They did the right thing, it worked out today. I had to nurse him a bit in the last turn, but we turned into a sprint down the lane."
Night Rhythm is now one for three to start his career with $53,540 earned. The Muscle Hill colt was a $160,000 purchase at last October's Lexington Selected Yearling Sale.
Katz and Libfeld, who captured the other two Grand Circuit events Friday, bred Night Rhythm to add to their big night.
Night Rhythm paid $6.30 to win.
The William Wellwood Memorial eliminations (Monday, September 11) are next on the calendar for the two-year-old trotters. You Know You Do and Night Rhythm are both eligible.
Grand Circuit week continues Saturday evening at Mohawk Racetrack with the $615,000 Canadian Pacing Derby headlining a stakes-packed card. The 'Pacing Derby' undercard features the Simcoe Stakes for three-year-old trotters and the Champlain Stakes for two-year-old pacers.
Post time is 7:30 p.m.