MILTON, September 3, 2022 – Back Of The Neck pulled off the 9-1 upset in another top-shelf edition of the $610,000 Maple Leaf Trot, stopping the clock in 1:51.0 on Saturday night at Woodbine Mohawk Park.
Winless in three starts in 2022, Back Of The Neck came into the Maple Leaf Trot with far less fanfare than stablemate and fellow Ake Svanstedt trainee Ecurie D DK. By the time the mile was over, the 5-year-old son of Ready Cash-Big Barb was the one grabbing all the headlines.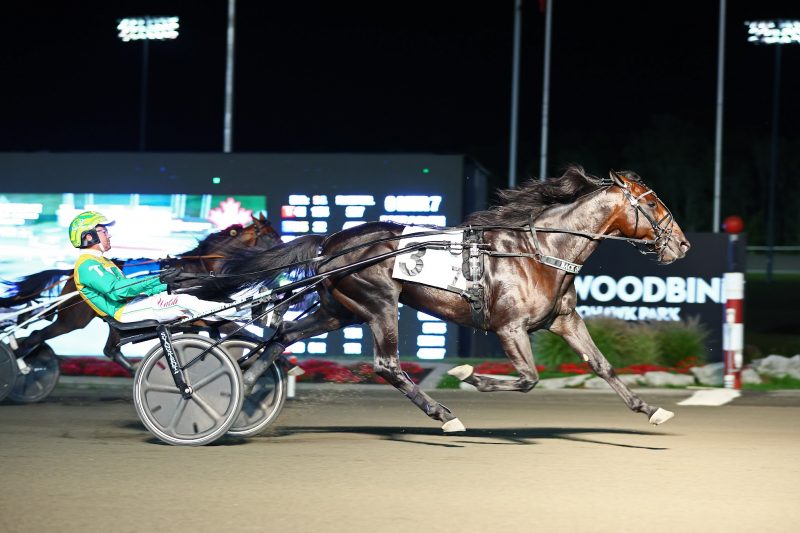 It was an early scrap for the lead in an all-star field with Fashion Frenzie eventually striking front, with Logan Park and Atlanta settling into third and fourth, respectively, around the first turn, and through a first quarter in :26.4. Back Of The Neck, with Tim Tetrick in the sulky, watched the proceedings from seventh.
Yannick Gingras, in rein to Atlanta, then hustled the multiple stakes-winning mare to the front, 1 ½ lengths ahead of Fashion Frenzie, with Logan Park third and Back Of The Neck, still seventh, through a half timed in :55.1.
Atlanta soon found herself under siege as the field straightened for home. Ecurie D DK, the 6-5 choice, came calling, as did Forbidden Trade and a hard-charging Back Of The Neck, fifth at the stretch call, and rolling, picking off rivals with each stride.
Ecurie D DK emerged with the lead late, but the world-traveling trot titan, driven by Svanstedt, couldn't fend off his stablemate.
At the line, Back Of The Neck was a 1 ½-length winner, coming home in :26.4. Forbidden Trade was third and Fashion Frenzie fourth. Alrajah One IT, the morning line choice and also under the tutelage of Svanstedt, was scratched after sustaining a suspensory injury leading up to the race.
"Well, this one was unexpected," said Tetrick, who won his third (Market Share in 2013 and Guardian Angel AS in 2019 were the other) Maple Leaf Trot. "I got the phone call before the draw was announced. We got him worked out, we got a good post, and everything worked out. I followed Ake up and Ake led us right up there and the fractions were fair, and I came off Ake's back and he did the rest. It was pretty easy."
"I mean, I wanted the other one [Alrajah One IT] in the race, especially with the connections," offered Svanstedt. "It's sad. I wanted to watch the other horse, because I'm a fan of him, he's amazing. But lucky for me, I got to win."
Bred in Sweden by Order By Stable, who co-owns with Howard Taylor, Judith Taylor, and Svandstedt, Back Of The Neck is now 12-5-5 from 36 starts. He was originally a $150,000 purchase (Hip No. 6) at the 2018 Harrisburg Sale.
He paid $20.40 for the win.
Chris Lomon, Woodbine Communications / @WoodbineComms