Hall of Famer Paul MacDonell laughs at the comparison, the one between the fictional serial killer doll first made famous in the 1988 horror flick 'Child's Play,' and the sophomore pacer who shares the same first name as the movie's nefarious main character.
"He's a pretty smart horse all around," said MacDonell, of rising sophomore star Chucky Hanover. "The only little caveat he does have is that when he's in the paddock, he knows he's racing, and he won't sit still. I think he was named appropriately because he's like the Chucky doll. He gets fired up when he's knows it's time to go. Other than that, he's a perfect little horse around the barn. It's really hard to put him down for any reason."
A quick look at his stat sheet shows why.
The son of Hes Watching-Childs Play, whose most recent victory came in the final of the Ontario Sired Spring Series for three-year-old colts and geldings, contested at Woodbine Mohawk Park, boosted his record to 2-1-0 from three starts on the season.
The lifetime winner of four races, along with a pair of seconds, from 11 starts is at the top of his game these days for owners GLB Stable, out of Lakeview, NS.
MacDonell, who has 83 training wins to accompany over 5,700 driving victories, has rave reviews for the $28,000 purchase at the 2020 Lexington Sale.
"He's one of those horses where it seems like when he steps on the track, he's got his game face on and he's on the bit all the time. He's the prototypical racehorse. He knows why he's there and he wants to go. As a trainer and driver, you really can't ask for more than that. He's got that want in him."
Which was on display in his most recent trips to the winner's circle.
On April 29, MacDonell and Chuck Hanover got away third as Google My Chrome seized control and led the field through an opening quarter in :28.1. MacDonell and Chucky Hanover then powered to the front and took their rivals through middle fractions of :57 and 1:25.4 before firing home in :27 to win by 3 ¾-lengths in 1:52.4.
One week later, the duo, a nose behind the leader at the stretch call, rallied with authority to take all the spoils in the $56,200 Ontario Sired Spring Series final, stopping the teletimer in a career-best 1:52.2.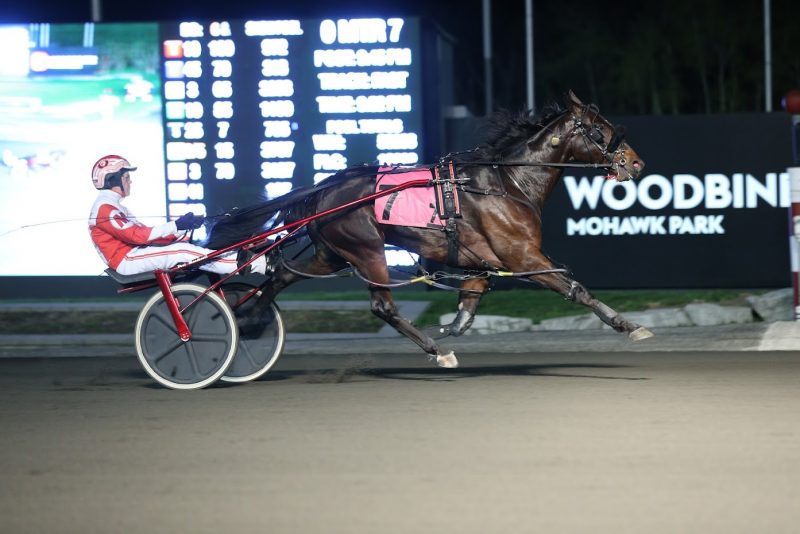 "He's very easy to work with and he's very eager to do what you want him to," praised MacDonell.
Although he didn't have him early on as a two-year-old, the Hall of Fame horseman has partnered well with the bay gelding.
It did, however, take a bit of time for the duo to see their hard work pay off.
After a tenth, sixth and fourth in Chucky his first three starts, a second-place effort on December 3 was a harbinger of things to come for Chucky Hanover.
I didn't have him as a young two-year-old – he was broke in Nova Scotia – and he was sent up to me last August or September. We just put a few starts into him in the fall and prepped him for the series that are coming up."
That prep work has paid off handsomely.
In his past four starts, Chucky Hanover has posted three wins and a second.
"He's been great to have," lauded MacDonell.
Chucky Hanover's support base extends well beyond Ontario borders.
Aside from his ownership group, fans of the Standardbred genre from Nova Scotia are also eagerly watching their hometown pacer prosper on the A-circuit.
"The owners are all very excited and are understandably thrilled with how things have gone," said MacDonell. "But they are also fans of the game. They really enjoy watching him."
Just as MacDonell enjoys seeing the horse's growth and development continue.
"Absolutely. He makes your job easier. When you walk into the barn, and you have one like him looking at you, it's a very good feeling. He's been a pleasure."
Even if he happens to be named after one of the big screen's most notorious horror film villains.
Any review from MacDonnell, however, is a glowing one.
"I think I would go back to what I said about him being a gamer. He wants to please you and goes out every night and does it."
All of which makes staring down 'Chucky' an unsettling scene for anyone he crosses paths with.
Chris Lomon, Woodbine Communications / @WoodbineComms