CAMPBELLVILLE, September 9 – The team of driver Corey Callahan and trainer John Butenschoen connected to capture both eliminations of the Canadian Trotting Classic on Saturday night at Mohawk Racetrack.
A group of 13 three-year-old trotting colts and geldings were split into two $40,000 eliminations to determine the field for next Saturday's (September 16) $684,000 final. 
The first elimination saw Bills Man charge home in :27.2 to win in 1:53.2 for Callahan and Butenschoen.
The son of Credit Winner got away fourth with Callahan and would sit in that position until the final turn. Victor Gio IT showed the way, posting fractions of :27.3, :56.4 and 1:25.2.
What The Hill enjoyed a two-hole trip and was angled out of the pocket approaching three-quarters, which provided cover for a moving Bills Man.
In the stretch, What The Hill took the lead with an eighth of a mile to go, but couldn't fight off Bills Man on the outside and Dancer Hall on the inside. Bills Man would reach the wire first, defeating Dancer Hall by a neck.
"I knew I had (What The Hill) beat and then I saw (Dancer Hall) sneaking up through there, but the horse had plenty of trot," said Callahan about the victory. "The main thing is we just wanted to get through there error free."
Lindy The Great got up for fourth, while Victor Gio IT dropped back to finish fifth.
Owned by William Wiswell and M And L of Delaware LLC, Bills Man has had a lot of close calls, including a loss by a nose in his Hambletonian elimination. He was winless in his last nine coming into Saturday.
"He's had a lot of bad luck," said Callahan. "You know you don't get many chances to win the Hambletonian and he raced his heart out in the elimination and then drew post 10 and I mean that was really a heartbreaker.
"He puts forth his best effort and he's going to have his day."
Bills Man is now three for 14 with $248,986 earned this season, which boosts his career totals to five wins and $319,427 in lifetime earnings.
The Butenschoen trainee paid $7.20 to win.
The same duo would return to the winner's circle in the second split, but this time it was a front-end mission that got the job done.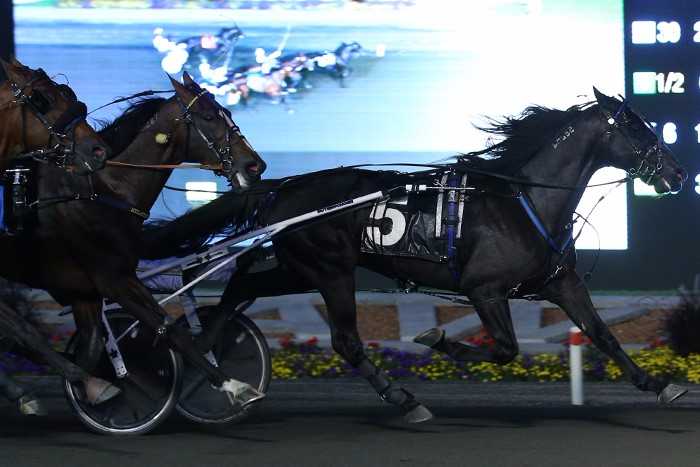 Dover Dan went coast-to-coast for a 1:52.3 victory. The son of Andover Hall shot out quickly to the lead and proceeded to hang up fractions of :27.4 :56.1 and 1:24.1.
Long Tom and International Moni sat second and third, respectively, throughout the early-going, but both were moved to the outside nearing three-quarters.
In the stretch, Dover Dan dug in to fight off his outside rivals and score the victory by three-quarters of a length. Long Tom finished second, while International Moni was third.
Seven And Seven finished two-lengths behind the winner in fourth, while Southwind Cobra was fifth to make the final.
Owned by Wiswell, Jean Goehlen and Eugene Schick, Dover Dan came into Saturday's contest with plenty of momentum after winning last Sunday's Pennsylvania Sires Stakes Championship.
"He's always been better for me when you leave with him a little bit and kind of get him interested," said Callahan. "I told John (Butenschoen) ahead of the race that Scotty (Zeron – International Moni) usually kind of ducks his horse off, so I was going to push off and hopefully follow Tetrick (Long Tom), but he was content to follow me and I kept the fractions honest and everything worked out good."
Dover Dan's victory improves his three-year-old record to four wins in 14 starts and nearly $230,000 earned. The Butenschoen trainee sports career totals of eight wins and $352,047 earned.
Dover Dan paid $14.40 to win.
Forced to choose which elimination winner he will drive in next week's final, Callahan wasn't shy in sharing which direction he will likely go.
"I'll likely stick with Bills Man. I think he's the fastest of the two, even though (Dover Dan) went a bigger heat tonight, I think just pure speed wise, Bills Man is just a little bit quicker."
Trainer Butenschoen also had a decision to make, as he got to select which posts his duo will start from in the final. Bills Man will start from post two, while Dover Dan will start from post three.
The $684,000 Canadian Trotting Classic final will take place next Saturday (September 16). It joins the Maple Leaf Trot to make up a huge night of racing with purses expected to top $2 million.
The three-year-old trotting fillies also had a chance to shine on Saturday evening in a pair of $35,000 eliminations for the Elegantimage.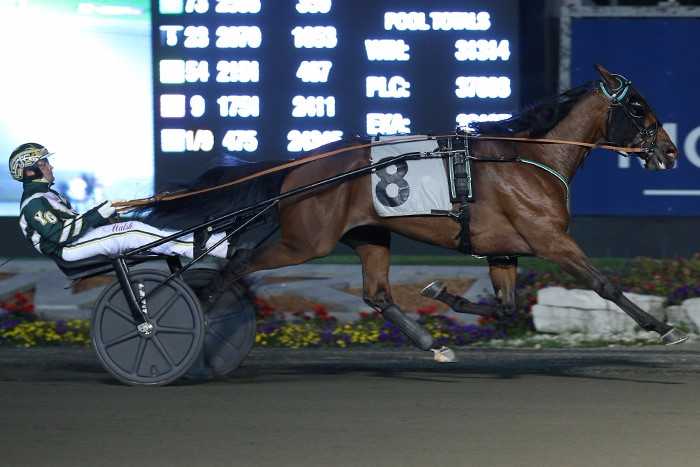 As expected, Ariana G took care of business in the first elimination for driver Yannick Gingras and trainer Jimmy Takter.
The daughter of Muscle Hill and winner of over $1.4 million got away fifth before moving first-up at the half. She cleared to the lead at three-quarters in 1:25.4, before trotting home effortlessly in :27.3 to win by nearly five-lengths in 1:53.2.
Coming in off a strong victory in last week's Casual Breeze, Gingras thought Ariana G was even better on Saturday.
"Last week she was very good, but I think tonight she was vicious."
Magic Presto finished second, while On A Sunny Day was third. Lady Grey and Sweet Of My Heart rounded out the top-five finishers.
Owned by Marvin Katz and Al Libfeld, Ariana G is now eight for 10 this season with $645,027 earned and 17 for 20 overall.
Ariana G paid $2.10 to win.
The second elimination saw Dream Together turn in a :27.1 final-quarter to track down Feed Your Head and win in 1:53.3.
Driven by Daniel Dube for trainer Luc Blais, Dream Together got a three-hole ride, as Feed Your Head got her way on the front. The Takter trainee posted fractions of :27.2, :57.2 and 1:25.4 to lead into the lane.
Dream Together avoided a three-quarter breaking Thats All Moni and then found her best stride in the lane. The Blais trainee rocketed home and zoomed by Feed Your Head to win by two lengths.
"Got away third and moved her late and she responded well," said Dube, who had last drove Dream Together in the Hambletonian Oaks. "The last time at The Meadowlands I left and moved first over and she raced real good and now she finally got a better trip and raced good."
Winter Sweet Frost finished third, while Glitzey Gal was fourth. Dream Baby Dream made a break at the start, but recovered to finish fifth after a few others made miscues.
A daughter of Muscle Hill, Dream Together picked up just her second win of the season, but has been consistent all year. She's hit the board in seven of eight starts and earned $130,341.
Dream Together is now a six-time winner with career earnings of $230,934 for owner Determination of Montreal, Quebec. She paid $8.30 to win.
The $385,000 Elegantimage Stakes final will also take place next Saturday.
The finals for both the Canadian Trotting Classic and Elegantimage were drawn following the eliminations.
Here is how they will lineup in each event.
$684,000 Canadian Trotting Classic
1. Southwind Cobra
2. Bills Man
3. Dover Dan
4. What The Hill
5. International Moni
6. Seven And Seven
7. Long Tom
8. Dancer Hall
9. Victor Gio IT
10. Lindy The Great
AE: Dunbar Hall
$385,000 Elegantimage
1. Winter Sweet Frost
2. Lady Grey
3. Dream Together
4. Ariana G
5. Sweet Of My Heart
6. Glitzey Gal
7. Magic Presto
8. Feed Your Head
9. Dream Baby Dream
10. On A Sunny Day
AE: Mrstery Bear