MILTON, December 31, 2021 – Century Hannibal, a son of Control The Moment-Up Front Holly, will look to start the new year in the same fashion he finished his 2021 campaign, in Saturday's $33,600 Valedictory Pacing Series final, at Woodbine Mohawk Park.
Trained by James Ritchie for his brother, owner Paul Ritchie, Century Hannibal will go for a sweep of the Valedictory Pacing Series, an event for four-year-old colts and geldings, non-winners of $60,000 lifetime as of September 30, 2021.
After a smart score in an opening divisional leg of the Valedictory on December 18, one that saw the bay colt post a three-length triumph in a career-best 1:50.4, the Glenn Bechtel and Century Spring Farms-bred sophomore followed it up with a two-length triumph in 1:53.0 on December 26.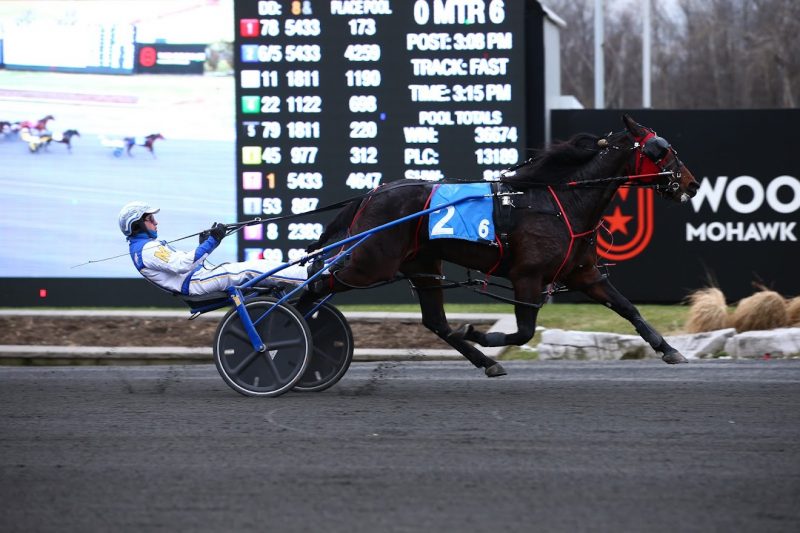 It was the third straight winner's circle photo for Century Hannibal, who launched his current win streak with a two-length victory on November 29.
"The one he went in 1:50.4, that's the race out of the last three that impressed me the most," said James Ritchie. "He hadn't raced that much. He was off 19 days and then he was off 12 days, so I said to James [driver, MacDonald] that he should be tighter this week and he was."
A seven-time winner, along with 14 top-three finishes, from 21 starts, the $13,000 purchase at the 2019 London Selected Sale, Century Hannibal, unraced at two, has bankrolled $84,064 to date.
He launched his career on May 5 at Chester, finishing second, going on to break his maiden one week later at the Pennsylvania oval.
In six Ontario Sires Stakes engagements, he posted a trio of second-place efforts, including a 37-1 performance on August 20 at Mohawk.
Century Hannibal's last three victories came on the heels of an 11-race winless drought.
"When I put him on Lasix, I think that's when he turned the corner. The last time Randy Waples drove him for me in the Grassroots final [October 9], he told me to try him on Lasix, so I did. He wasn't finishing his miles strong, so we made that decision."
Ritchie is thrilled to see his trainee having hit his best stride ahead of Saturday's finale, which goes as Race 8 (9:55 p.m.) on the 11-race card.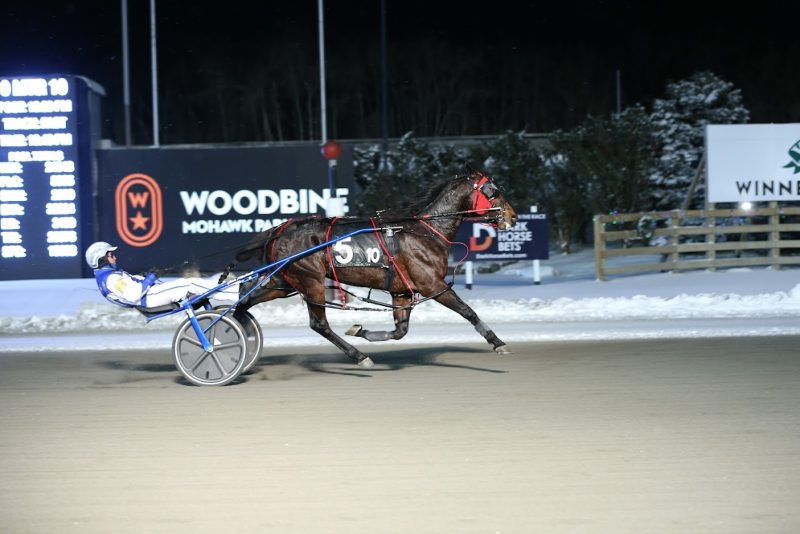 "He's got a big shot to win it, if he gets the right trip. I've liked this horse for a long time. I liked him a lot as a two-year-old. He hurt himself when he was two, but he trained down like a beast. I told my brother, 'This is the best horse you've ever had.' The horse hurt himself training one day and I had to shut him down for the year, but he's come back and he's been racing great."
The game plan is for Century Hannibal to get some time off after the Valedictory and then gear up for the Ontario Boys, a series for Ontario Sired four-year-old pacing colts, horses & geldings in 2022, non-winners of $75,000 lifetime as of midnight, October 31, 2021.
A pair of $20,000 opening legs in February lead up to the $40,000 final on March 4 at Mohawk.
"We'll take him home for a few weeks and then we'll get him ready for the Ontario Boys. As of now, that's what we're looking at."
First post for Saturday's card is 7:00 p.m. Fans can watch and wager on all the action through HPIbet.com or the Dark Horse Bets app.
VALEDICTORY FINAL
Post – Horse – Driver – Trainer
1 – Southbeach Hanover – Austin Sorrie – Shawn Steacy
2 – Royal Tang – Jody Jamieson – Dean Nixon
3 – Great Somewhere – Louis-Philippe Roy – Francis Dumouchel
4 – VP Rockin – Doug McNair – Gregg McNair
5 – Century Hannibal – James MacDonald – James Ritchie
6 – Take A Gamble – Trevor Henry – Shawn Steacy
7 – Kount Blaster – Jonathan Drury – Carmen Auciello
8 – Chantee – Sylvain Filion – Richard Moreau
Woodbine Communications