MILTON, August 21, 2018 – North America's top older trotters will converge on Woodbine Mohawk Park this Saturday (August 25) for the eliminations of the Maple Leaf Trot.
A group of 16 'All-Star' trotters have been split into a pair of eight-horse $40,000 eliminations. The top-five finishers from each division will advance to the $651,000 final on Saturday, September 1.
Defending champion Hannelore Hanover is back with her eyes set on another memorable victory at Mohawk Park. The six-year-old World Champion is 11 for 12 lifetime at the Milton racetrack and is looking for her third-consecutive appearance in the Maple Leaf Trot final.
Hannelore Hanover (PP5, Yannick Gingras) is entering Saturday's second Maple Leaf Trot elimination in similar fashion to last year's. The Ron Burke trained mare is currently on a two-race losing streak, which almost mirrors the three-consecutive losses she suffered prior to sweeping last year's event.
Regular driver Yannick Gingras will team up with the reigning Canadian and American Horse of the Year.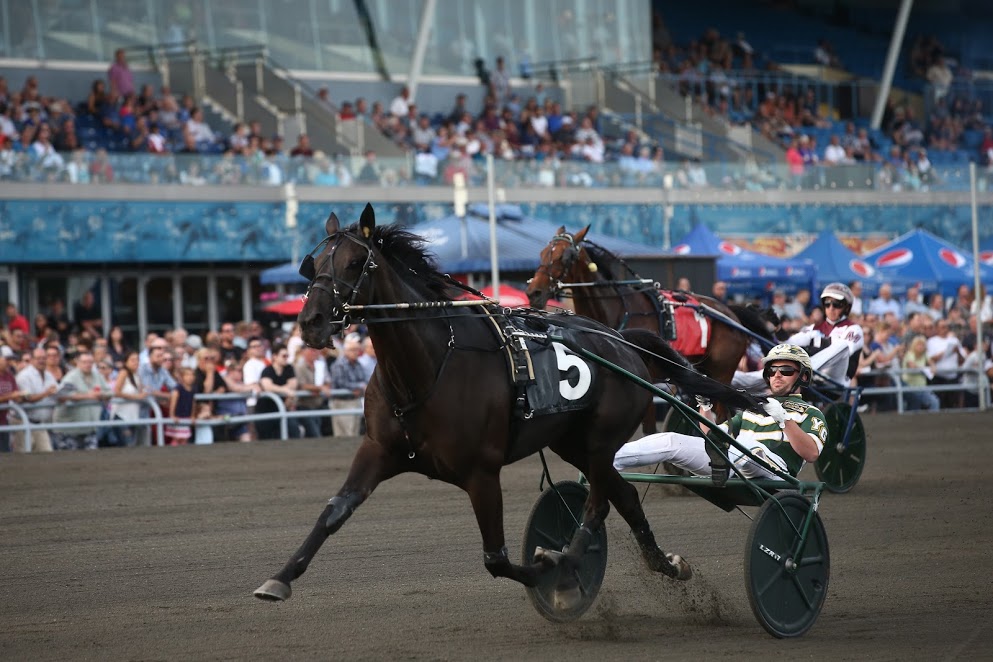 Jeff Gillis trainee Will Take Charge (PP1, Tim Tetrick) has been red-hot and will line up in the same elimination as Hannelore Hanover. The five-year-old is eight for 16 this season and coming in off a dominating 1:51.2 victory in the Crawford Farms at Tioga Downs on August 12.
Will Take Charge is nearing $400,000 in earnings this season and currently sits at $954,478 in career earnings.
Hannelore Hanover won't be the only mare lining up in Saturday's second split.
Jimmy Takter trainee Ariana G (PP5, David Miller) will face the toughest test of her career. The winner of $2.3 million is three for seven this season and like Hannelore Hanover, sports an impressive record of six wins in seven starts at Mohawk Park.
The first elimination is headlined by Marion Marauder (PP1, Scott Zeron), who has an opportunity to surpass $3 million in career earnings.
The Paula Wellwood and Mike Keeling trained five-year-old is just $4,798 away from the $3 million mark and would hit that milestone with a top-three finish in his elimination.
Marion Marauder is currently posting another outstanding season, sporting a record of four wins and three runner-up finishes in seven starts for $316,494 earned.
The 2016 Trotting Triple Crown champion will be seeking redemption in this year's Maple Leaf Trot after a rare disappointing effort in last year's elimination saw him fail to make the final.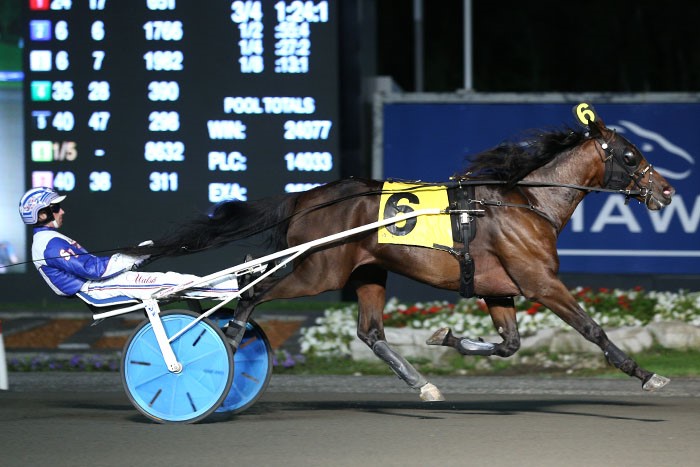 Marion Marauder's challengers in the first elimination include Emoticon Hanover (PP2, Bob McClure), Crazy Wow (PP3, David Miller), JL Cruze (PP7, Brett Miller) and Pinkman (PP8, TBA), all winners of over $1 million.
Emoticon Hanover is the third of three mares competing in this year's eliminations, double-millionaire Crazy Wow is making his debut for new trainer Marcus Melander, JL Cruze will be turning in his fourth start of the season and 2015 Hambletonian winner Pinkman will be making his first start at Mohawk Park since capturing the 2015 Canadian Trotting Classic.
The eliminations for the Maple Leaf Trot have been carded as Races 3 and 5. Elimination winners earn the right to select their post for the final.
Post time for Saturday's card is 7:10 p.m.
Here are the full fields for the Maple Leaf Trot eliminations.
Elimination #1
#1. Marion Marauder (Scott Zeron/Mike Keeling)
#2. Emoticon Hanover (Bob McClure/Luc Blais)
#3. Crazy Wow (David Miller/Marcus Melander)
#4. I Know My Chip (David Miller/Walter Haynes)
#5. Dancer Hall (Sylvain Filion/Paul Reid)
#6. Bills Man (David Miller/John Butenschoen)
#7. JL Cruze (Brett Miller/Eric Ell)
#8. Pinkman (TBA/Jimmy Takter)
Elimination #2
#1. Will Take Charge (Tim Tetrick/Jeff Gillis)
#2. Odds On Amethyst (Pat Hudon/Pat Hudon)
#3. Warrawee Roo (Bob McClure/Luc Blais)
#4. Guardian Angel As (Tim Tetrick/Anette Lorentzon)
#5. Hannelore Hanover (Yannick Gingras/Ron Burke)
#6. Il Sogno Dream (TBA/Victor Puddy)
#7. Ariana G (David Miller/Jimmy Takter)
#8. Dunbar Hall (Jody Jamieson/Stephanie Jamieson)