TORONTO, March 23 – It doesn't happen regularly, so fans and horseplayers are in for a treat when a double dose of Preferred action highlights Saturday night's card at Woodbine Racetrack.
The $34,000 Preferred pace (Race 6) and $30,000 Mares Preferred pace (Race 2) will give everyone a chance to see many of the top pacers on the Woodbine Entertainment circuit on the same night. 
American Virgin, a five-year-old gelded son of Always A Virgin, will attempt to extend his current win streak to three in the Preferred. The Richard Moreau trainee has won the top class at Woodbine five-times this season.
American Virgin has banked $106,080 this season to lead all Canadian-based horses in earnings. Doug McNair, the leading driver at Woodbine, will steer the 9/5 morning line choice from post-three.
One of the newer faces on the WEG Circuit is New Zealand bred pacer Brilliant Strike N (pictured). The Tony O'Sullivan trained six-year-old will take his first crack at the top class from post-six.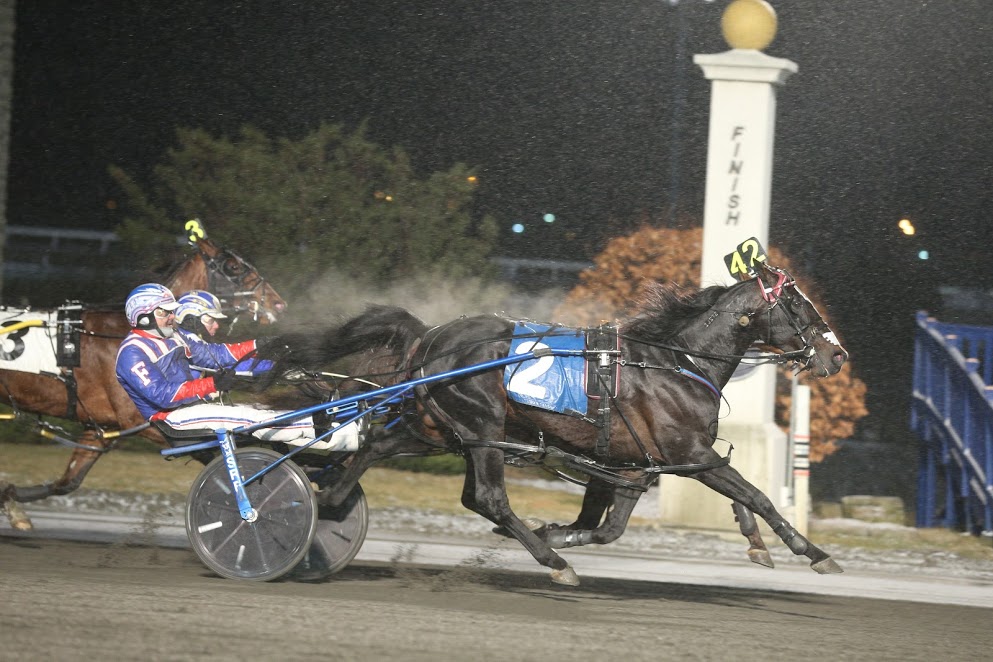 A son of Shadow Play, Brilliant Strike N scored his first win in the Northern Hemisphere last week by winning the class below the Preferred in 1:51.4.
The O'Sullivan trainee will be making his fifth start on Canadian soil Saturday and will have the driving services of Sylvain Filion. Brilliant Strike N last start in New Zealand took place in late-November.
Of the eight horses in Saturday's Preferred, six of them (Alexas Jackpot, American Virgin, Andreios Kardia, Jins Shark, Company Man and Nickle Bag) have won an edition of the Preferred in the last four-months.
The $30,000 Mares Preferred will feature a field of seven leading ladies.
Ron Adams trainee Bernadette (pictured) has been arguably one of the hottest pacers this season at Woodbine and the four-year-old will look for her second consecutive Mares Preferred score.
The Adams trainee made a backstretch move to the lead in last week's feature event and never looked back en route to a 1:52 victory. Bernadette has won four of nine starts this season, with last week's triumph her first in the Mares Preferred.
Top driver McNair will once again drive Bernadette on Saturday, but the red-hot mare will have to fight off some classy veterans.
Nine-year-old Waasmula has been a mainstay in this class for years and will be looking for her 32nd career victory Saturday. The Brent Vincent homebred surpassed $1 million in career earnings earlier this season and won an edition of the Mares Preferred last month.
Trained by Bruce Goit and driven by regular reinsman Trevor Henry, Waasmula will start in the middle of the seven-horse field from post-four.
The seven mares in Saturday's $30,000 event have combined for 15 wins this season.
Saturday's card will mark the end of the 11th week of racing this year at Woodbine. Below is the list of Preferred and Mares Preferred winners from this season.
2017 Preferred Pace (Italics indicates racing on Saturday)
January 7: Alexas Jackpot
January 14: Modern Legend
January 21: American Virgin
January 28: Fine Diamond
February 4: Jins Shark
February 11: American Virgin
February 18: Nickle Bag
February 25: American Virgin
March 4: American Virgin
March 11: Company Man
March 18: American Virgin
2017 Mares Preferred Pace (Bold indicates racing on Saturday)
January 13: Ms Mac N Cheese
January 21: Sandbetweenurtoes
January 27: Sandbetweenurtoes
February 3: Sandbetweenurtoes
February 24: Waasmula
March 3: Wrangler Magic
March 10: Wrangler Magic
March 17: Bernadette
Here are the fields for Saturday's feature races.
Race 2: Mares Preferred – $30,000
1. Bernadette (Doug McNair – Ron Adams) 5/2
2. Victoria Semalu (Sylvain Filion – Richard Moreau) 6/1
3. P L Hurricane (Rick Zeron – Dave Brown) 7/2
4. Waasmula (Trevor Henry – Bruce Goit) 3/1
5. Exhilarated (Jonathan Drury – Carmen Auciello) 8/1
6. Rock N Roll Xample (Louis Philippe Roy – Rene Allard) 5/1
7. Request For Parole (Ed Hensley – Ashleigh Hensley) 10/1
Race 6: Preferred – $34,000
1. Alexas Jackpot (Louis Philippe Roy – Marty Fine) 7/2
2. J Js Delivery (James MacDonald – Robert McMillan) 10/1
3. American Virgin (Doug McNair – Richard Moreau) 9/5
4. Andreios Kardia (Jody Jamieson – Jeff Byron) 6/1
5. Jins Shark (Ed Hensley – Dave Menary) 15/1
6. Brilliant Strike N (Sylvain Filion – Tony O'Sullivan) 5/1
7. Company Man (Travis Cullen – Richard Moreau) 10/1
8. Nickle Bag (Trevor Henry – Bill Robinson) 9/2