CAMPBELLVILLE, June 3 – Fans that came to Mohawk Racetrack on Saturday evening witnessed history, as four-year-old pacer Dr J Hanover paced the fastest mile in Canadian harness racing history.
The Tony Alagna trained son of Somebeachsomewhere and driver Doug McNair took full advantage of wild fractions to come away with a 1:46.4 victory. The clocking not only set a new Canadian record, but also established a new World Record for a four-year-old gelding. 
"I thought around the last turn he felt good," said McNair following Dr J Hanover's historic mile. "At the head of the stretch he still felt good and then half way down the lane I thought he had a pretty good shot (at the record), but I couldn't believe it after."
Dr J Hanover was fired to the front by McNair in a field of six and posted an opening-quarter of :26.2. Boston Red Rocks and Brett Miller swept up to take the lead entering the backstretch, but they immediately had company in the form of Lyons Snyder and Yannick Gingras.
The half flashed up in :53, as Lyons Snyder powered by Boston Red Rocks and continued to set a wild pace entering the far turn. Positions went unchanged in the third-quarter, as Dr J Hanover sat third and three-lengths back, while Lyons Snyder hit three-quarters in 1:20.
In the stretch, Boston Red Rocks angled out and paced by Lyons Snyder, while Dr J Hanover followed the path and eventually tipped off his back to set up a two-horse battle. Boston Red Rocks tried his best to fight off the outside pressure, but Dr J Hanover was too much to handle and powered by to win by a length at odds of 15-1.
Saturday's $67,230 Graduate leg was the first time McNair had driven Dr J Hanover.
"They just told me he had pretty good gate speed," McNair commented. "He had been racing on the small tracks the last six or eight starts, so they told me if I got him out of there he should perform well and they were right."
Trained by Alagna for owners Brad Grant, Robert LeBlanc, Steven Wienick and Irwin Samelman, Dr J Hanover was winless in nine starts heading into Saturday, but that is quickly forgotten after his record performance.
"He made the front pretty easy," McNair noted. "I kind of had him shut down at the quarter-pole, but Brett (Miller) came around and we just kept pacing.
"When Yannick (Gingras) came, they went :53 and 1:20 and when Brett came back out (at the top of the stretch) he gave me cover again and when I kicked off cover he felt like he was really pacing and I was surprised to see that kind of a mile."
Dr J Hanover now has career numbers of nine wins and $387,961 earned. He paid $32.90 to win.
The clocking of 1:46.4 breaks the Mohawk and Canadian record of 1:47.1, which was set last June by Always B Miki.
Dr J Hanover is now also a World Champion, as he broke the four-year-old gelding mark of 1:47.2, which was held by Bettor Sweet and Wiggle It Jiggleit. He also equaled Warrawee Needy's overall record for a four-year-old pacer.
The other $67,230 Graduate division didn't feature any records, but did have a thrilling finish.
Dave Menary trainee Sintra battled back to edge out Western Fame in 1:49.3.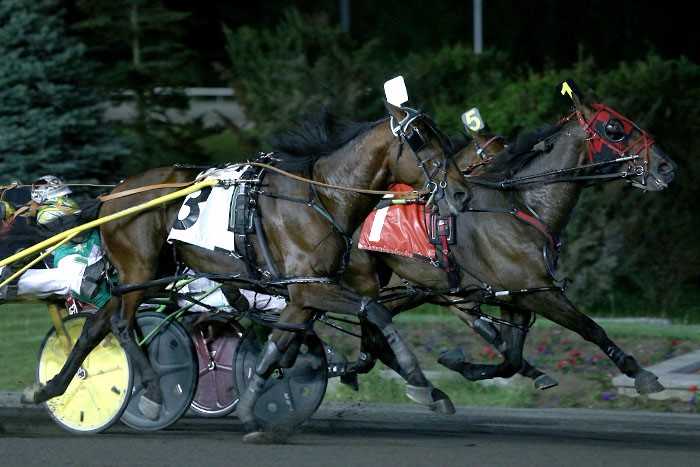 Driven by Jody Jamieson, Sintra made a second-quarter move to the lead from third to take command away from Western Fame. Jamieson's charge posted middle-half fractions of :53.3 and 1:21.
In the stretch, Western Fame was angled to the outside and got by Sintra for a moment, but the Menary trainee wouldn't quit and fought back to win by a nose. Easy Lover Hanover shot up the rail late to finish third.
"I knew he was going to have to dig deep," said Menary about his feeling at the top of the lane. "I knew he really dug back in and was by the horse after the wire," said Menary about his feeling at the wire. "He's a good enough horse that he was passed and he dug. That's the kind of a horse he is."
A four-year-old gelded son of Mach Three, Sintra improved his 2017 record to four wins in five starts with his triumph Saturday. He is now a 12-time winner with career earnings exceeding $400,000 for owners Brad Gray, Michael Guerriero and Menary Racing Inc.
Sintra paid $3.90 to win.
Over on the trotting side, Ron Burke trainee Dayson prevailed in a photo finish over Trolley to win the $100,845 12-horse Graduate Series Trot.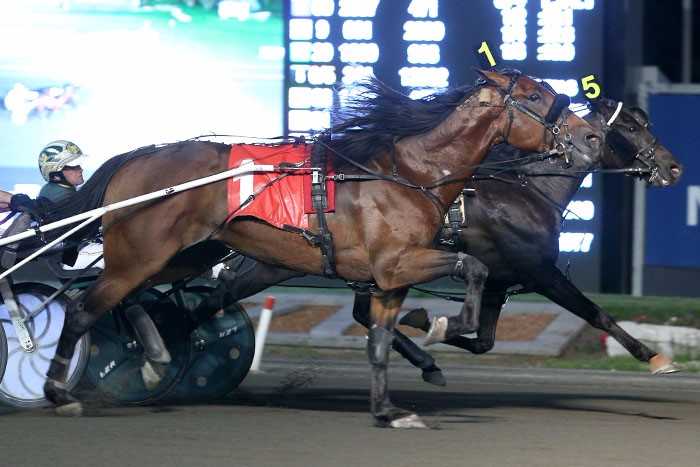 Driven by Gingras, Dayson grabbed the lead in the second-quarter, but had to deal with pressure by first-over challenger Warrawee Roo throughout the middle-half. After trotting a third-quarter in :28 to reach that station in 1:24.1, Dayson put away Warrawee Roo, but immediately had to deal with Trolley, who had been sitting second-over with driver Marcus Miller.
Dayson and Trolley went toe-to-toe down to the wire, with the leader holding on to win by a nose in 1:52.3.
"I thought maybe he got me in the last step," admitted Gingras post-race. "My horse had raced on the front a few weeks in a row…I really wanted tonight to race him from the back if it was a shorter field, but I was in a tough spot and if I took him back I would've got away about sixth or seventh, but my horse raced another big mile."
Broadway Donna, who had captured the opening leg of the Graduate, didn't have her usual punch in the lane and finished third.
A four-year-old gelded son of Conway Hall, Dayson was winless in three starts heading into Saturday's outing. He now has 20 career wins and earnings of over $700,000 for owners Burke Racing Stable LLC, Our Horse Cents Stables, J And T Silva Stables LLC and Rossie Smith.
Dayson paid $4.40 to win.
Saturday's card also featured a pair of 11-horse $70,000 Somebeachsomewhere Stakes divisions, as many Pepsi North America Cup eligible three-year-old pacers were putting in their final preparations ahead of next week's eliminations.
Hurricane Beach and driver Louis Philippe Roy captured the first division in 1:50.3. The Luc Blais trainee went gate-to-wire to score his second win of the season.
A gelded son of Somebeachsomewhere and North America Cup eligible, Hurricane Beach set fractions of :26.3, :55 and 1:22.1, before scooting home in :28.3 to capture a division of the race named for his sire.
Lawrencetown Beach finished four-lengths back in second, while Sports Column was third.
Roy's victory with Hurricane Beach Saturday was the first Grand Circuit victory of his career. Following the race, he noted that some equipment adjustments made a big difference for his charge.
"We trained him with different equipment last week and he was too grabby," said Roy. "So (Blais) put back the equipment he had before cause he couldn't relax like he did tonight with the other equipment."
Hurricane Beach, who was winless in three starts as a rookie, came into Saturday's start with only $12,180 in earnings. His bankroll now sits at $47,180 for owner Determination.
A $2 win ticket on Hurricane Beach returned $14.40.
Another son of Somebeachsomewhere captured the second division to make it a perfect sweep for "The Beach" in his own race.
Despite never seeing the rail, Macs Jackpot and David Miller came from way back to score a 42/1 upset.
The Jim Campbell trainee sat eighth and on the outside throughout the majority of the mile, but was able to pick up the pieces when leader Richard Hill tired in the lane.
Richard Hill cleared to the lead just after the opening-quarter and posted fractions of :54.3 and 1:22.1. In the stretch, Richard Hill had to fight off Frontier Seelster, but that took its toll and the backfield came to life.
Macs Jackpot followed Stealth Bomber down the lane and was able to surge by all his rivals to win by a neck in 1:51.4. Stealth Bomber edged out Richard Hill for second.
Trained by Campbell for owner Jeff Snyder, Macs Jackpot overcame post-nine to score his second victory in six starts this season.
"We had planned on trying to get him into the race, but with a big field and all, a lot of guys were taking a shot," said Miller following the race. "He ended up fourth-over and was out the whole way, but he was just kind of feeling pretty comfortable until the last turn and then he did get interested and finished it up good."
Macs Jackpot is eligible to next week's Pepsi North America Cup eliminations. He paid $86.30 to win.
The Pepsi North America Cup eliminations will take place next Saturday (June 10).
Live racing resumes Monday night at Mohawk Racetrack. Post time is 7:30 p.m.
​