CAMPBELLVILLE, August 22 – A group of 16 older pacers will compete in this Saturday's (August 26) Canadian Pacing Derby eliminations at Mohawk Racetrack in search of a spot in the $615,000 final on September 2.
First raced in 1936, the Canadian Pacing Derby is the oldest stakes race in Canadian harness racing. An annual showcase of the finest pacers in the sport, this year's group of entrants is arguably the most competitive in recent memory.
The 16 older pacers have been divided evenly into a pair of $40,000 eliminations.
Of the 16 entrants in this year's eliminations, six have won over $1 million (All Bets Off, Check Six, Keystone Velocity, Mach It So, McWicked, Wakizashi Hanover), while two are double millionaires (All Bets Off, Mach It So).
The first elimination is led by the hard-nosed six-year-old All Bets Off (PP2, Yannick Gingras). The Ron Burke trainee comes to Mohawk a 25-time winner with over $2.6 million earned during his racing career.
All Bets Off is three for 16 this season, but has banked $376,688. Despite having only won seven of 43 starts over the last 18 months, the Burke trainee has made over $1 million and finished outside the top-five just six-times.
A son of Bettors Delight, All Bets Off most recently finished fourth in the Roll With Joe last Sunday at Tioga Downs.
The opening elimination also features Wakizashi Hanover (PP3, TBA), the winner of the 2015 Pepsi North America Cup. The five-year-old gelding has yet to make a big impact in the older pacing division, but the Joann Looney King trainee has tremendous speed, including a 1:47.3 career-mark posted in July at The Meadowlands, and could benefit from a return to the site of his biggest victory.
Wakizashi Hanover is the second-highest earner in his elimination with $1.5 million banked.
The other millionaire in the first split is the $40,000 supplement entry Keystone Velocity (PP6, Simon Allard). The Rene Allard trainee has won six of 13 starts this season and his connections opted to supplement him to this year's 'Pacing Derby' on Monday morning.
Keystone Velocity, who won July's $500,000 Ben Franklin at Pocono, is a 25-time winner with over $1.1 million in career earnings.
Local standout Nirvana Seelster (PP1, Trevor Henry – pictured) will look to protect home soil in the first elimination. The Bill Budd trained six-year-old gelding has won eight of 23 starts this season and has hit the board in 13 of his last 14 starts.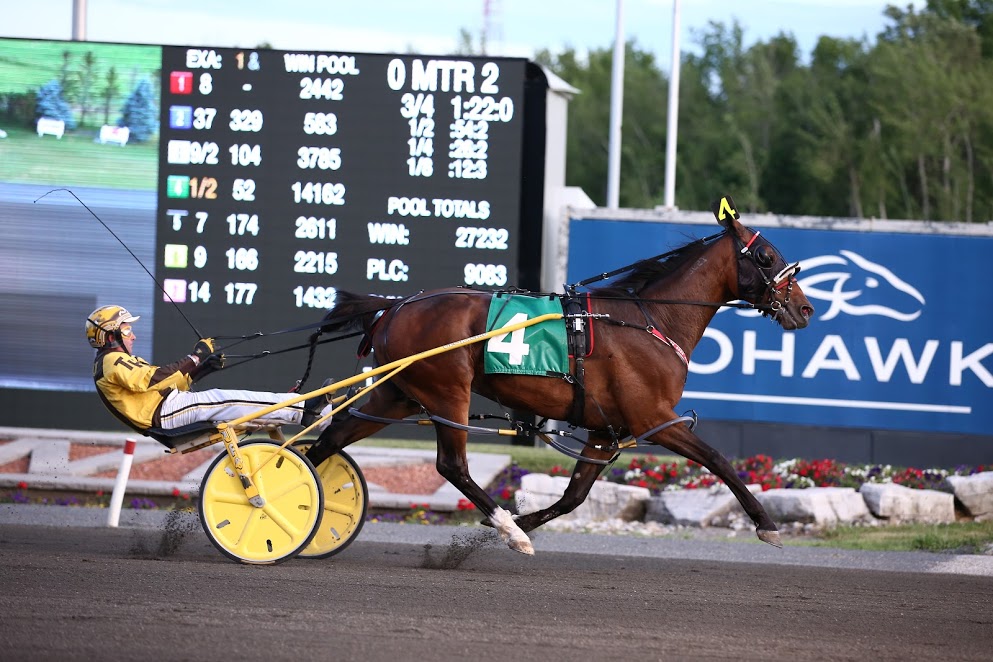 Rounding out the field for the first elimination is Dealt A Winner (PP4, David Miller), Dudes The Man (PP5, Jody Jamieson), Evenin Of Pleasure (PP7, Brett Miller) and Easy Lover Hanover (PP8, Doug McNair).
The second elimination is headlined by the red-hot Check Six (PP7, Yannick Gingras). The Ron Burke trained four-year-old is coming into the 'Pacing Derby' eliminations off back-to-back victories in the Sam McKee Memorial at The Meadowlands and Dan Patch Stakes at Hoosier Park.
Check Six, who banked over $1 million last season, appears to have shed the four-year-old blues after going winless in nine starts prior to the Sam McKee Memorial. The Burke student is an 18-time winner with over $1.5 million earned.
Another four-year-old standout in the second elimination is Sintra (PP1, Jody Jamieson). The gelded son of Mach Three captured this year's Graduate Series final and has won seven of 11 starts heading into the 'Pacing Derby' elimination.
McWicked (PP3, David Miller), who won this year's Mohawk Gold Cup, will be seeking another big victory at the Campbellville oval. The six-year-old Casie Coleman trainee is nearing double millionaire status and is six for 18 this season.
The richest horse in the second elimination is seven-year-old gelding Mach It So (PP2, David Miller). The Jeff Bamond Jr. trainee captured the $427,000 William Haughton Memorial last month at The Meadowlands.
Mach It So, who is a 37-time winner with over $2.1 million earned, has earned a cheque in all 16 of his starts this season, while making three visits to the winner's circle.
The second elimination is completed by Rockin Ron (PP4, Louis Philippe Roy), Lyons Snyder (PP5, Brett Miller), Rockeyed Optimist (PP6, Brett Miller) and Shamballa (PP8, Scott Zeron).
The Canadian Pacing Derby eliminations are carded as Races 3 and 6 on Saturday's 12-race program.
Saturday's card also features two-year-old pacers in Grand Circuit action.
A group of 21 rookie pacing colts and geldings have been split into two Nassagaweya divisions, while 10 two-year-old pacing fillies will square off in a single division of the Eternal Camnation.
Headlining the Nassagaweya Stakes is Western Ideal colt Summer Travel (pictured), who will start from post-seven in the $112,525 10-horse second division.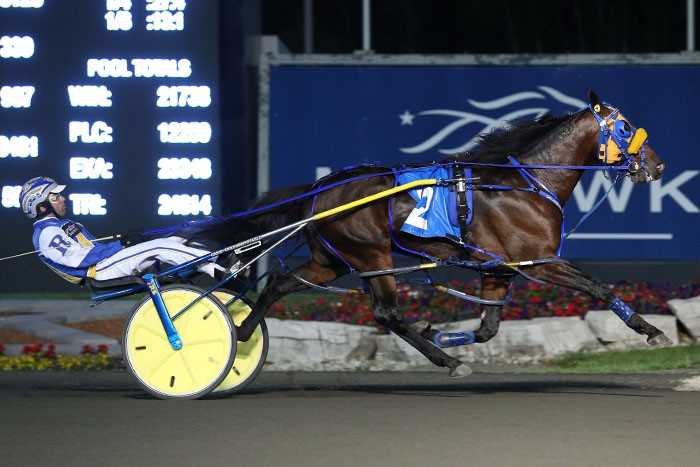 The Casie Coleman trained rookie is three for three to start his career and is currently North America's fastest rookie with a mark of 1:50.3 taken in the Dream Maker Series on August 7. David Miller picks up the drive behind the talented freshman.
The opening split of the Nassagaweya will feature a field of 11 competing for a purse of $113,525.
The $192,333 Eternal Camnation Stakes is led by Shadow Play filly Percy Bluechip.
The Dr. Ian Moore trainee dazzled in her career debut on July 9 at Georgian Downs, winning an Ontario Sires Stakes Gold in 1:51.2. The sensational rookie has since followed up with a pair of OSS Gold victories, including last Saturday night at Mohawk.
Trevor Henry will guide Percy Bluechip from post-nine.
The Nassagaweya Stakes are carded as Races 5 and 10, while the Eternal Camnation Stakes is carded as Race 8.
Post time for Saturday's card is 7:30 p.m.
Below are the fields for Saturday's stakes races.
PP/Horse/Driver/Trainer
Canadian Pacing Derby – Elimination #1 – $40,000
1. Nirvana Seelster (Henry/Budd)
2. All Bets Off (Gingras/Burke)
3. Wakizashi Hanover (TBA/Looney King)
4. Dealt A Winner (D. Miller/Silva)
5. Dudes The Man (Jamieson/Okusko Jr)
6. Keystone Velocity (S. Allard/R. Allard)
7. Evenin Of Pleasure (B. Miller/Burke)
8. Easy Lover Hanover (McNair/Wallace)
Canadian Pacing Derby – Elimination #2 – $40,000
1. Sintra (Jamieson/Hebert)
2. Mach It So (D. Miller/Bamond Jr)
3. McWicked (D. Miller/Coleman)
4. Rockin Ron (Roy/Burke)
5. Lyons Snyder (B. Miller/Takter)
6. Rockeyed Optimist (B. Miller/Elliott)
7. Check Six (Gingras/Burke)
8. Shamballa (S. Zeron/R. Zeron)
Nassagaweya Stakes – Division #1 – $113,525
1. Albergo Hanover (Cullen/Cullen)
2. This Is The Plan (D. Miller/Ryder)
3. Street Boy (McNair/Coleman)
4. Treasure Writer (MacDonell/MacDonell)
5. Dragon Time (Jamieson/Hebert)
6. Twin B Tuffenuff (B. Miller/Elliott)
7. Levis Day (Henry/Puddy)
8. Declan Seelster (Jamieson/Hebert)
9. Phil The Thrill (Christoforou/Sucee)
10. Babes Dig Me (Filion/Alagna)
11. Shadow Moon (Henry/Moore)
Nassagaweya Stakes – Division #2 – $112,525
1. Odds On Lauderdale (S. Zeron/Alagna)
2. Torrin Hanover (Waples/Bardier Jr)
3. Trump That (Jamieson/Hebert)
4. Casimir Richie P (Henry/Moore)
5. Hudson Phil (J. MacDonald/Steacy)
6. California Cruisin (Gingras/Johansson)
7. Summer Travel (D. Miller/Coleman)
8. Pedro Hanover (Gingras/Harris)
9. Brackley Beach (MacDonell/Moore)
10. Courtly Choice (B. Miller/MacIntosh)
Eternal Camnation Stakes – $192,333
1. Apothic (R. Zeron/Brethour)
2. Play The Bell (D. Miller/Coleman)
3. Kissin In The Sand (Gingras/Johansson)
4. Pueblo Blue Chip (Jamieson/Hebert)
5. Miss Mary Mach (Filion/O'Sullivan)
6. Im With Her (MacDonell/MacDonell)
7. Kendall Seelster (Waples/Reid)
8. Ella Is Awesome (Gingras/Johansson)
9. Percy Bluechip (Henry/Moore)
10. Delaney R (D. Miller/Coleman)
​