Marielle Enberg is in it to win it.
When the starter car picks up speed around 7:50 p.m. on Monday night at Woodbine Mohawk Park, the soft-spoken Swedish-born horsewoman will have her game face on as the field of 10 pacers are sent on their way in Woodbine's International Women's Day Race, an event that puts 10 women drivers in the Standardbred spotlight on International Women's Day.
"I think it will be a lot of fun," said Enberg, of the race features the drivers teaming with a field of older pacing mares in an $18,000 overnight event, carded as Race 3 in the program. "When I get to the racetrack, that's when I start to get into that competitive mindset. Most of the girls, we are friends. It's a different game once you get on the track, but we are friends again once the race is over."
Enberg, who has 12 career driving wins and 12 lifetime training triumphs to her name, will partner Chanel Beach in the race.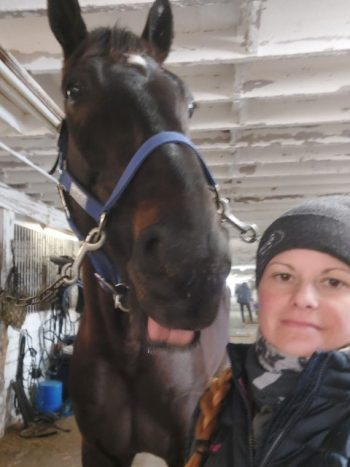 Although she hasn't driven the four-year-old daughter of American Ideal before, Enberg has been doing her homework ahead of the dash.
"It looks like she has some speed. She made some breaks, but it doesn't seem like she does that a lot. That's really not like her. She raced well in the States, so hopefully, she can have another good race on Monday night.
Sitting in the sulky isn't Enberg's only association with Standardbreds.
She is also an accomplished participant in Racing Under Saddle (RUS), a Standardbred trotting race where the horse is ridden, not driven, having competed across the world, including her native Sweden.
In 2013, she represented Canada in a RUS series in New Jersey, which featured two legs worth $10,000 on July 19 and 26, and a $25,000 final on August 3.
"I really enjoy being able to do both things," said Enberg, who currently has four horses in her barn, including her 'pet,' Azucar, a 10-year-old trotting son of Crazed. "It's nice to have the chance to work with the horses in different ways, to help them be as successful as they can be."
Enberg first arrived in Canada in 2010 after working for trainers in the U.S.
She worked a handful of years for Jonas Czerynson and then with Bjorn Noren, who sent her to Canada 12 years ago with a few of his horses to compete in the Ontario Sires Stakes ranks.
After that experience, Enberg headed back to Sweden, unsure of what she wanted to do next. A call from Luc Ouellette, asking her to help with his band of pacers and trotters, brought her back to Canada.
Now, she will look to add another win to her resume at Woodbine Mohawk Park, on an evening that also showcases an all-female crew for its simulcast and race-calling coverage.
She'll have one of her biggest supporters cheering her on.
"I'm proud of my mom because she's my mom, and she loves me, and she's good at racing," said Enberg's seven-year-old son Erik.
Enberg is also good at making her mark at Woodbine Mohawk Park.
In 2012, she partnered Ive Got It All to a win in an Under Saddle Exhibition Trot event on Canada Day, a picture-perfect Monday night at the Milton oval.
She'll happily take a repeat performance tonight.
"I want to win this race, for sure," said Enberg.
FIELD FOR THE INTERNATIONAL WOMEN'S DAY RACE
Post – Horse – Driver – Trainer – Morning Line Odds
1 – Stargazing Cruiser – Marie Claude Auger – Nick Boyd – 10-1
2 – Rhythm Seelster – Julie Walker – Carmen Auciello – 9-2
3 – Blackcreek Rosebud – Pam Forgie – Mark McCormack – 15-1
4 – Fern Hill Bella – Kayla Chappell – Richard Moreau – 10-1
5 – Blink And Gone – Jesse Turenne – Richard Moreau – 7-2
6 – Mach My Kiss (L) – Natasha Day – Robert Fellows – 3-1
7 – Chanel Beach – Marielle Enberg – Gerard Demers – 8-1
8 – Elm Grove Mistress – Anita Ouellette – Terry Gallant – 6-1
9 – Two Tone Terror – Samara Johnson – Nathan Sobey – 15-1
10 – Artistic Meadow – Maggie Jones – Mark McCormack – 4-1
Chris Lomon, Woodbine Communications