MILTON, April 27, 2018 – A dozen qualifiers took place Friday morning at Woodbine Mohawk Park and sophomores were the stars of the day.
The conditions were ideal for the 12-pack of qualifiers, as the sun was shining, temperature was comfortable and the track was 'Fast'.
The Pepsi North America Cup is just seven-weeks away and several eligible three-year-old pacers took to the track Friday morning.
Blake MacIntosh trainee Courtly Choice not only posted the co-fastest mile of the morning (1:53.2), but also the fastest final-quarter of the day (:26) in his first appearance of the season.
The son of Art Major and Pepsi North America Cup eligible went third to first in the second-quarter and then proceeded to pace a :54.1 back-half to win by 15 lengths.
James MacDonald steered Courtly Choice to victory.
Owned by Hutt Racing Stable, MacIntosh, Touch Stone Farms and Daniel Plouffe, Courtly Choice won two of 12 starts during his rookie season, including the $50,000 New York Sires Stakes Consolation.
The other 1:53.2 mile of the day came from Pepsi North America Cup eligible Ghost Dance.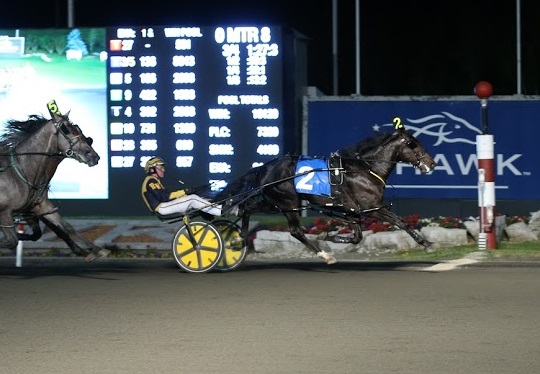 A son of American Ideal, Ghost Dance and driver Mike Saftic converted off a two-hole trip by pacing home in :27.3 for a four-length victory. The Eric Adams trainee was making his second qualifying appearance of the season after winning two of five starts last season.
Ghost Dance, who won a New York Sires Stakes division last season, is a Millar Farms homebred.
Ontario Sires Stakes (OSS) Super Final champion Western Passage finished 6 ½ lengths back in third. The Casie Coleman trainee was nine-lengths back of the lead turning for home and did make up a few lengths by pacing a :27.2 kicker in his season debut.
The other Pepsi North America Cup eligible in Ghost Dance's qualifier was Sports Legend. The Richard Moreau trainee finished fifth and paced his mile in 1:57.1 (final-quarter :28).
Sophomore pacing colt Jimmy Freight isn't eligible to the NA Cup, but the son of Sportswriter should be a big player in the OSS this season.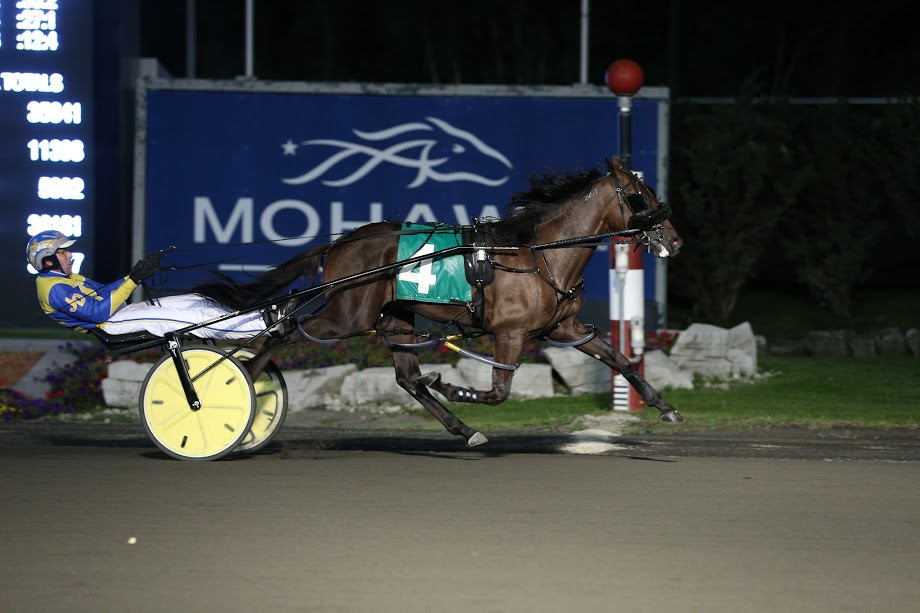 Jimmy Freight was a coast-to-coast winner Friday morning in 1:54. The Richard Moreau trainee was driven to victory by Louis Philippe Roy and paced a :26.2 final-quarter to secure the victory.
Owned by Adriano Sorella, Jimmy Freight won seven of 12 starts last season and banked $186,552.
Pepsi North America Cup eligible Summer Travel paced a :26.1 kicker to finish just under two-lengths back of Jimmy Freight. Friday's qualifier was the first of the season for the speedy Coleman trainee.
Mark Steacy trainee Hudson Phil finished third in the same qualifier. The son of Shanghai Phil is eligible to the NA Cup and was charted with a :26.4 closer to finish off a 1:54.4 mile.
Sophomore pacing fillies also had their chance to shine on Friday morning.
MacIntosh trainee Ubettergo Go turned some heads with a 1:54.3 victory. The Art Major filly was turning in her first line of the season and converted off a two-hole trip from driver James MacDonald to power by Alexis Faith for a three-length score.
Ubettergo Go won three of eight starts last season, with all eight starts coming in New York Sires Stakes competition. She is owned by MacIntosh, Tony Basile, Reginald Petitpas and Ozzie MacKay.
Alexis Faith, who was last year's New York Sires Stakes champion, had to settle for second after cutting the mile. The Coleman trainee paced her mile in 1:55.1 with a :27.1 final-quarter for driver Doug McNair.
Ciaran Morrison trainee Firestorm, who finished fourth in last year's Breeders Crown, was third (1:55.3) in the same qualifier.
Coleman trained pacing filly Play The Bell was also a winner in her season debut Friday.
Last season's Battle Of The Belles winner made a third-quarter move from fourth up to confront the leader and ultimately went on to win by a length in 1:55.3 (final-quarter :27.3).
Play The Bell was driven by Bob McClure. The daughter of Shadow Play won three of 11 last season and banked $192,761 for owners West Wins Stable, Mac Nichol and Calhoun Racing Limited.
Shifting to the older horses, 10-year-old trotter Slip Into Glide was victorious Friday in 1:56.1. The 30-time winner and earner of over $625,000 was making his first appearance since May 2016.
Slip Into Glide is now trained by Dave Menary and was steered to victory by Jody Jamieson.
Here is the full list of winners from Friday's qualifying session. Click here to view the charted results.
Friday, April 27 – Woodbine Mohawk Park
Q1 (Trot): Shazamm – Renaldo Morales/Renaldo Morales – 1:59.4
Q2 (Pace): Rubis Prescott – Bob McClure/Dean Nixon – 1:53.4
Q3 (Pace): Talbot Romeo – Mike Saftic/John Pentland – 1:54.4
Q4 (Trot): Leaderofthepack – Ryan Holliday/Dave Holliday – 1:59.2
Q5 (Pace): Ubettergo Go – Jonathan Drury/Blake MacIntosh – 1:54.3
Q6 (Pace): Jimmy Freight – Louis Philippe Roy/Richard Moreau – 1:54
Q7 (Pace): Courtly Choice – James MacDonald/Blake MacIntosh – 1:53.2
Q8 (Trot): Stormont Kate – Bruce Richardson/Bruce Richardson – 1:55.1
Q9 (Pace): Ghost Dance – Mike Saftic/Eric Adams – 1:53.2
Q10 (Trot): Slip Into Glide – Jody Jamieson/Dave Menary – 1:56.3
Q11 (Pace): Rendezvous Hanover – Jonathan Drury/Blake MacIntosh – 1:55.2
Q12 (Pace): Play The Bell – Bob McClure/Casie Coleman – 1:55.3