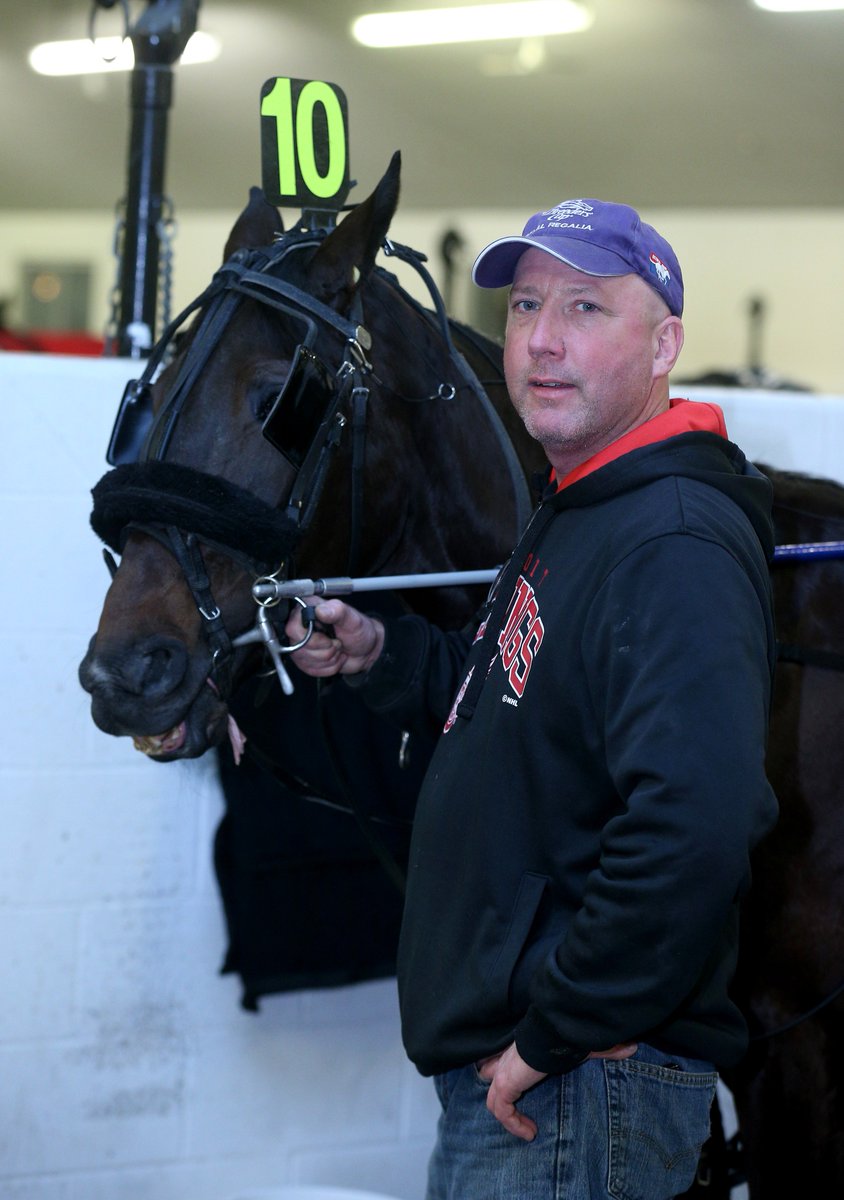 By Mark McKelvie for woodbine.com
TORONTO, February 20 – Justin Nixon is sitting on a stool in the Woodbine paddock trying to figure out an issue with a friend's iPhone.
An error message pops up.
"I'm a Blackberry guy," smirked Nixon.
Taking a moment to sit down hasn't happened too often lately for Nixon. He finds himself constantly on the go in an attempt to fill some big shoes. To see his face inside a paddock at Woodbine is certainly not unfamiliar, but to see his face in the Standardbred paddock in mid-February is a different story.
Nixon is a long-time Thoroughbred trainer, who has trained horses at Woodbine and Fort Erie for two-decades and tasted success at some of the highest levels.
Coltimus Prime, a striking dark bay, brought Nixon Canadian Thoroughbred racing fame in 2014 with a strong 3 ½ length win in the $500,000 Prince of Wales at Fort Erie.
"It's a dream come true," Nixon said following the biggest victory of his career at the track where he built his foundation. "Learning the game here…it's something special to win the biggest race here."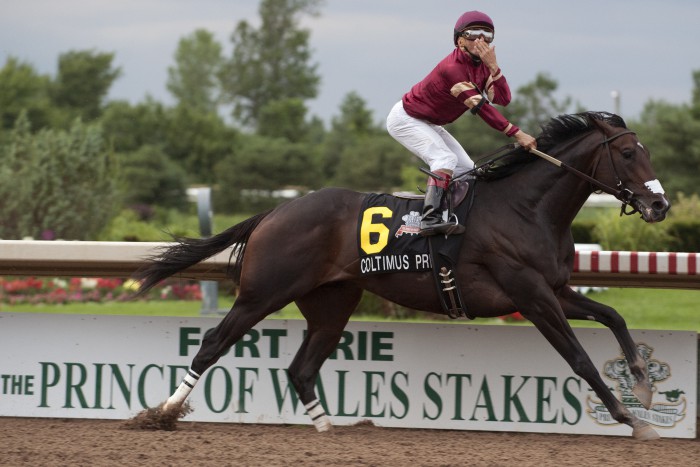 Jump ahead a few years later and Nixon is getting reeducated in a sport he loves.
Justin Nixon has temporarily taken over the training duties of a Standardbred stable for his brother Dean Nixon.
Dean, a well-known trainer in Ontario harness racing, was forced to step away from his stable to battle cancer. As anyone in horse racing knows, the show must go on and Dean didn't have to look far for a helping hand.
Back in October, the Nixon brothers started discussing a plan to keep the operation running during Dean's cancer treatment.
"We knew that he was dealing with cancer and (we) weren't sure when he was going to have surgery, but we knew that when he did have surgery he was going to be out quite some time," Justin revealed while standing next to a pacing mare he had just successfully qualified at Woodbine.
"So I started giving him a hand right after the end of the Woodbine meet (early-December). He went in for surgery January 25th and I've kind of been there full-on since then."
Dean has been battling cancer for close to 10-months. He was originally diagnosed with a form of colon-cancer, which ultimately spread to his liver.
"He was first diagnosed in April and May," Justin explained. "They did chemo and radiation on him. He went back in September and we were hoping for a clean bill of health because they thought six-weeks of radiation and chemo should knock it out, but it didn't and that threw us for a loop.
"It took until about January to figure out everything and where he wanted to be."
The uncertainty around Dean's health has been difficult for the Nixon family. Justin would typically head to Florida following the Thoroughbred meet, but didn't think twice about staying back to help his brother.
In order to make things work, Justin brought a couple equine friends along to the Nixon stable at Stephenson's Training Centre in Flamborough.
"I've got two (Thoroughbreds) there right now. I'll probably get a couple more started on the nice Equicizer there, get some ground work into them and then come up and breeze (at Woodbine) in mid-March."
Thoroughbred racing has been Justin's career since finishing his education in 1994, but it was the Standardbreds at his home-track of Windsor Raceway that got him hooked as a youngster.
"That was the spot," the Amherstburg native recalls. "We couldn't wait to get there on Saturday mornings. Mom would never let us go on a school night, that wasn't happening, but on the weekends both of us were there."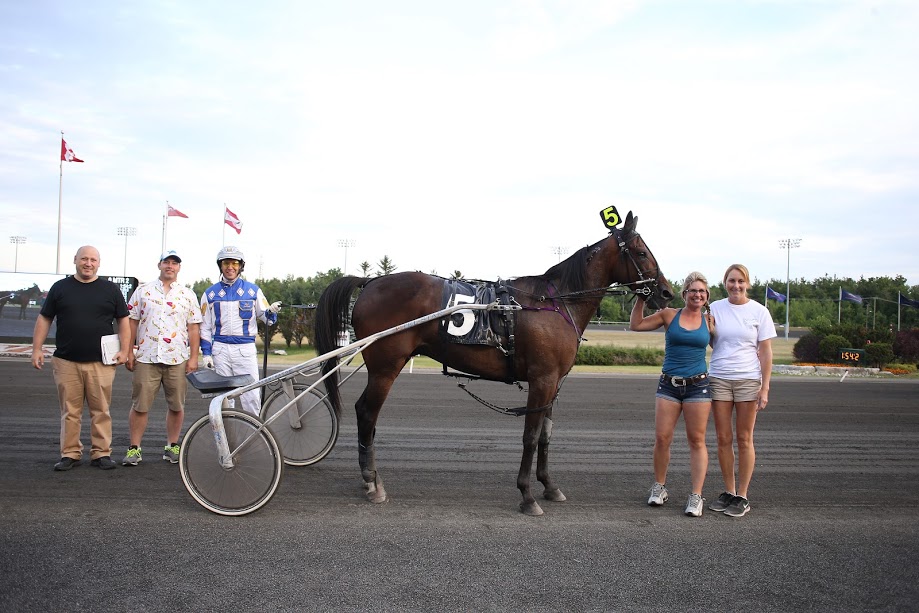 Justin and Dean's father trained horses on the backstretch at Windsor and the young Nixon's found themselves jogging horses around the now defunct-track at the age of 10.
"My dad would take Dean and I and we would terrorize the tack shop and take the free gum. We would run around back there just doing whatever we could do to learn and be around the horses."
Justin's love for horses developed on the Windsor backstretch and eventually his interest led him to study Animal Science at the University of Guelph.
When going down memory lane about his childhood at Windsor Raceway, the enthusiasm in Justin's voice swelled when asked about his favourite horse.
"Oh Niatross," he blurted without hesitation. "He came to Windsor Raceway and he was going to go a training mile on the Sunday and I believe he was going to race on Wednesday night, but I had no chance of seeing him race on Wednesday night because it was a school night. But of course Sunday was church and my Mom was very adamant that we went to church.
"My Dad took me unbeknownst to her on Sunday morning to see him train and it was just an awesome thing to see. Mom was not too happy with him or me and I don't think she talked to my Dad for three days. But it was worth it."
Justin chose a profession that sees him work with equine athletes day in and day out. To this day he recalls the presence Niatross had on that Sunday morning in Windsor.
"He was just an incredible animal and really something special. When he came out onto the track you were watching a true athlete, like a pro, just such a difference from the ordinary Windsor Raceway horses."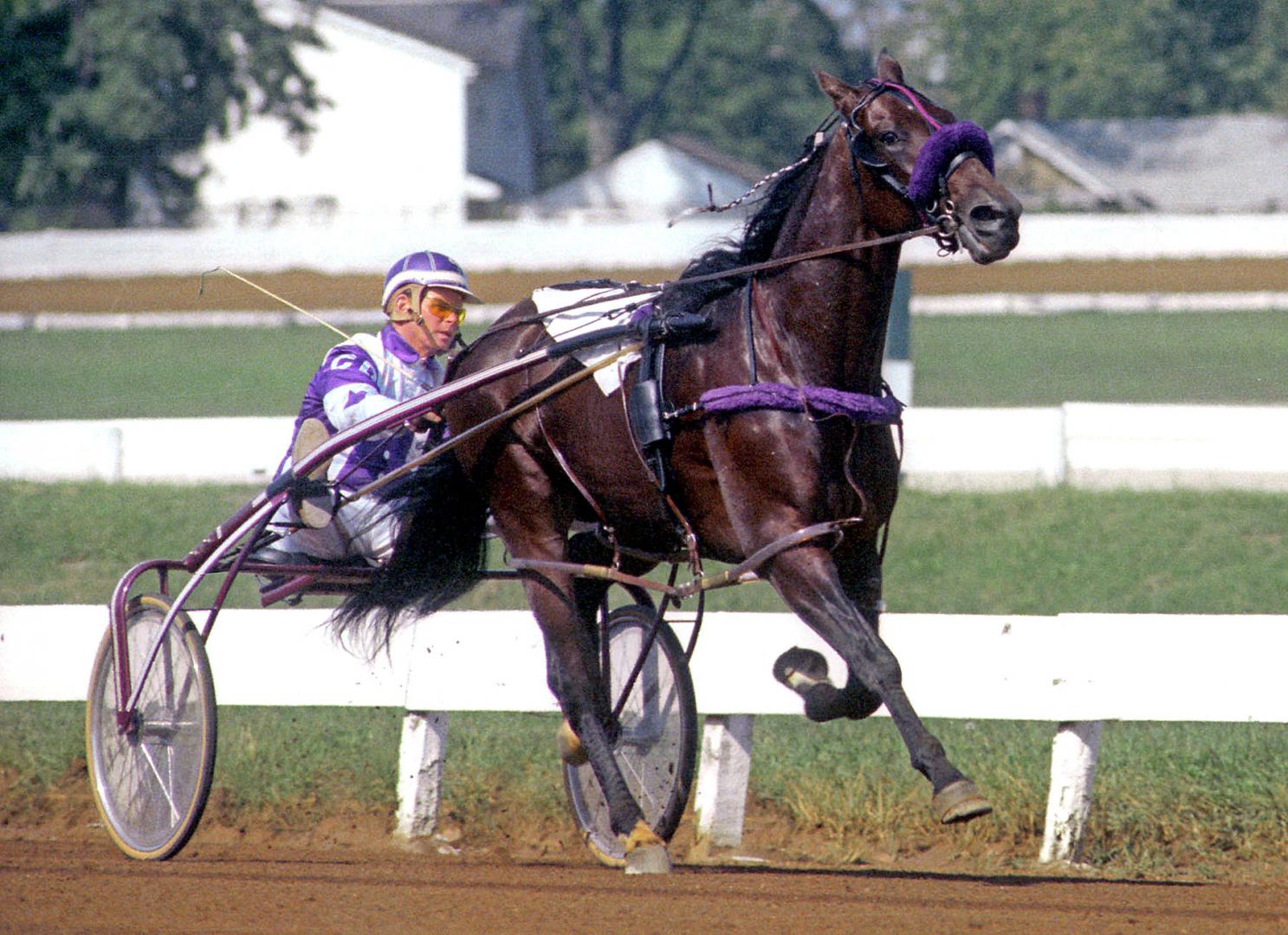 Justin faded away from Standardbreds in university and found himself entrenched in the Thoroughbred game. He has worked for top stables and won races at several tracks across the continent.
Now stepping back into the Standardbred game after many years away, Justin admits it took a moment to get back in the groove.
"Just learning all the gear again really," he pointed out as one of the challenges.
"The straps, buckles and the order of things and where it all fits. There was a lot of rust there to get off, but now that I've been at it a little bit, I'm a lot more comfortable at hanging them up and getting everything together."
Justin hasn't tried to reinvent the wheel since taking over the Nixon stable and is the first to admit that there are many differences between training the two breeds.
"(Standardbreds) are a quieter animal to be around and they are a tougher animal. They withstand a lot more work and they need more work from what we've experienced. They actually need to get more done every day than your average Thoroughbred."
The Nixon brothers have kept constant communication during this unusual time in their lives, with Justin regularly seeking Dean's advice. The long-distance co-training isn't ideal, but it's getting the job done.
"I'm just trying to hold the fort," Justin grinned. "I don't want to get too creative and get too many ideas, I just lateral everything off to Dean and he makes all the suggestions and I just try to give him as much feedback as I can to make the right decisions with my horsemanship, for what it's worth."
On a chilly mid-February evening, the Nixon stable's statistics are the hottest thing around. Winning just over a third of their races this season, Dean Nixon's stable is a quarter of the way to matching their 2016 win total of 47 with over 10-months to go in the year.
Justin is modest when talking about their early-success, but quickly deflects any praise to the owners and crew his brother has assembled.
"His clients have been really supportive of everything and his staff has been great, so I think that's a reflection on how the barn is doing."
Dean recently returned to his family's farm to recover after receiving treatment in Maryland. With Justin pinch-hitting as a Standardbred trainer, it comes as no surprise that the support system runs deep in the Nixon family.
"(Dean's) in Windsor right now at home on the farm just recuperating," Justin explained. "Mom is looking in on him everyday and we've got a lot of Aunts and Uncles there, so we've got a lot of family support to take care of him."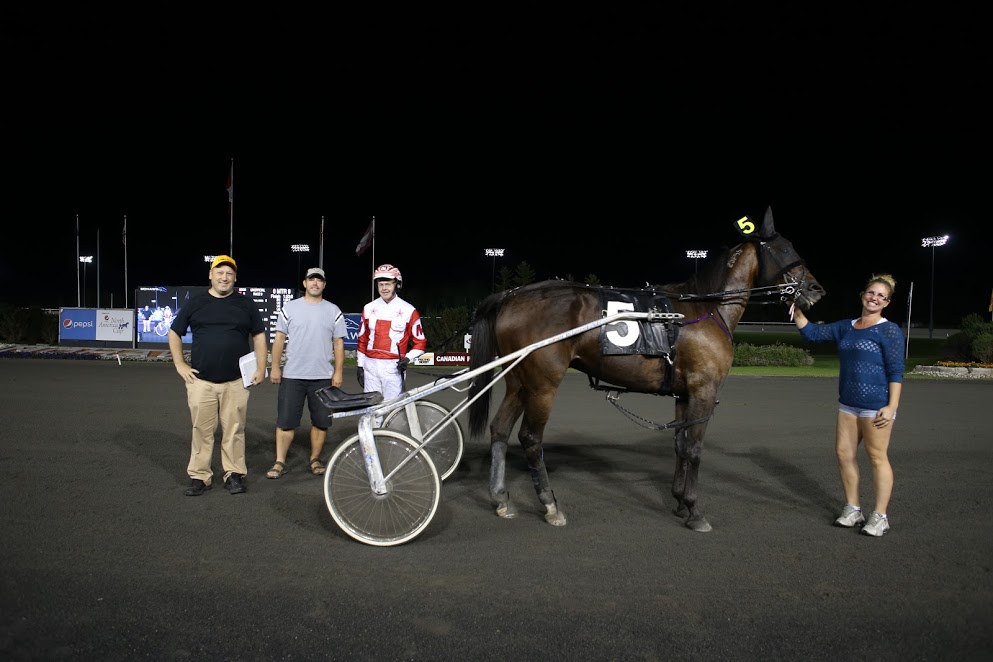 While no timetable is set for Dean's return, Justin has been overwhelmed by the support and well-wishes his brother has received from around the industry.
"We really appreciate the great support from Dean's friends at Stephenson's and really everyone in the racing community. They've all been very supportive asking me how Dean's doing from the race office to trainers and drivers."
Justin has no expiry date on how long he will play the role of harness racing trainer and plans to help out for as long as it takes. But he is hopeful his brother has taken the steps to defeat cancer.
"He got the surgeries done and right now we are hopefully optimistic that it's gone and hopefully we don't see it again."
The current number of horses in the Nixon barn fluctuates in the ballpark of 12 to 14. The same day Justin tried to help a friend with an iPhone, he brought three horses to Woodbine, two for qualifiers and one to race. The horse competing that evening was claimed and the stable's number went down by one.
The game never stops.
Justin has embraced his new temporary role and done his best to relieve his brother of any horse racing related pressure.
The Nixon's have been winning regularly on the racetrack as of late and Justin is optimistic that victories of all sorts will continue to come Dean's way.
"He'll be back at it shortly."