CAMPBELLVILLE, April 11 – It's easy to forget Doug McNair is only 27.
The young reinsman has been a regular face on the Woodbine Entertainment circuit for several years and has been winning races since the day he hopped in a sulky.
But this winter, McNair took his game to new heights and accomplished a feat that not many drivers in their 20's have been able to do. Capture a driving title at WEG.
"It's huge," McNair shared about winning the driving title for the Woodbine Fall-Winter meet. "I remember being a kid and wanting to race here and to win the driver's title is huge, especially at a young age."
McNair, a winner of over 2,600 races in his young career, led all drivers in victories and earnings during the recently concluded Woodbine meet. The Guelph, Ontario resident finished the meet with 126 wins, 37 more than his nearest rival.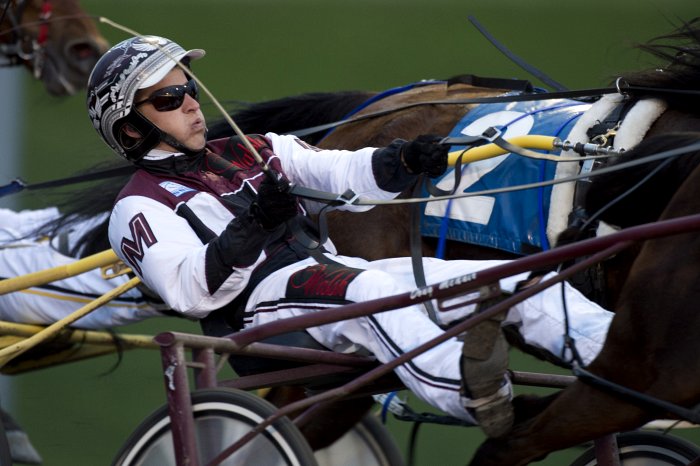 Coming into the Woodbine portion of the season off a solid summer meet at Mohawk, which saw him win 125 races, McNair was poised to post good numbers, but even he didn't expect to jump right to the top.
"No, I didn't think I would be rolling like I am, it just started as soon as we got back (to Woodbine)," McNair said. "You got to have the horses and I got lucky that I got the horses this winter. Any top guy will tell you that you can't win races unless you have the horses."
Driving for power is always a key to success, but a driver still needs to make the most of the opportunity. That's exactly what McNair did with the chance to drive for the circuit's top owner and trainers.
"Brad Grant has really helped me out with a lot of Preferred horses and driving for top trainers Richard Moreau and Carmen Auciello this winter makes a big difference."
McNair's top charge this winter has been the Grant owned, Moreau trained American Virgin, who's won the Preferred seven-times since the new year. Success in the top classes has pushed McNair to the top of the earnings category on the circuit, having driven the winner's of over $1.2  million this season.
The 27-year-old's hot streak wasn't restricted to the WEG Circuit this winter, as he also took his talents to Ohio to capture Miami Valley's inaugural North American Driving Championship in January.
"That set me off big time this year," McNair explained. "I went down there and wasn't expecting anything, was just going to have some fun and got lucky."
While luck is a part of racing, McNair's confidence could easily be keyed as a factor for his ability to best 29 other drivers in the driving tournament at Miami Valley. 
McNair's driving style has always fit racing at Woodbine, but he feels it also translates well for the way harness racing has developed over the years.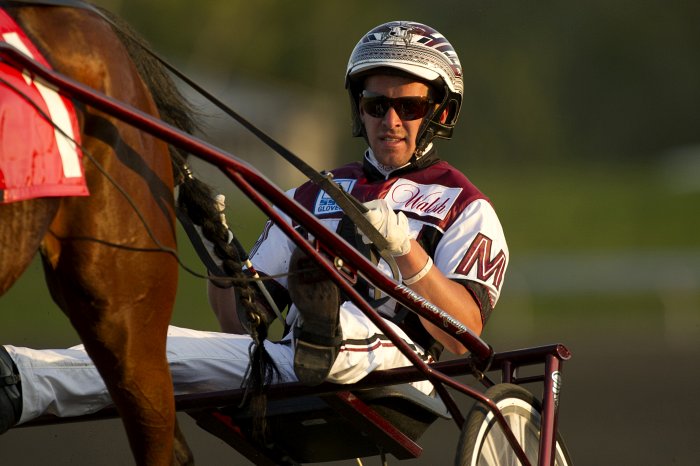 "You have to be aggressive (at Woodbine), it's always been more of a front-end place and Mohawk is kind of turning into that too," McNair said. "They're going so fast nowadays, going such big first half speed and coming home so fast that it's tough to win from off the pace."
With racing set to return to Mohawk on Thursday, McNair will attempt to hold onto his top spot throughout the summer meet. While the prospects of continuing to drive the top weekly warriors at WEG has McNair pumped for Mohawk, he is also eager for the return of the stakes horses.
"Easy Lover Hanover is four now and he's got a few stakes this season and hopefully it turns out good like it did at the end of last year," McNair noted about last year's Progress Pace winner.
"Solar Sister's five now so I mean four-year-old year is tough and she competed well. Hopefully she comes back good at five and obviously it would be great to have a few nice two-year-olds."
McNair's Mohawk meet will start off in style, as he will be recognized for leading the Woodbine meet with a winner's circle presentation on Saturday evening.
Getting off to a great start is important and McNair knows that all so well after starting 2017 with 27 wins in the month of January. Another flying start could lead to a second meet title for McNair this summer.
"I've had the right horses and hopefully my career is just starting to take off."
​​​​​​​