MILTON, December 17, 2018 – Woodbine Entertainment is set to welcome Foiled Again, the richest Standardbred of all-time, to Mohawk Park this Saturday (December 22) for the penultimate stop on his farewell tour.
A winner of $7.6 million, Foiled Again has been visiting racetracks and fairs throughout North America on his farewell tour for trainer Ron Burke and owners Burke Racing Stable, Mark Weaver, Michael Bruscemi, Joe Koury and Kevin Koury.
Foiled Again is set to compete in a race this Saturday at Mohawk Park. The 14-year-old gelding's richest career victory came at Mohawk Park in 2012 when he captured the $787,000 Canadian Pacing Derby.
Racing fans will have an opportunity to say farewell to Foiled Again during a special meet and greet in the winner's circle starting at 6:30 p.m.
Fans can take a photo with Foiled Again during the meet and greet. Woodbine will have a Guest Experience Representative available to take the photos on fans mobile devices and cameras.
Fans can also fill out a ballot at the meet and greet for the chance to sit behind Foiled Again on Saturday evening. A name will be drawn from the ballot box at 7 p.m. and the winner will receive the opportunity to visit Foiled Again in the paddock and sit behind the richest Standardbred in a double-seat jog cart.
Foiled Again will compete in a race later in the evening, which will be followed by a special post-race presentation for the 14-year-old and his connections. Woodbine will also air a special tribute video during Saturday's races.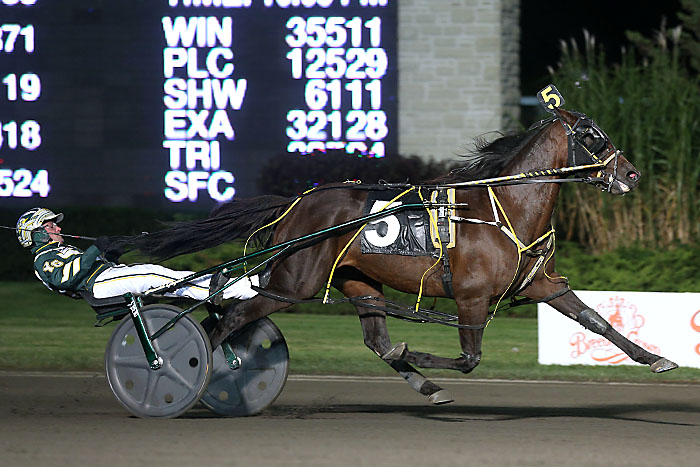 Fans can stay warm Saturday by purchasing a hot beverage served in a special commemorative Foiled Again mug. The mugs feature an image of the legendary pacer with the date of his final Canadian start. Mugs can also be purchased without a beverage in the Mohawk Gift Shop.
Foiled Again will be making his 330th career start on Saturday. His career numbers currently sit at 108 wins, 70 runner-up finishes, 46 third-place finishes, $7,667,397 earned and a mark of 1:48.
Post time for Saturday's card is 7:10 p.m. Visit www.WoodbineMohawkPark.com for more information and follow @WoodbineSB for live updates.