MILTON, September 4, 2018 – Driver Jody Jamieson was the 'First Star of the Night' on Tuesday's 11-race card at Woodbine Mohawk Park.
The Moffat, Ontario resident has been red-hot as of late and he continued his tremendous roll by posting four wins on Tuesday's program, including a victory in the $34,000 Preferred Trot with Dunbar Hall.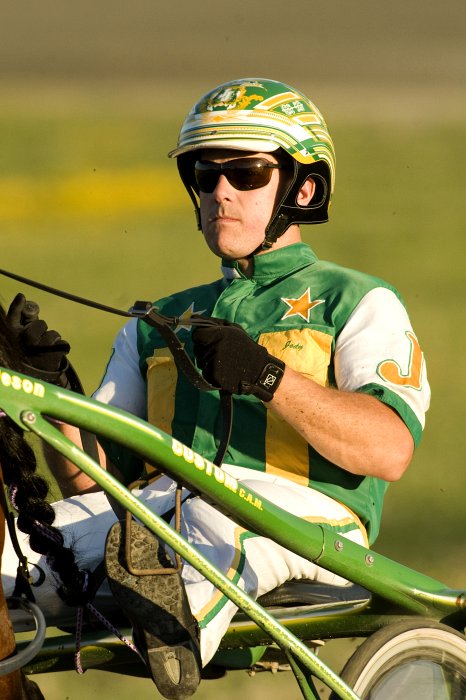 Trained by Jamieson's wife, Stephanie, Dunbar Hall rushed from fourth to first in the second-quarter and proceeded to power home to a career-best 1:52.2 victory in the evening's feature race.
Dunbar Hall ($7.40) was making his first start since finishing sixth in his elimination of the Maple Leaf Trot on August 25. The four-year-old gelding now has six wins, 12 top-three finishes and $161,440 earned in 16 starts this season for owners Carl Jamieson and George Harrison.
Jamieson's first win of the evening came in the second-race 10-year-old gelding Slip Into Glide. The Dave Menary trainee trotted to a 1:54.2 score to pick up his fourth win in his last seven starts.
A stunning 1:51.3 performance from two-year-old pacer Twin B Watching ($15.10) in the fifth-race gave Jamieson his second win. Another Menary trainee, Twin B Watching outdueled Heisman Player to break his maiden and take an impressive mark.
The 'Hat-Trick' for Jamieson came via the upset variety, as he guided five-year-old trotting mare Major Muscle ($39) to her first win since March and third win in 20 starts this season.
Jamieson has more wins than any other driver at Mohawk Park since August 14 with 19 wins over 16 cards of racing. He currently ranks seventh in the Mohawk Park driver standings with 79 wins.
Live racing resumes Thursday evening at Mohawk Park. Post time is 7:10 p.m.