TORONTO, February 2, 2018 – Brooms were needed Friday night at Woodbine Racetrack, as JK Pridenjoy and Circle The Page completed sweeps of the Snowshoe and Blizzard Series.
Each series finale featured a field of 10 with the Snowshoe pacers battling for $41,400 and the pacing ladies in the Blizzard going for $31,900.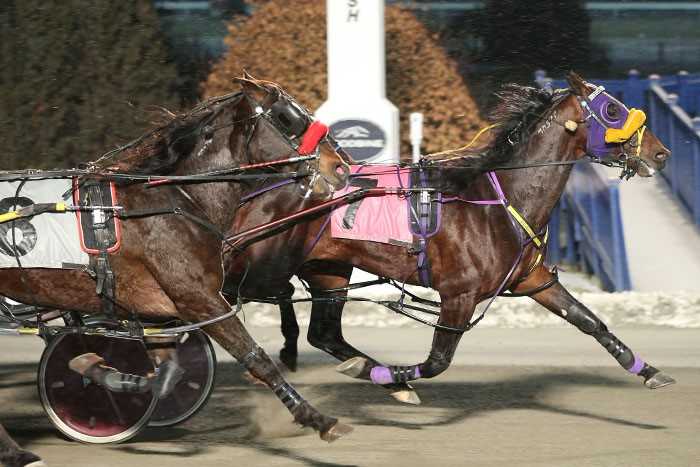 Nick Surick trainee JK Pridenjoy gained a little redemption for a tenth-place finish in last month's Valedictory Series by winning Friday's Snowshoe in 1:54.4.
Driven by Doug McNair, JK Pridenjoy charged out to grab the early lead and posted an opening-panel of :27. Winless pacer Gerardo, who came in off back-to-back runner-up finishes and was the public's choice, was parked around the first turn and had to work to secure the lead before posting a half of :56.3.
Artofficial Flavor came first up in the third-quarter from fifth to confront Gerardo. The public's choice led by a neck at three-quarters in 1:25.4, while JK Pridenjoy was behind the leader at the rail.
In the stretch, McNair was able to angle JK Pridenjoy off the pylons and into some open room. The Surick trainee would power by rivals and come through to win by half a length over a rallying Abbeydorney. Artofficial Flavor finished third, while In Spades got fourth over Gerardo.
A four-year-old son of Rock N Roll Heaven, JK Pridenjoy is now four for five this season to bring his career win total to six. The Surick trainee has quickly banked $43,300 this season to raise his career earnings to $75,367.
Owned by JL Benson Stables Inc, JK Pridenjoy's trip to Woodbine was successful on multiple fronts, as the four-year-old banked $37,700 over three-weeks and lowered his lifetime best to 1:52.4 with his second-round victory.
A $2 win ticket on JK Pridenjoy returned $6.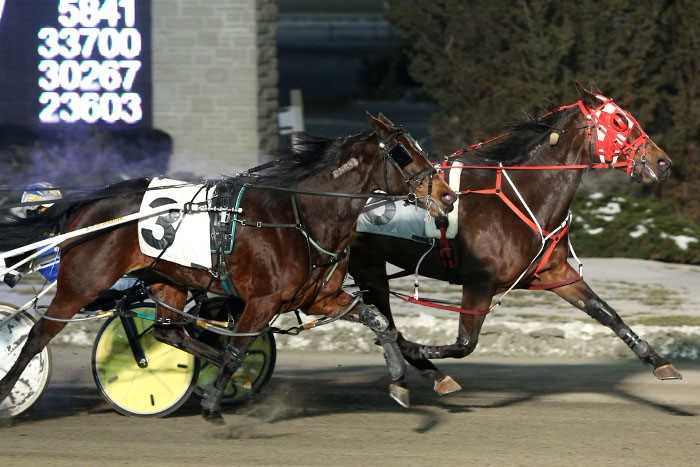 Circle The Page fought off Bettim Jackie to complete a sweep of the Blizzard.
Driven by Jonathan Drury, Circle The Page got away fifth and came first-up in the second-quarter. Bettim Jackie carried the lead by the quarter in :27 and the half in :57.1 before surrendering the lead to the eventual winner.
After reaching three-quarters in 1:25.4, Circle The Page led into the lane and would have to dig in to fight off a gritty Bettim Jackie to win by a neck in 1:54.4.
Katies Gal finished third, while Big Chute was fourth.
A daughter of Real Artist, Circle The Page was shipped up to Woodbine from The Meadows and by regular trainer and co-owner John Sullivan to local trainer Victor Puddy. The four-year-old pacing mare is now three for three at Woodbine and four for four in 2018.
Owned by Sullivan and Michael Marocco, Circle The Page has now banked $40,862 this season to bring her career earnings to $83,194. Friday's victory was the eighth overall for the four-year-old, who has been one of the hottest pacers in the sport this winter.
Circle The Page has now won five of her last six starts and hasn't finished outside the top-two in 11 consecutive starts.
A $2 win ticket on Circle The Page returned $4.40.
The Snowshoe and Blizzard Series were open to three and four-year-old pacers that were non-winners of two-races or $30,000 lifetime as of October 31, 2017.
Live racing continues Saturday night at Woodbine Racetrack. Post time is 7:10 p.m.