MILTON, August 21, 2018 – The Canadian debut of Lazarus N will have to wait until Saturday, September 1 at Woodbine Mohawk Park.
The entry box for this year's Canadian Pacing Derby closed Tuesday morning with 10 older pacers entered, meaning eliminations will not be necessary this weekend. The star-studded group of 10 advance directly to the $600,000 final on September 1.
'The Wonder from Down Under' Lazarus N headlines the field for this year's Pacing Derby. The New Zealand-bred superstar will be making his second start on North American soil in Canada's oldest harness racing event.
A six-year-old, Lazarus N was purchased earlier this year by Taylor Made Stallions and brought to North America to race for trainer Jimmy Takter. The son of Bettors Delight exited the Down Under racing scene with 35 wins in 45 starts, over $2.6 million in earnings and numerous awards.
Lazarus N won his North American debut on August 10 at Hoosier Park in the Dan Patch.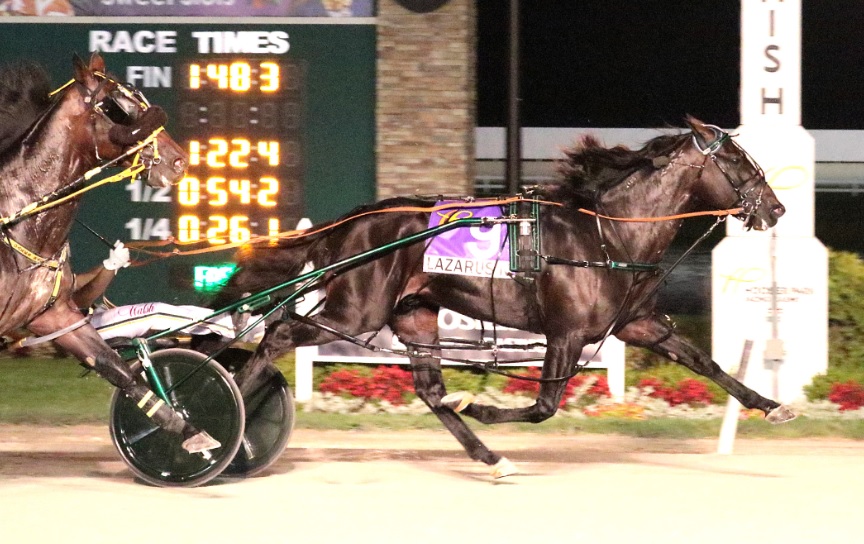 While all eyes will be locked on Lazarus N in the Canadian Pacing Derby, the other nine pacers are well-accomplished and will be looking to spoil the party.
Casie Coleman trainee McWicked has been cleaning up in the older pacer division and enters the Pacing Derby with six wins and over $672,000 earned in 10 starts. The seven-year-old champion recently surpassed $3 million in career earnings for owner S S G Stables.
McWicked will be competing in his third Canadian Pacing Derby final. His best finish was a third in last year's event.
Dave Menary trainee Sintra is back to defend his Pacing Derby title. The five-year-old gelding is just one for eight this season, but his lone victory did come in the $100,000 Mohawk Gold Cup on Pepsi North America Cup night.
Sintra is currently $964 shy of $1 million in career earnings for owners Brad Gray, Michael Guerriero and Menary Racing Inc. His win in last year's Pacing Derby is currently the richest victory of his career.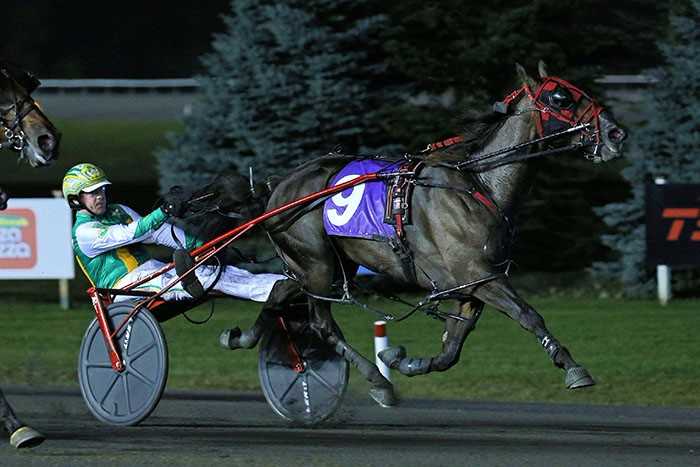 Always loaded with talent, trainer Ron Burke, harness racing's all-time leading trainer, will send out a trio of starters in the Canadian Pacing Derby.
Burke's triple-threat for the $600,000 event consists of All Bets Off (29 wins, $3.1 million), Filibuster Hanover (12 wins, $1.2 million) and Rockin Ron (33 wins, $1.5 million).
All Bets Off will be racing in his fourth-consecutive Canadian Pacing Derby. The seven-year-old has finished fourth in each of the past two editions.
Rockin Ron will be seeking redemption in this year's Pacing Derby. The five-year-old won his elimination last year before surrounding the lead in deep stretch and finishing second in the final.
This year's Canadian Pacing Derby also includes Dr J Hanover, the fastest horse in Canadian harness racing history. The Tony Alagna trained five-year-old set the Canadian record of 1:46.4 last June at Mohawk Park.
Dr J Hanover has enjoyed recent success at the Milton oval, having posted two Preferred victories since July 28.
Mohawk Park fan-favourite Nirvana Seelster is entered to race in his fourth-consecutive Canadian Pacing Derby. The Bill Budd trained seven-year-old finished fourth in last year's final and enters this year's edition just over $6,000 away from millionaire status.
Split The House, last year's Breeders Crown champion, will be making his Pacing Derby debut. The Chris Oakes trained six-year-old is a 13-time winner with more than $760,000 in career earnings.
The field of 10 is completed by Western Fame, the second entrant from the Takter barn. The winner of more than $925,000 lifetime comes into the Pacing Derby off a 1:48.4 upset victory in last Sunday's Roll With Joe Stakes at Tioga Downs.
Western Fame may not receive the bright lights like stablemate Lazarus, but the five-year-old has quietly scored five victories and earned nearly $200,000 this season.
The field of 10 for this year's Canadian Pacing Derby has combined for 241 wins and $16,277,077 in earnings.
The $600,000 Canadian Pacing Derby joins the $651,000 Maple Leaf Trot for a stacked card on Saturday, September 1. Post time is 7:10 p.m.
Here is the full field for the Canadian Pacing Derby in alphabetical order.
All Bets Off
Dr J Hanover
Filibuster Hanover
Lazarus N
McWicked
Nirvana Seelster
Rockin Ron
Sintra
Split The House
Western Fame