MILTON, July 19, 2018 – The inaugural National Caretaker Appreciation Day will take place this Saturday at Woodbine Mohawk Park and it would be a challenge to find an individual who feels recognizing the unsung heroes of the sport isn't long overdue.
"They're the backbone and without a doubt not just to my operation, but the industry as a whole," said veteran trainer Ben Wallace. "I have two of the best and they've been with me a while and thank goodness they have. They are without a doubt the unsung heroes and there is no way we could function without them."
National Caretaker Appreciation Day will be held at tracks across Canada this weekend from July 20 to 22. The program idea came from a meeting between trainer Sarah Lauren Scott, a former caretaker, and Kathy Wade Vlaar, Manager of Industry Marketing for Standardbred Canada.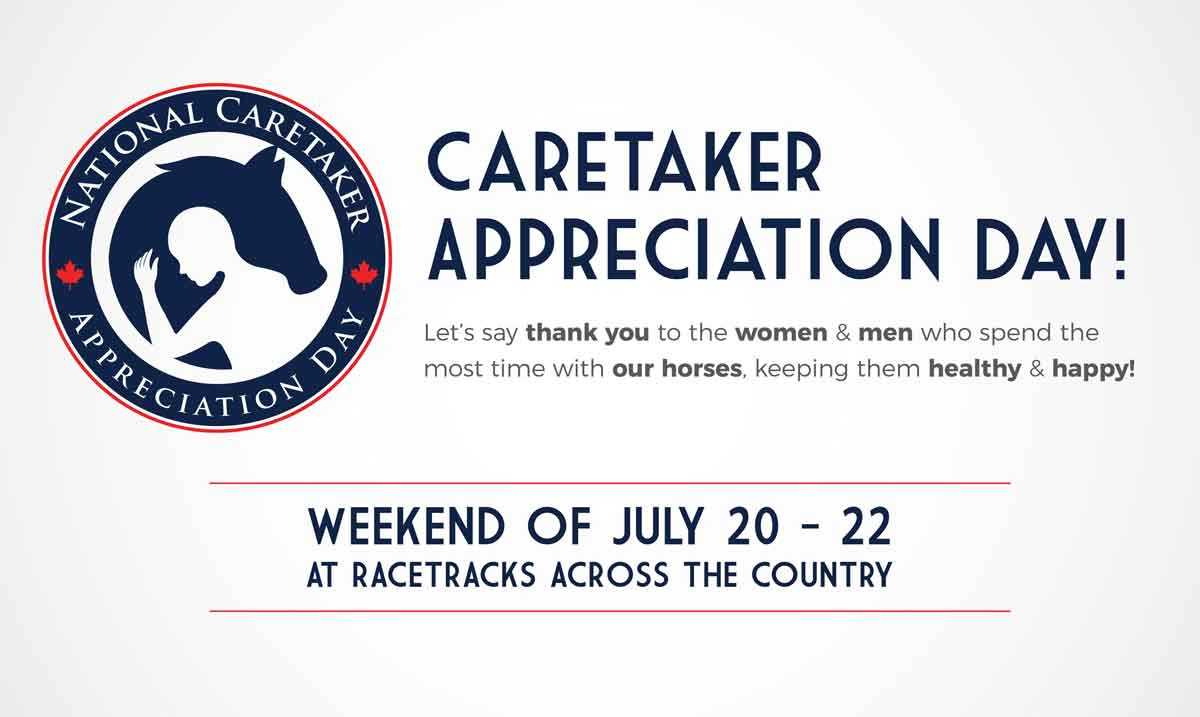 This weekend's event at Woodbine Mohawk Park has been primarily organized by Scott and promises to be a memorable evening. Activities include gift bags for all caretakers, special mementos for winning caretakers, complimentary dinner in the paddock kitchen, race sponsorships for each race and draw prizes.
Caretakers are typically behind the scenes, but this Saturday each caretaker will be publicly acknowledge by track announcer Ken Middleton during the post parades.
"Appreciation and acknowledgement will go a long way in whatever you do," Scott said. "Each caretaker has responsibilities that deserve to be credited."
Adding to the evening's events, a pair of caretakers will honoured in the winner's circle with the Dwane Graham Achievement Award as outstanding caretakers. Graham, who passed away in March, epitomized the definition of a hardworking, knowledgeable and kind caretaker that always put his horses first.
Veteran reinsman Paul MacDonell is one of many horsepeople happy to see the creation of National Caretaker Appreciation Day.
"I was pleasantly surprised to see that there was going to be a day directed towards them," MacDonell said. "They are unsung heroes in my mind. They get up first thing in the morning and they are there late at night and during the day it can go on for hours, so they really deserve this."
The average racing fan may overlook the high-level of trust that drivers put in caretakers for every day or night of racing.
"They're the ones that have to report everything to the trainer about the horse and any specific that could've gone wrong or right during the week," MacDonell explained. "We entrust them to make sure the horses are harnessed and all the equipment is intact before we go out onto the track."
Scott is hopeful that National Caretaker Appreciation Day can also be used to help grow the industry and put a spotlight on opportunities for employment.
"The entry level position of being a caretaker needs to be updated and glorified to a degree so when the Millennials are seeking employment our industry is considered," Scott said. "Being a caretaker requires someone very driven and committed. Behind every great horse is a caretaker."
Dedication is the main trait trainers seek in their caretakers and many believe it is an important factor in having success on the track.
"I just find the ones that really love their horses are the best ones," MacDonell said. "They're the ones that put in the time and effort. They all come differently, but the ones that really care about their horses are the ones that really are the backbone of our industry."
Wallace echoed MacDonell's thoughts.
"Dedication is the thing that comes to mind first…I would say diligence, being on time and responsible are the biggest characteristics."
In addition to Woodbine Mohawk Park, twelve additional tracks across the country will be hosting events this weekend to recognize and honour caretakers.
"It's a big initiative and participation has been overwhelming," Wade Vlaar explained. "The industry is 100% behind this project and this is one small way we can say thank you to some of the hardest working individuals in our sport."
Post time for Saturday's card of racing at Woodbine Mohawk Park is 7:30 p.m.