MILTON, September 25, 2021 – Lyons Sentinel made it six straight scores after scorching her rivals via a stellar 1:49.2 victory in the $240,000 Milton Stakes, Saturday night at Woodbine Mohawk Park.
After starting her 2021 season just 2-for-8, Lyons Sentinel, a four-year-old daughter of Captaintreacherous, began to hit her best stride.
She hasn't missed a beat since.
With regular driver Tim Tetrick in the race bike, Lyons Sentinel, sent off as the 1-5 choice in the Milton, sat fourth into the opening turn and stayed there through an opening quarter of :26.2 set by second choice Rocknificent and driver Scott Zeron.
Tetrick then had Lyons Sentinel on the move, swinging the bay to the outside with designs on the lead. The pair did just that, seizing control seconds after a half-mile timed in :54.4.
As the field rounded the turn for home, 30-1 Gias Surreal, with Doug McNair in the sulky, engaged Lyons Sentinel to the outside, while Rockincrest launched her bid to the inside.
Lyons Sentinel was able to weather the challenge, repelling her rivals and going on to win by 1 ½-lengths. Rocknificent was second, while Gias Surreal was third.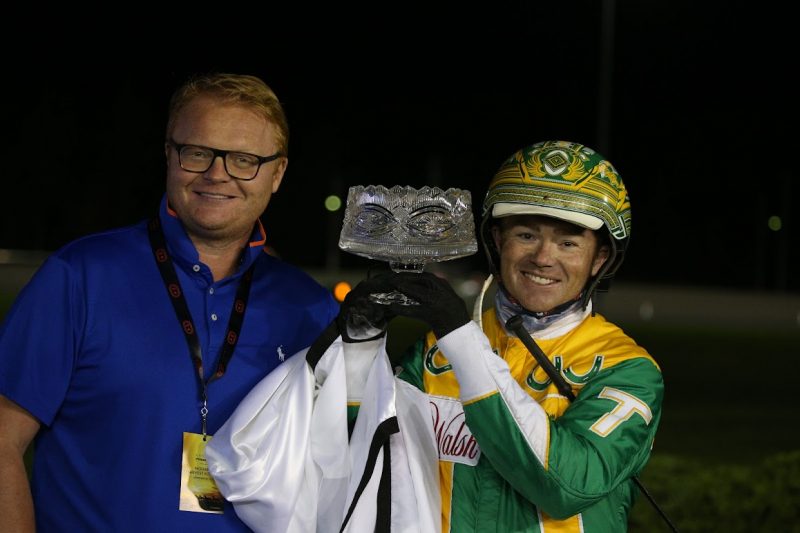 "There're some great mares in there," noted Tetrick. "I raced her differently than I normally do. I'd like her better in a tracking position, but I didn't want to be the first-up position from the three-eighths pole and have to go against a great mare in Rocknificent, so I took my shot. When she's on the lead she starts looking at butterflies and looks up in the air and stuff, but she knows she's a champion and she figures it out. She put her head down and got the job done."
A $2 win ticket on Lyons Sentinel returned $2.50.
"Everything is special when it says stakes race and the Milton is one of the top races in our sport," said Tetrick. "To win it is a big honour."
It was the first Milton crown for Tetrick and trainer James King Jr. The trophy presentation was made by Gord Krantz, Mayor of Milton, a post he has held since 1980.
Bred by Hanover Shoe Farms, Lyons Sentinel is owned by Threelyonsracing and now has 20 career wins, along with 13 seconds and three thirds, from 42 starts. She is 8-for-14 on the season and is closing in on $2 million in lifetime earnings.
Her last three victories have come at Mohawk, including a 1:49.1 win in the Roses Are Red final on September 4.
Woodbine Communications