CAMPBELLVILLE, August 31 – Back in the care of trainer Casie Coleman, six-year-old McWicked could surpass $2 million in career earnings with a strong performance in Saturday's $615,000 Canadian Pacing Derby at Mohawk Racetrack.
Following his four-year-old campaign, Mcwicked departed from Coleman's barn and was moved to trainer Steve Elliott, who conditioned the son of Mcardle for his five-year-old season and the first part of his current six-year-old season.
"He didn't win a race at four with me and the owners just decided to try him with somebody else," Coleman said. "He went away for a little while, but then they asked me to take him back and I did."
Mcwicked's five-year-old season was cut short after sustaining an injury in the June 2016 Roll With Joe Pace, where he flipped his palate and underwent corrective surgery.
"I thought he could go with [Always B] Miki and [Wiggle It Jiggleit], I really did," Mcwicked's former trainer Steve Elliot said in an interview last year. "He's a fast, fast horse and he's handy. He doesn't ever grab a line. Sitting in the two-hole, drivers want to get him off the fence. Pull the right line and he takes off. You don't know how much horse you've got until you pull and then you have to watch you don't catch a wheel. He's just that kind of horse. He's a very good horse and circumstances didn't dictate that."
Mcwicked, a 21-time winner with $1,992,206 earned for owner S S G Stables, made his 2017 seasonal debut on February 12 at Pompano Park, where he won the $12,500 Open Handicap in 1:50.4 devoid of breathing issues from which he had suffered in the past.
"I didn't have any issues with him as a three-year-old with his breathing, but as a four-year-old we started having some issues with that," Coleman said. "Like I'll use the laser machine and laser his palette and take the tongue tie out and stuff along those lines. It's a constant thing you've got to work on because once they have a breathing issue you never know when it's going to come up."
After racing ten times this season for Elliott, Mcwicked returned to Coleman's barn and proceeded to win the Preferred at Mohawk on June 3, followed by the $100,000 Mohawk Gold Cup in 1:48.2 on June 17.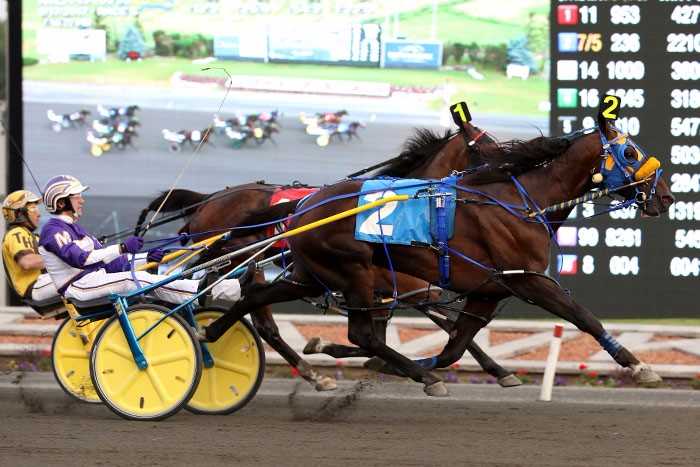 "I just put him back to the way I had [trained] him," Coleman said. "I don't really know what they were doing with him—I wasn't really concerned with how they rigged him up and trained him because I knew my way worked with him as a three-year-old and he's been seeming to respond."
Prior to last Saturday's Canadian Pacing Derby eliminations, Mcwicked had finished fourth in three consecutive starts, including in the $325,000 Dan Patch Invitational at Hoosier Park as the 2-1 favourite.
"He didn't race badly at Hoosier, but I was expecting more out of him," Coleman said. "He came up with an abscess in his foot, which we've actually been working on for a little while. He's actually been racing in an A-bar shoe right now just because he has some problems with his foot."
Finishing third in his 'Pacing Derby' elimination, Mcwicked paced a 1:48.3 mile with a :25.4 final quarter, coming in six-lengths off of elimination winner Rockin Ron.
"Everything seems great [heading into the Pacing Derby]," Coleman said. "I wish he was a little bit better on that foot—he trained yesterday (Tuesday); he trained really good. He's sharp and feeling good, but we still have a little bit of an issue with his foot but I think that will be fine by the time we get to Saturday."
McWicked will start from the rail in Saturday's big race and will have the driving services of David Miller.
"The rail isn't necessarily the best place to be—I mean, I'll take it over the nine or ten any day.  Like it's hard for a horse to race on the front-end and get off the rail, so I'm hoping he gets away mid pack, follows some cover and hopefully works out from that spot."
Update on Summer Travel
After winning the Dream Maker Final in a stakes-record 1:50.3 on August 7, Coleman trained two-year-old Summer Travel was scheduled to race in last Saturday's Nassagaweya Stakes, but was scratched due to sickness.
The Western Ideal colt was not the only Coleman rookie to be scratched, as filly Play The Bell, the winner of this year's Battle of The Belles, was also pulled from the Eternal Camnation.
"They trained early (last) week and they were awesome—couldn't have been better," Coleman said. "But then on Thursday, the both of them started to snot but were eating good and feeling good. On Friday they were a lot more snotty and started to cough, still seeming to feel fine until Saturday morning we came in and saw Summer Travel had a temperature of 104 [Fahrenheit] and Play The Bell had a temperature of 102, so obviously we had to scratch them."
"We've been treating them; they're on antibiotics. They seem to both be responding quite well—their snot pretty much cleared up and their temperatures are fine. Still, they both do have a little bit of a cough, but it is much, much better."
The signs of improvement gave Coleman enough confidence to enter both rookies in this Saturday's Grand Circuit events at Mohawk.  Summer Travel will compete in a $96,880 Champlain division, while Play The Bell will start in the $169,381 Champlain Filly Stakes.
"They're both going to be a touch-bit short because I can't train them as much as I'd like to," Coleman said. "We've got to let them get over the sickness. Obviously, if at all they are not ready by Saturday, we're not going to take a chance and race them, but I think we'll be okay."
Saturday's Canadian Pacing Derby card at Mohawk features 12-races and over $1.4 million in purses. Post time is 7:30 p.m.
By Ray Cotolo for woodbine.com