TORONTO, April 7, 2018 – The final Saturday night card of harness racing at Woodbine Racetrack was a great night for reflecting and celebrating 24 years of Standardbred action at the Toronto oval.
The 10-race card saw a pair of fitting results and the all-time leading driver and trainer in track history recognized.
One of the coolest moments in 24 years of harness racing at Woodbine occurred Saturday when Roger Mayotte won his final drive at the Toronto track more than 24 years after winning the first harness race in track history.
Sitting behind the gritty veteran pacer Machal Jordan, Mayotte showed patience in steering 3/5 favourite Machal Jordan to a stretch rallying victory in the $15,000 fourth-race.
Machal Jordan was Mayotte's lone drive on Saturday's card and his final drive in a harness race at Woodbine. The victory was fitting for Mayotte, as he won the first-race on January 1, 1994 with then four-year-old pacer Boastful.
Regarded as one of the most respected horsepeople to race at Woodbine, Mayotte will go down as one of only a few drivers to win races in all 24 years of racing at Woodbine.
A pair of Mayotte's most notable victories at Woodbine came behind the fan-favourite pacer Escape The Wind in the 2005 and 2007 Gold Cup. Mayotte also won the first Maple Leaf Trot at Woodbine in 1994 with Earl.
Woodbine Entertainment took time Saturday to recognize the driver and trainer with the most wins in the history of the track.
Randy Waples will go down as the winningest reinsman in Woodbine history with 2,605 wins, while Kevin McMaster is the all-time leading trainer having sent out 1,009 winners.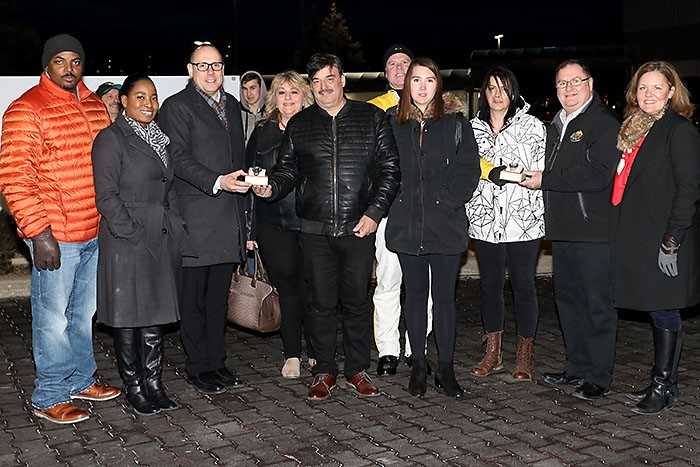 The all-time leaders were presented with watches for their accomplishment in a special winner's circle presentation.
Reflecting on his success, Waples pointed to a brief period early in his career that saw him gain experience on a big track ahead of his days as a top reinsman at Woodbine.
"I kind of lucked out because my dad (Ron Waples) sent me to Minnesota for three months and that was a mile track," Waples recalled. "I kind of got my feet wet on the big track, so by the time I came here I kind of had a bit of an idea of the way to do it.
"Seven-eighths of a mile, big track racing for whatever reason it really suited me and my style and I got lucky."
McMaster, who started his career in his home province of Nova Scotia, noted he never dreamed his career would lead him to being the winningest trainer in Woodbine history.
"When I first came up here I thought I just wanted to make a living," McMaster said following Saturday's presentation. "If I could work for somebody and have three horses on the side that was my goal and great for me it turned out this way."
Saturday's card also featured the final edition of the $34,000 Preferred Pace at Woodbine.
Bill Budd trainee Nirvana Seelster and driver Trevor Henry captured their second consecutive Preferred with a coast to coast 1:51.2 score. The seven-year-old gelding has been outstanding in 2018, now winning four of his last five starts and having won five of 11 overall.
'Nirvana', who has hit the board in 10 of 12 this season, has quickly banked $117,320 in 2018 to bring his career earnings to $929,914 for owner Bruce Davy. Saturday's score was the 37th lifetime win for the gelded son of Camluck.
A connection between Nirvana Seelster and the first-card of live harness racing at Woodbine (January 1, 1994) can be found in trainer Budd, who raced trotter G G Alex on the debut card more than 24 years ago. The then six-year-old trotter finished second on that New Year's afternoon for Budd.
It wouldn't have been a Saturday night at Woodbine in 2018 without big performances from leading driver Louis Philippe Roy and leading trainer Richard Moreau.
Roy and Moreau teamed up to win four of Saturday's 10-races. The victories came with eight-year-old trotter Pop I ($5.50), seven-year-old claiming trotter Class Me Nice ($5.80), nine-year-old trotter Hldontghttoyurdrms ($6.90) and four-year-old pacer Modern Reflection ($2.20)
The final harness racing card in Woodbine Racetrack history will take place Monday evening. Post time for the 10-race card is 7:10 p.m.