MILTON, June 8, 2018 – Trainer Dave Menary sends out several stakes prospects in elimination action this Saturday (June 9) at Woodbine Mohawk Park, including two from his own barn and one that he owns in the Pepsi North America Cup.
Menary's pair of 'Cup' trainees, Topville Olympian and Dragon Time, race in the first and second elimination respectively. St Lads Neptune, who Menary bought into earlier this season, goes in the third elimination.
Starting from post 8, Topville Olympian, driven by Jody Jamieson, makes his third start of the year after finishing sixth in a $60,000 division of the Somebeachsomewhere, losing to Burning Midnight who catapulted off a collapsing pace to a 28-1 upset.
"Topville Olympian is just a super little horse; like the little engine that could," Menary said. "He's the kind of horse you'd want to marry—he never has a bad day. He's got a great attitude, always eating, always healthy; super sound. He's the kind of horse that doesn't give you gray hairs."
Owned by Menary Racing Inc., Billy Jo and Anthony Timmons and Crawford Farms Racing, the gelded son of American Ideal lacked racing room off a pocket trip through the stretch in the Somebeachsomewhere, finishing two lengths off the winner. The start prior, his first of the season, he faltered from a similar setup to be fifth by nine lengths.
"Instead of racing him like a long shot, we raced him like a contender last week [in the Somebeachsomewhere] and he got caught behind a wall of horses," Menary said. "I think if he got a seam somewhere, he could've possibly been the fast division and they'd be looking at him in a different light.
"His first start of the year—I think he just needed that start. In qualifiers he flashed up some really fancy last quarters. He's going to need a little bit of luck but I know he's going to put forth a good effort."
Dragon Time also makes his third start of the year in his Cup elimination, starting from post 10 with Jamieson in the sulky. The Bettors Delight gelding ended his freshman campaign in late September with a sixth-place finish in the Metro consolation. He returned to the track after a winter of maturing to win a qualifier on May 18 in 1:56.3.
"Dragon Time may have been my top colt all winter," Menary said. "He's always been a little bit green and a little bit immature—kind of a big, fat, clumsy colt. But he's really put things together; he was legit enough last year. He won a leg of the Nassagaweya last year coming home in :26-and-a-fifth and paced in [1]:51. He's a nice colt, but he's right on the fringe and we'd like to get out of the green."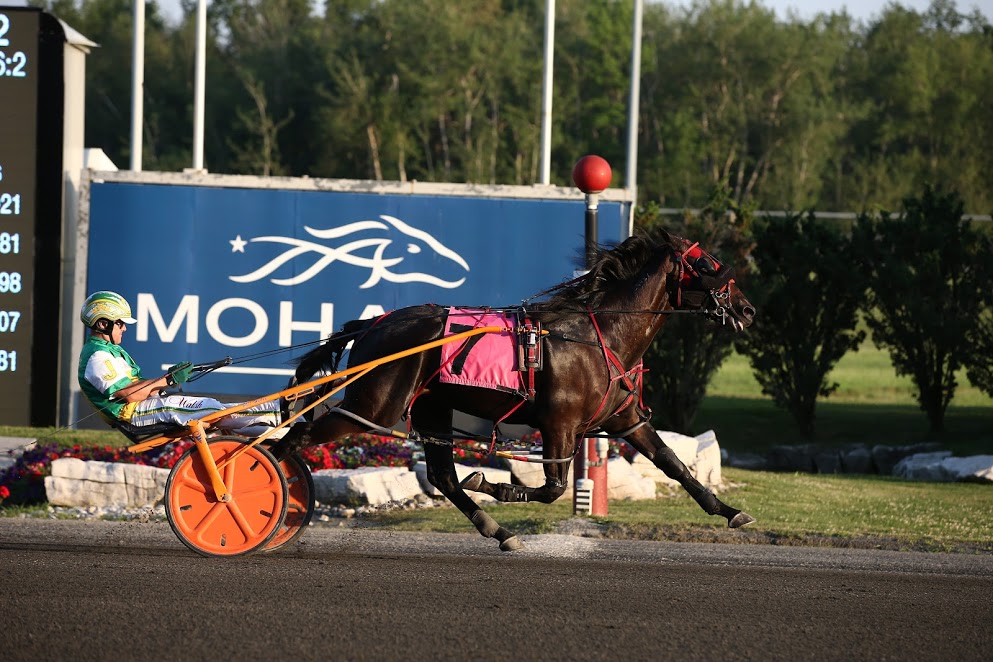 Dragon Time also drew outside in his division of the Somebeachsomewhere and kicked home in :26.2 to finish sixth to Lather Up by eight-and-a-half lengths. In his first start of the year, he finished fourth against conditioned pacers from the rail in 1:51.1.
"He trained super this week—I think it's the best he's ever trained in his life—he went by Sintra training this week," Menary said. "But from the 10-hole, he's going to need a little bit of luck and a miracle. But his best thing might be the consolation."
Stephanie Jamieson trains St Lads Neptune for Carl and Jody Jamieson and Menary Racing.
Knowing the horse and saying he knew "how much Jody and Carl thought of him,", Menary acquired a share prior to his first qualifier—a 1:51.1 mile with a :25.4 final quarter.
"I take a lot of pride in the horses that are in [my] barn," Menary said. "The ones that I'm training have an uphill battle, but Steph[anie Jamieson]'s doing a really nice job with St Lads Neptune and I'm excited to see some good results."
St Lads Neptune has two seconds from two starts this season, one in an Ontario Sires Stake split at Flamboro and the other in a division of the Somebeachsomewhere, where he rallied from several lengths off the lead to finish a close-second to Lather Up in a 1:50.3 mile.
"Neptune was just awesome last week," Menary said. "Jody drove him pretty conservatively and ran him up into the back of Lather Up and then he moved right over him at the wire."
Jody Jamieson will pilot the Mach Three gelding from post 7.
Pepsi North America Cup night has the possibility to be a big evening for Menary, as his stable could be represented in a pair of under card stakes.
Menary will also send out Pueblo Blue Chip in the Fan Hanover eliminations on Saturday.
Starting from post-four in the second of the two eliminations, Pueblo Blue Chip finds herself against the ranks of world-champion Youaremycandygirl, local freshmen stars Percy Bluechip and Kendall Seelster and Ubettergo Go, who enters off a national season's best of 1:50 at Tioga.
"I think there's a big difference between those two divisions—she's definitely in the tough division so hopefully she brings her 'A'-game," Menary said.
Pueblo Blue Chip won her lone start of the season, a 1:54.3 wire-to-wire performance in a division of New York Sires Stakes (NYSS) at Saratoga. Menary opted to skip the NYSS split at Tioga on Sunday, June 3, instead "trying to aim her for the Fan Hanover so she wouldn't have to go four weeks in a row then come back and race in six days," he said.
"She came out of the [NYSS] a lot better than she came into it," Menary said. "She had never been to Saratoga. She raced well and came out of the race very well and trained very well this week. She got run at the whole way and still drew away from them, so it was a good first start of the year.
"I think she's a nice filly, but it's up to her whether she wants to step up and advance with these kind of fillies."
The sophomores may get most of the attention on Saturday, but Menary will also be sending out his stable star Sintra in the $34,000 Preferred.
The Canadian Pacing Derby champion will be preparing for the $100,000 Mohawk Gold Cup and is making his second start of the season.
"[Sintra]'s come back super," Menary said. "It's a privilege to train a horse like him—he's the kind of horse that makes you get up and go out to the barn in the morning. I've had nice horses in the past and every time you have a good one you pray it's not your last because you can only have so many once in a lifetime horses. He's another one and hopefully there's more to follow. But he wintered very, very well. He's just such a doer and makes my job real easy."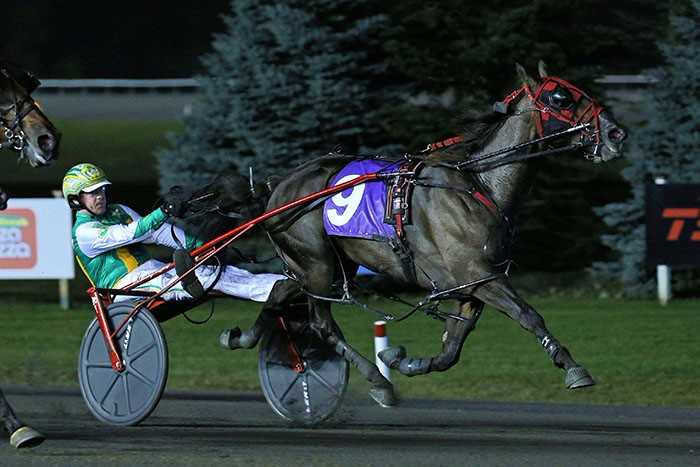 Sintra returned to the track on May 18, qualifying in 1:53.4 with a :25.2 final quarter. The five-year-old made his season debut a week later and came from off the pace to finish second.
"He was excellent in his qualifier; he probably could've come home in :24—Jody started pulling him up at the top of the stretch. Then in his first start of the year he had an outside post and we raced him from the back, but he was pacing really hard to the wire. He just got beat by math."
Menary has his eyes on many big events for Sintra, with his first stakes engagement being the always-star studded Mohawk Gold Cup on Cup night.
This Saturday's 13-race program at Woodbine Mohawk Park kicks off at 7:30 p.m. and features the eliminations for the Pepsi North America Cup, Fan Hanover and Roses Are Red (pacing mares).
A free program for Saturday's card can be downloaded by clicking here.
– Ray Cotolo for Woodbine.com