CAMPBELLVILLE, September 8 – Four-year-olds Pure Country and Blue Moon Stride captured Friday night's $35,000 Milton Stakes eliminations at Mohawk Racetrack.
A loaded group of 15 pacing mares were split into a pair of eliminations to determine the field for the $256,000 Milton Stakes on Saturday, September 16. 
Double millionaire Pure Country started things off by turning in a huge effort to extend her current win streak to three.
The Jimmy Takter trainee got away fourth in a field of seven with driver Mark MacDonald, who wasn't content to sit for long. Pure Country was right-lined entering the backstretch and quickly overtook a second-quarter moving Call Me Queen Be for the lead before the half.
The fractions were hot, as Pure Country was forced to pace a :53.3 opening-half to secure the lead. The Takter trainee rolled right along in third-quarter to reach that station in 1:21.4 and carry the lead into the lane.
Pure Country sealed the deal by edging away from her rivals and pacing home in :28.1 for a 1:50 score.
"She's got a huge set of lungs," said MacDonald post-race. "I was like 'I'd rather be on the front than first-over, so I may as well keep pushing' and I was confident she would be strong."
L A Delight turned in a :27.2 final-quarter to rally for second, beat just a length. Lyons River Pride, Witch Dali and Wrangler Magic rounded out the top-five to advance to next week's final.
MacDonald, a former leading driver on the WEG Circuit, took over the driving duties behind Pure Country on July 28 and has since driven her to three wins in four starts.
"I think this game is all timing," said MacDonald. "I caught her at the right time. She was kind of in a four-year-old slump and I got on her right when she was getting on a good roll and we've been a good roll together."
A daughter of Somebeachsomewhere, Pure Country is now three for nine with over $230,000 banked this season to bring her career totals to 23 wins and nearly $2.2 million earned. She is owned by Diamond Creek Racing.
Pure Country paid $2.90 to win.
The second elimination saw all eyes on defending champion Lady Shadow, but Friday wasn't her night to shine.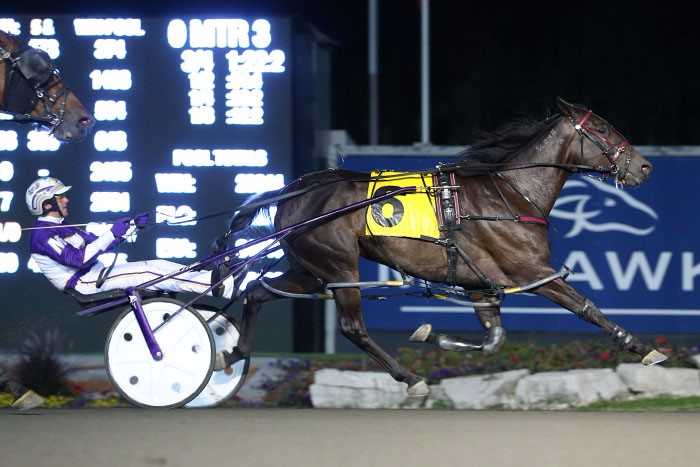 Blue Moon Stride and driver David Miller capitalized on an off night by Lady Shadow to win in 1:50 at 7/1.
Sent off at 1/9, Lady Shadow was parked for more than three-eighths before clearing Blue Moon Stride for the lead ahead of a :54.4 opening-half. Blue Moon Stride had also been parked early before finding the front just after the opening-quarter.
Lady Shadow and driver Yannick Gingras turned up the heat with a :27.3 third-quarter to reach that station in 1:22.2. The heavy-favourite didn't have anything left to offer in the lane and drifted out.
Blue Moon Stride took full advantage by powering up in the inside and taking the lead home to win by a length. Sandbetweenurtoes finished second, while Frost Damage Blues was third and Darlinonthebeach was fourth.
Lady Shadow was able to find a way to hold on for fifth to make the Milton Stakes final.
A daughter of Rocknroll Hanover, Blue Moon Stride was just two for 11 coming into Friday's contest, but was coming in off a victory on August 20 at Pocono.
"I raced her a couple weeks ago and she went a big mile on the front end and she beat a couple nice mares," said Miller post-race. "I thought if she could hold that form she would be alright tonight."
Owned by Emilio & Maria Rosati, Blue Moon Stride made over $400,000 last season as a three-year-old and Friday's victory pushes her over the $100,000 mark this season. She is now a 13-time winner with $826,421 in lifetime earnings.
The Harder trainee paid $17.70 to win.
The post positions for next week's $256,000 final were drawn following the eliminations. Pure Country and Blue Moon Stride earned the right to select their posts for the final.
Here is the field for the Milton Stakes final.
1. Lady Shadow
2. Blue Moon Stride
3. Pure Country
4. Wrangler Magic
5. L A Delight
6. Darlinonthebeach
7. Frost Damage Blues
8. Lyons River Pride
9. Sandbetweenurtoes
10. Witch Dali
AE: Penpal