TORONTO, December 18, 2017 – @WoodbineSB inaugural "Monday Twitter Challenge" concluded on Monday evening with an exciting final leg.
#7 Senor Grande (selected by 12 players) shot up the inside to win Monday's fifth-race by a nose over #8 Play It Again Sam (selected by 7 players) and #4 Jimmy Be Good (selected by 5 players).
The "Monday Twitter Challenge" contest took place over the course of eight-Monday's from October 30 to December 18. Twitter users were able to enter the contest by replying each Monday to the challenge race Tweet sent out by @WoodbineSB at 3 p.m.
Twitter users earned points each Monday based on where their selection finished in the challenge (1st = 5 points, 2nd = 3 points and 3rd = 1 point). The player that accumulated the most points over the eight-weeks won the challenge.
A total of 141 different Twitter users took part in the contest over the eight-weeks.
Twitter user @whorseplayer led all players during the challenge by earning 26 points, including earnings for five points for selecting the winner in Monday's final leg. For winning the challenge, @whorseplayer will receive dinner in the Woodbine, Mohawk Park Terrace Dining Room and a VIP Tour.
Here are the results from Week 8 of "Monday Twitter Challenge" and the final standings.
Race 5 – Monday, December 18, 2017 (52 players)
1st: #7 Senor Grande (selected by 12 players)
2nd: #8 Play It Again Sam (selected by 7 players)
3rd: #4 Jimmy Be Good (selected by 5 players)
WEEK 8 RESULTS: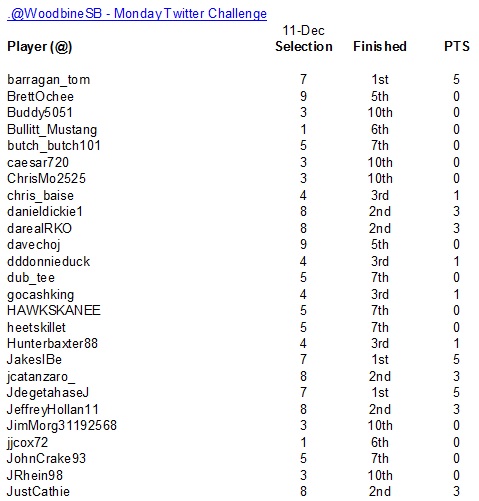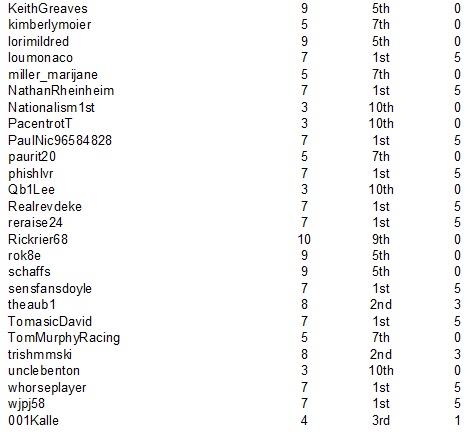 FINAL STANDINGS: